Paying for childcare? You may be eligible for State funds
Is child care a big expense for you and your family? Our Union can connect you with money from New York State to help.
In September, our Union will hold a facilitated enrollment event with the New York Union Child Care Coalition (NYUCCC) to help eligible applicants apply for state funds. To be eligible, you must:
Reside in NYC: Families must reside in one of the 5 NYC Boroughs: Manhattan, the Bronx, Brooklyn, Queens, or Staten Island.
Be actively working: Each parent residing in the household must be working at least 20 hours per week. If there are two parents in the household, only one must work at a Union shop.
Meet the income eligibility requirements: Your family's income must be under the state maximum. The maximums vary based on family size. Refer to the chart below to check if your family is eligible. Your family size includes parents (including yourself) and children under 18 residing in the household. If yours is a two-parent household, your combined income must be less than the State maximum.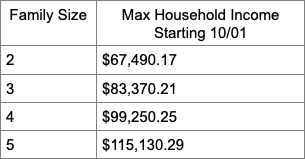 Applicants will need to provide the following documentation to apply for a voucher:
Proof of Income: 3 months' worth of copies of your most recent pay-stubs (and your partner's, if applicable)
Verification of Birth: Copies of birth or baptismal certificates for each child under 13
Proof of Address: This can be a copy of a utility bill, lease agreement, bank statement, etc.
We will be holding a facilitated enrollment event on September 27th from 2-5PM at the Union office (709 8th Ave, NY, NY 10036, 2nd Fl.)
"I used to pay hundreds of dollars for childcare during the week, and now I only pay $4. It has made a huge difference for our family," shared Lucero Perez Vargas, a Room Attendant at the Edison who received thousands in state subsidies after applying with the Union in May.

To register for the event please contact Operations Supervisor Ambar Cordero at (212) 245-8100, ext. 2297 or [email protected]
Members outside of NYC: HTC has partnered with the NY State Workforce Development Institute (WDI) to hold similar events across New York State. To date, the Union has held two facilitated enrollment sessions outside of the City, at Rivers Casino and Resort in Schenectady, NY and Jake's 58 in Suffolk County, NY. If you have questions about the Union's efforts to help members outside of NYC navigate the voucher application process, call Triza Cox at (212) 245-8100, ext. 2291