Our Best Renewal Contract Yet
This April marked a historic moment for our Union, as 7,000 members outside of New York City celebrated a new GRIWA contract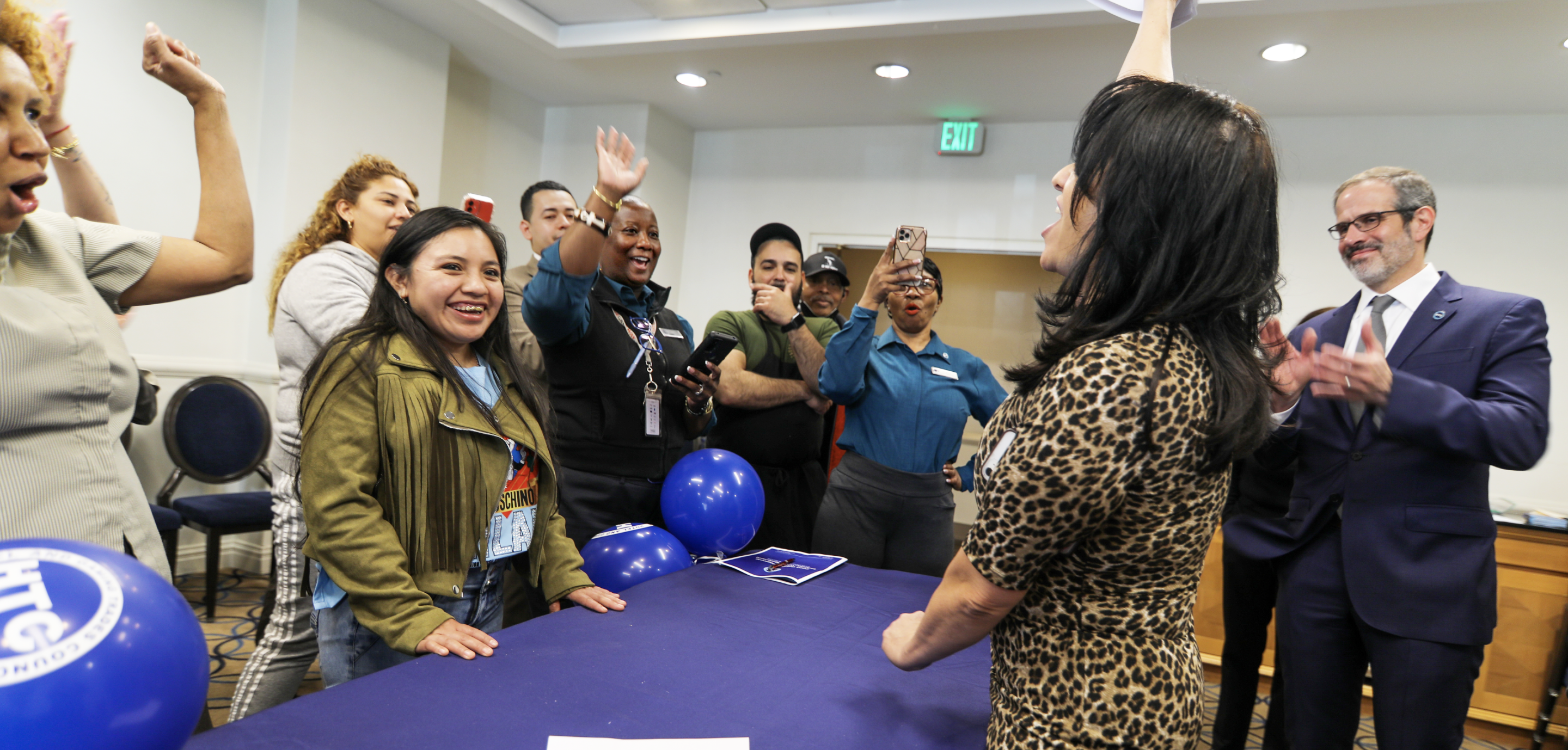 The new Greater Regional Industry-Wide Agreement ("GRIWA") is the Union's strongest contract in the region to date.
The wage increases are record-breaking. The news even graced the pages of The Wall Street Journal, with the staggering headline "Union Hotel Workers in New York Suburbs Score Biggest Pay Raise in 100 Years".
In addition, the new five-year master contract protects healthcare and retirement benefits, includes innovative provisions like paid family leave and free legal assistance, and establishes new funds to support members with issues such as the lack of affordable housing and rising cost of child care.
Highlights
Wages
As The Wall Street Journal trumpeted, the most astounding part of the new contract is the wages. They are the largest increases in our Union's history, averaging an unprecedented 8% increase each year and a 40% increase over the life of the contract. (By comparison, the percentage wage increases in contracts negotiated by other major unions in New York are closer to 3%). These raises lift our members into the middle class — and tangibly change the lives of many.
"When I read the contract highlights, I thought 'I'd better put my glasses on and make sure what I'm seeing is right!'" said Fre Bryant, a Front Desk Agent at the Doubletree by Hilton Newark for 18 years. "I was planning on retiring soon but now, I'm staying! This job pays too well to leave."
Yuximit Castellanos, a union Housekeeping Supervisor at the Hyatt Regency in Jersey City is investing the wage increases in her health. "I got a gym membership and I've been buying healthier food," said Yuximit. "I feel like I can finally afford to take care of myself."
Although wages will increase dramatically each year, the new GRIWA still contains a measure to protect against runaway inflation: a brand-new cost-of-living adjustment provision. This clause helps to protect union workers if the Consumer Price Index — which measures the average cost of standard goods and expenses — rises significantly faster than the already high wage and benefit increases already called for by the contract. If so, Union workers will be entitled to additional raises to offset the severity of inflation.


Healthcare Benefits
While wages are important, little matters more than our members' health. The new GRIWA guarantees access to affordable healthcare by ensuring that bargaining unit members can keep their current healthcare plans at no increased cost. That means that no matter how much the cost of healthcare increases over the next five years, the amount members have to pay cannot go up.
Members in GRIWA shops who receive the health reimbursement arrangement ("HRA") benefit – the prepaid card used to pay for medical expenses like over the counter drugs, prescriptions, and copays – will see that benefit double in January: increasing from $100 to $200 per year.


Paid Time Off
Under the new GRIWA, members will receive significantly more paid time off and more flexibility in how they can use it.
The contract includes a new paid holiday, Juneteenth, to commemorate the end of slavery in the United States, and a brand new paid parental leave benefit. Paid parental leave will ease the financial pressure on new parents to return to work too quickly. Under the terms of the contract, new parents who qualify to take Paid Family Leave through the State will receive weekly bridge payments to make up the difference between their State's Paid Family Leave benefit and the member's weekly wage.
Karen Rodriguez, a Housekeeper at the Sheraton Lincoln Harbor said, "Having my son is the best thing that's ever happened to me. It means so much to me to be able to take 12 weeks of paid leave to spend time with him, and not have to worry about money during this time. I'm so grateful the Union was able to win this benefit for me."


New Pre-Paid Legal Benefit
Beginning on January 1st, union workers covered by the GRIWA will be able to access lawyers at no cost through the Union's long-standing Pre-Paid Legal Fund. The Pre-Paid Legal Fund covers civil matters related to immigration, landlord/tenant issues, divorce, consumer issues, bankruptcy, home sales and closings, wills, credit issues, adoption, and child custody.
"I think it's so amazing to have a pre-paid legal benefit!" said Diane Medina, a Front Desk Attendant at Jake's 58 Hotel and Casino. "Knowing that in the event of a serious civil matter, the most expensive part of the process would be covered by my Union is so comforting."


Additional New Funds
As part of HTC President Rich Maroko's vision for the next evolution of our Union, he has focused on expanding the ways that our Union can help members beyond representing them on the job. Major priorities include addressing the skyrocketing cost of child care and the lack of affordable housing in our region. The new GRIWA establishes a Childcare Fund to support members with childcare costs as well as a Housing Fund designed to help members access affordable housing in the future. These Funds are a big first step toward solving problems that working families have struggled with for decades.


Contract Enforcement

It's a matter of fact: our contracts are the best there are for hospitality workers. But a contract isn't worth the paper it's written on if it's not being followed. That's why contract enforcement is so important.
The new GRIWA bolsters our ability to enforce the contract by increasing penalties for employers who repeatedly, willfully violate the contract, enhancing protections against changes in ownership, and further strengthening arbitration by making it more costly for management to challenge an arbitrator's decision.


A Historic New GRIWA
In mid-April, HTC staff wrapped-up a weeks-long effort to brief members on the new contract. In the end, the agreement was ratified by more than 99% of voters.
"My coworkers and I joined the Union in 2017. Becoming members completely changed for us what it meant to be housekeepers," shared Union Delegate Rosario Nieves of the La Quinta Secaucus. "Now, the Union did it again. The new GRIWA is remarkable and it changes our futures for the better."