Off the Clock: Read A Mighty Long Way: My Journey to Justice at Little Rock Central High School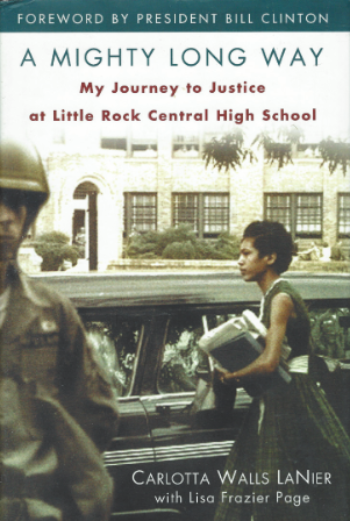 In June of 1957, just two days before the end of school, a piece of paper passed among students at Dunbar Junior High reached the desk of Carlotta Walls. Dunbar was an all-Black school in Little Rock, Arkansas. Just three years prior, the Supreme Court had ruled unanimously that racial segregation in pub-lic schools was unconstitutional, and eligible Black ninth graders at Dunbar were invited to begin at the (then) all-white Central High School in the fall.
When fifteen-year old Carlotta saw the paper, she had just seconds to make a decision. Central High was close to her home, nationally ranked, and had good athletic teams– it seemed like a promising choice for her future. So she signed her name.
Carlotta had no idea when she signed that paper that she was making a pivotal decision– one that would test her endurance and catapult her into the national spotlight. Carlotta and eight other Black students became known as the "Little Rock Nine," and together they weathered racist mobs, a bitter legal battle, social ostracization, and even death threats in their quest to seek an equal education.
Our "good" read this fall is Carlotta's autobiography: A Mighty Long Way: My Journey To Justice at Little Rock Central High School. Her account not only lays bare the trials she and her family navigated at a time when no positive outcome was certain, but also points to the important intersections between the labor movement and the fight for racial justice. In June of 1958, our Union awarded the Little Rock Nine the annual Local 6 Better Race Relations Award for their "dignity and unfailing courage," in the words of then-Local 6 President Carl Schutt. The ceremony, which was attended by NYC politicians, Civil Rights activists, labor leaders, and union members, highlighted the necessity of our Union's ongoing struggle against racism in all its forms. The various speakers reminded the audience that segregation was often used as a tactic to keep workers "divided, unorganized, and exploited." The nine teenagers' visit to New York City was more than strictly business. In between numerous appointments with notable figures, they saw Lena Horne in "Jamaica" on Broadway, rode the Cyclone, visited Lady Liberty, and ate at "World Famous Cheesecake" in Times Square. Chapter seven in Carlotta's autobiography, entitled "Star-Studded Summer," fondly recalls the trip to New York. Although Carlotta writes that her wounds from that fateful school year are "still raw," she deftly describes the leaps and bounds that she herself helped write into history, as well as where we, collectively, still need to strive for justice.
If you'd like to purchase A Mighty Long Way, it is available via McNally Jackson for $18 (www.mcnallyjackson.com), or for free through the New York Public Library's e-reader, SimplyE.