"Nobody does it better than HTC!" – HTC Celebrates NY Gov Kathy Hochul and More Pro - Union Candidates!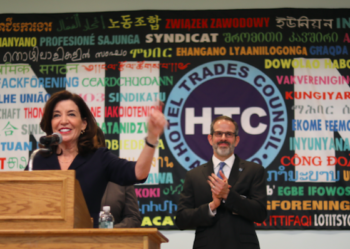 On Thursday, March 10th, at our Union auditorium, HTC proudly endorsed New York Governor Kathy Hochul, New York Attorney General Letitia James, and New York Comptroller Tom DiNapoli in the upcoming 2022 elections! Nearly 200 HTC members filled the room and showed their support for the pro-worker and pro-union elected officials, hoisting up signs and shouting out chants.
At the start of the event, HTC President Rich Maroko took the podium and expressed his utmost faith in the actions of the officials that stood behind him on stage, "They don't just say the right things. They do the right things," he affirmed to the crowd of HTC members.
He emphasized how making sure the right officials are elected will be a critical determining factor in our future, "During such a crucial period of recovery in New York, there is nothing more important than having competent and proven leaders. Gov. Hochul, Attorney General James, and Comptroller DiNapoli are those leaders. We could not be any prouder to stand hand in hand with them to promote Democratic unity and commit our time and resources to see them re-elected," our President proclaimed.
He also praised Governor Kathy Hochul and all she has accomplished for New Yorkers and working people throughout her governorship: "I can't think of anyone else who had the compassion to care about our issues, the capacity to come up with a solution, and the grit and the toughness to get it done. Kathy was exactly the leader we needed exactly when we needed it most. Because of her efforts thousands of our members lives were tangibly impacted."
One of these members was Bienvenida Vasquez, a Union member of 20 years. Bienvenida shared her story with the crowd, a story many resonated with, about struggling to support her family during the pandemic but being able to find a light at the end of the tunnel through the Governor's initiatives. "Governor Hochul has been doing a lot to support tourism workers. When I received the benefit from the Governor's Tourism Recovery Fund, I was able to keep taking care of my family and did not have to worry so much about putting food on the table. Thank you so much Governor Hochul for always thinking of working people!"
Amid cheers, Governor Hochul then acknowledged the strength and resiliency of our hotel and gaming workers, evoking insight from her father, "When the going gets tough, my father always used to say, 'the tough get going.' And there are no tougher people who saw their true grit resolve during this pandemic than our hotel workers. I applaud every one of you! HTC! HTC! HTC!" she chanted.
She continued on to describe her worker-centered thought process in creating initiatives that would provide aid our members needed like the Tourism Recovery Fund, "Thank God we were able to listen to Rich and understand your plight and say 'we have to bring back this city, we have to let the resources go to the institutions, the hotels, the people, and hang on just a little bit longer!"
Towards the end of her speech she credited our members in the recovery of the State's economy, "We needed you there [at your jobs], we needed you there and now you are taking your rightful place in your jobs and doing such important work and I can tell the rest of the world: Come on back to New York because we are open because of all of you!"
Following Governor Hochul's emotive speech, Attorney General Letitia James also recognized the impact of unions in revitalizing our nation's financial state, "You remind us why organized labor matters, not just for workers but for our entire state, for working families and getting our economy roaring back to life."
Attorney General James spoke directly to our members' faith in our selves and our State, stating, "You were on the front lines, you sacrificed your own safety and the safety of your family and you did that because not only are you committed to your job but you're committed to New York."
New York State Comptroller Tom DiNapoli went on to explain the importance of electing Governor Hochul and her team in the upcoming elections, "We cannot afford to lose this opportunity to stay the course to provide the kind of progressive strong leadership that has gotten us this far through the worst of times and can certainly guarantee we get to the best of times."
As he closed out our event, he said it best when he exclaimed, "Nobody does it better than HTC!"
Our Union is excited to announce our support of these elected officials and how important it will be for HTC to go out into the streets and knock on doors this year. In the words of our President Rich Maroko, "It's your political activism, your political acumen, your political militancy, that makes sure that our voice, the voice of hotel and gaming workers, is heard loud and clear in Albany."