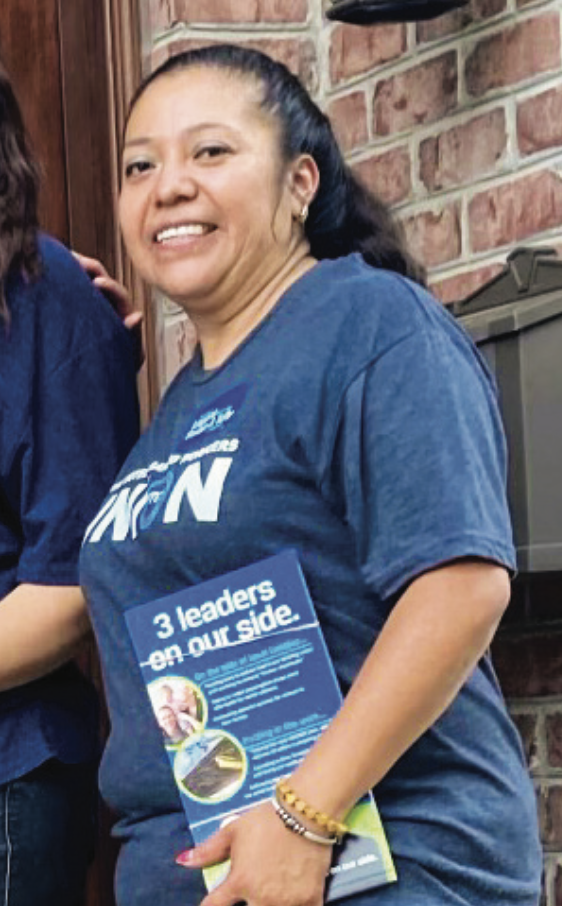 Political Wins
Victory over Illegal Short Term Rentals! New York City's Short- Term Rental Registration Law, also known as Local Law 18, survived a legal challenge from Airbnb, and went into effect in early September. Within days, the law resulted in the removal of more than 15,000 listings from Airbnb, according to a watch- dog group Inside Airbnb. Read more..
On June 27th, NYC Primary Day, HTC members got out the vote for eleven pro-worker can- didates in competitive races across the City:

We held 12 flyering events.

More than 200 members volunteered.

All but one of the HTC-backed candidates won their races!
Pictured: "I love getting to know other members, supporting one another, and sharing in the experience together. It's a great way to feel connected to your Union and learn more about it." — Union Volunteer Vicenta Gonzalez, Springhill Suites Newark Liberty
Member Services
Nine Union members received a total of $150,000 after applying for State childcare subsidies at one of the Union's facilitated enrollment events.
The Union brings childcare help outside of NYC: So far, the Union has held two facilitated enrollment events outside the City — one at Rivers Casino in Schenectady, and one at Jake's 58 in Long Island. Stay tuned for more!
Sit Down and Stretch Out! The Benefit Funds are now hosting Intro to Chair Yoga courses on Wednesdays at 10:00 AM at the Brooklyn Health Center. These hour-long classes will introduce participants to a gentle yoga practice aimed at improving ease of movement and promoting relaxation. Registration is required. Visit www.hotelfunds.org/ithrive_classes to sign up now.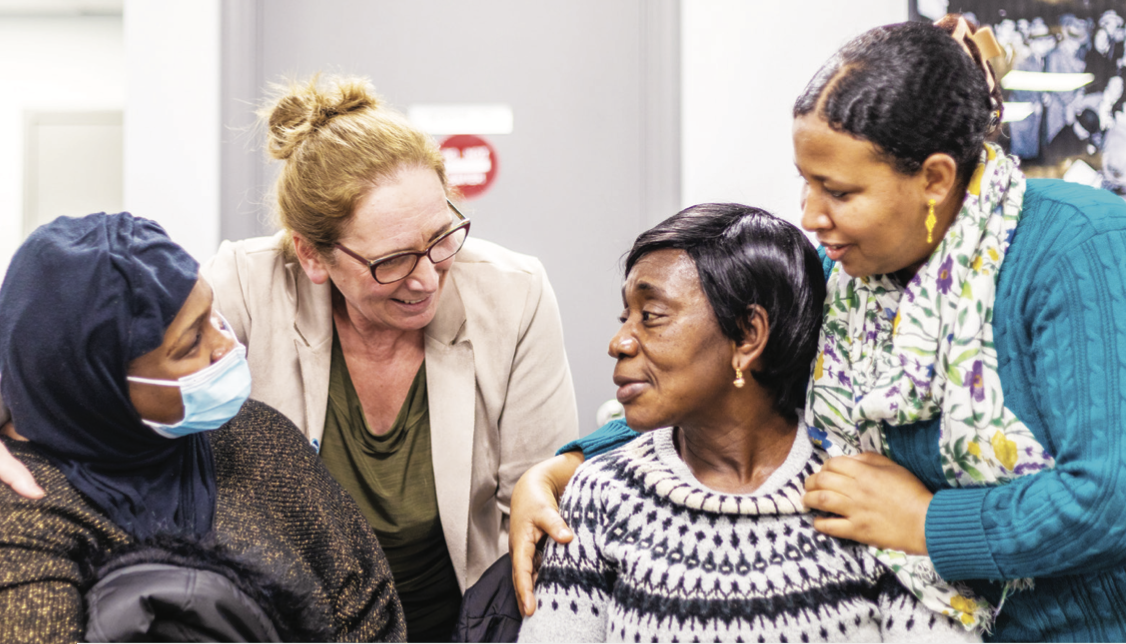 Organizing News
The housekeeping staff at the William Vale hotel officially joined our Union on September 12th, after weathering a years long union-busting campaign and two NLRB elections — both challenged by management. Welcome to the Union!
Pictured: HTC Organizer Lindita Bastriaga with Tsehay Temachew, Mercy Ekwam, and Zeinabu Saidu, members of the bargaining unit at the William Vale
First Contracts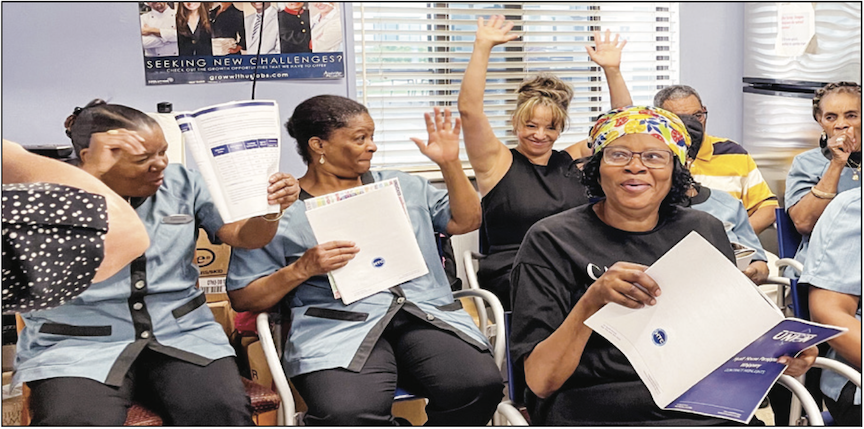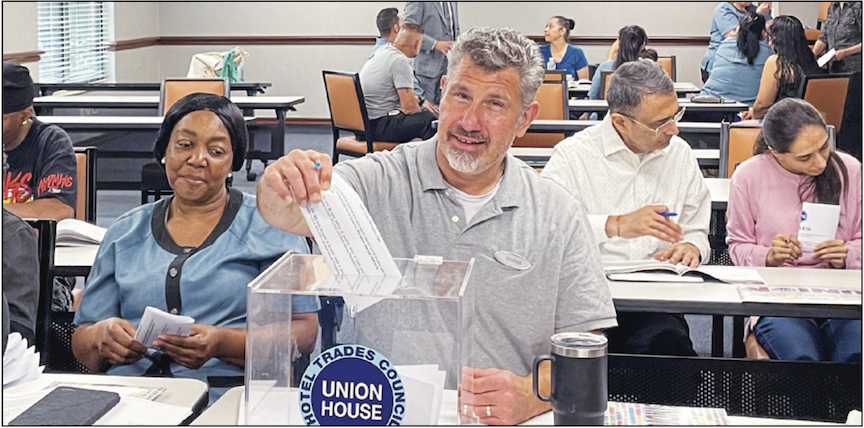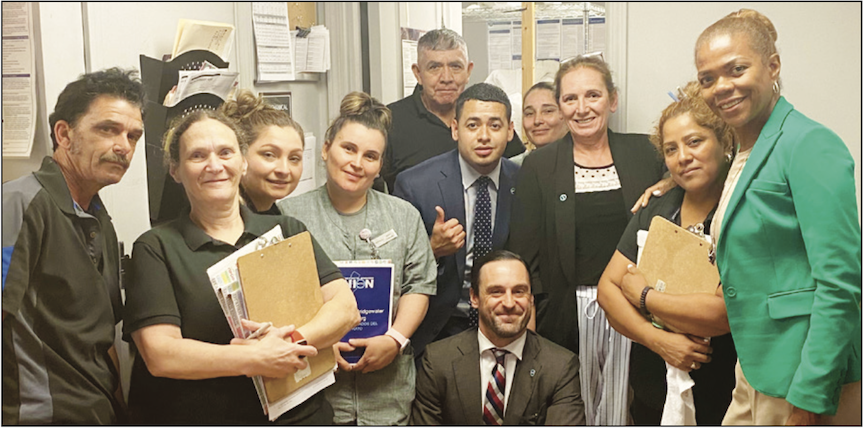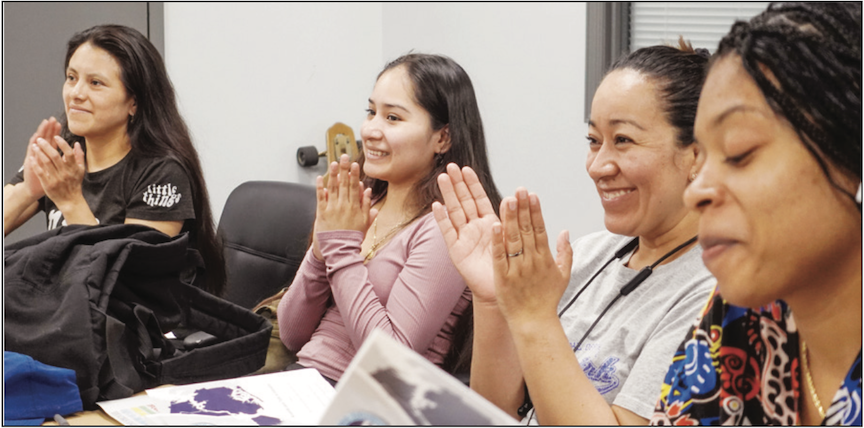 News Clips
Gothamist — NYC Loses 15K Unlicensed Short-Term Rentals as Airbnb Rule Kicks In
"The number of options for Airbnb users looking for a weekend jaunt in New York City has dwindled by 15,000 listings. ... The listings were shifted as part of a new rule put into effect on Sept. 5 requiring short-term rental hosts to register with the city in order to get paid through sites like Airbnb."
New York Times — How Soaring Child Care Costs Are Crushing New Yorkers
"All but the wealthiest New Yorkers — even the upper middle class and especially moth- ers — are scrambling to afford care that will allow them to keep their jobs. Median prices for nearly every type of child care in New York City have shot up since 2017, according to state surveys of providers...
In reality, a typical city family is spending over a quarter of their income to pay for that care, according to the U.S. Department of Labor."
VICE News — Popular Union-Busting Tactic Banned in New York in 'Major Victory'
"New York has banned captive audience meet- ings, a popular union-busting tactic used by companies during organizing periods to dis- seminate anti-union information. Governor Kathy Hochul signed the bill on Wednesday morning, making the state the fifth in the U.S. to make such meetings illegal...
'This legislation will help to ensure that all New Yorkers receive the benefits and protec- tions that allow them to work with dignity,' Hochul said in a statement on Wednesday."
AP News — Biden tells striking auto workers to 'stick with it' in a historic visit to Michigan picket line
"Labor historians say they cannot recall an instance when a sitting president has joined an ongoing strike, even during the tenures of the more ardent pro-union presidents...
'He is pro-UAW, he is pro-workers, that is this president,' White House press secretary Karine Jean-Pierre said Monday. 'He stands by union workers, and he is going to stand with the men and women of the UAW.'"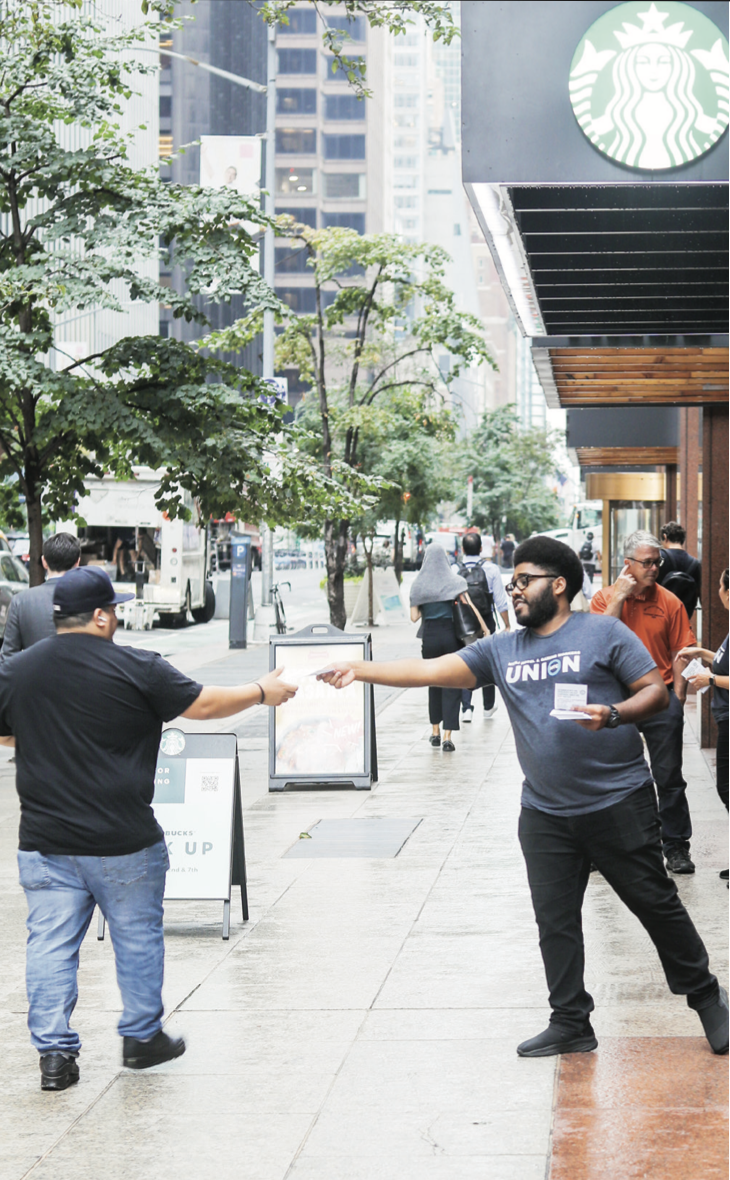 State of the Union Movement
Pictured: On August 7th, HTC passed out flyers at Starbucks locations across the city to raise awareness of the company's union busting tactics in solidarity with Starbucks Workers United.

On August 30th, our Union joined the Association of Professional Flight Attendants at LaGuardia Airport as American Airlines flight attendants voted to authorize a strike.
65,000 members of SAG AFTRA, the national union representing actors and other entertainment professionals, went on strike in mid-July to fight for contractual protections against streaming services and artificial intelligence — two major threats to union members' ability to profit from their own work. On August 22nd, HTC joined SAG AFTRA on the picket line for their National Day of Solidarity.
In a huge victory for workers in New York, on September 6th, Governor Kathy Hochul signed two new pieces of legislation: a bill that makes wage theft of over $1,000 criminal larceny and bill that bans employers from holding mandatory captive audience meetings — a popular union-busting tactic many of our members endured during their own organizing campaigns.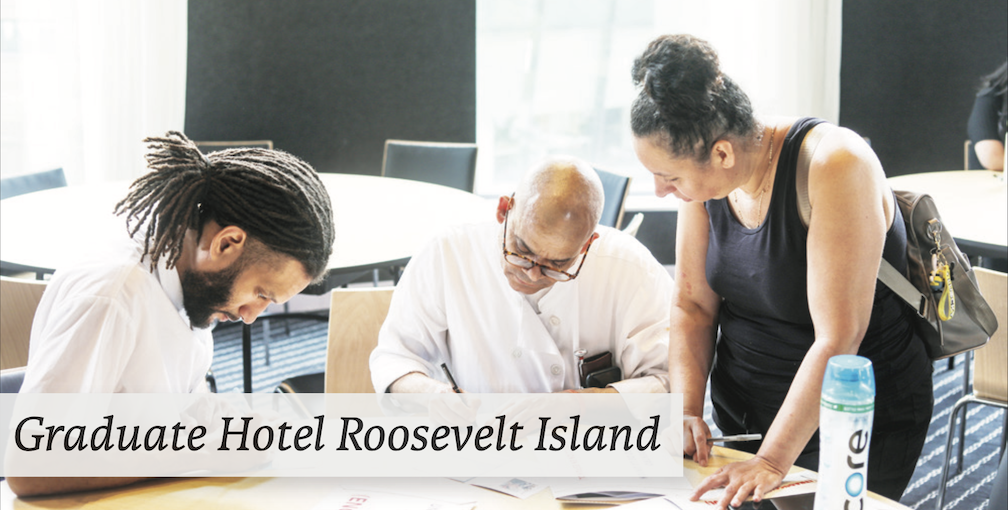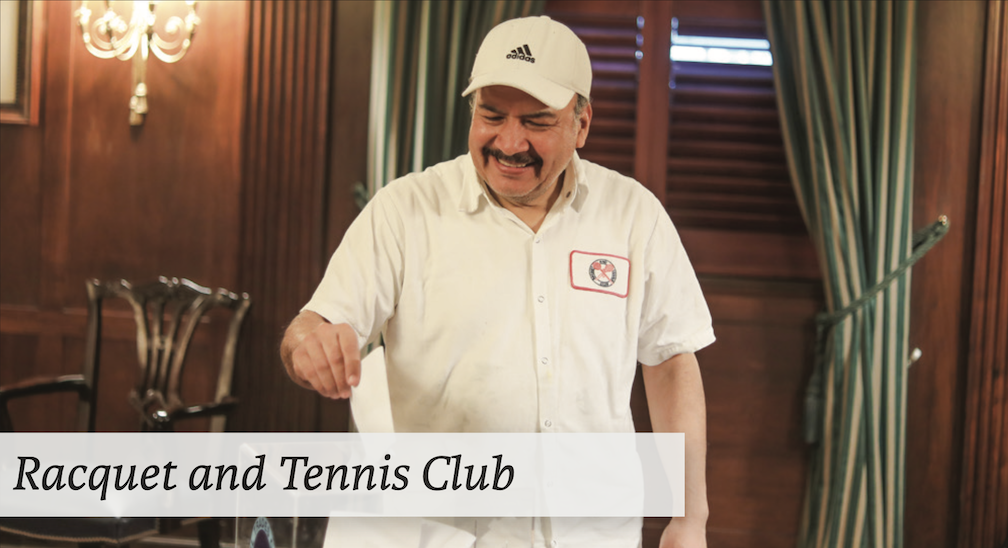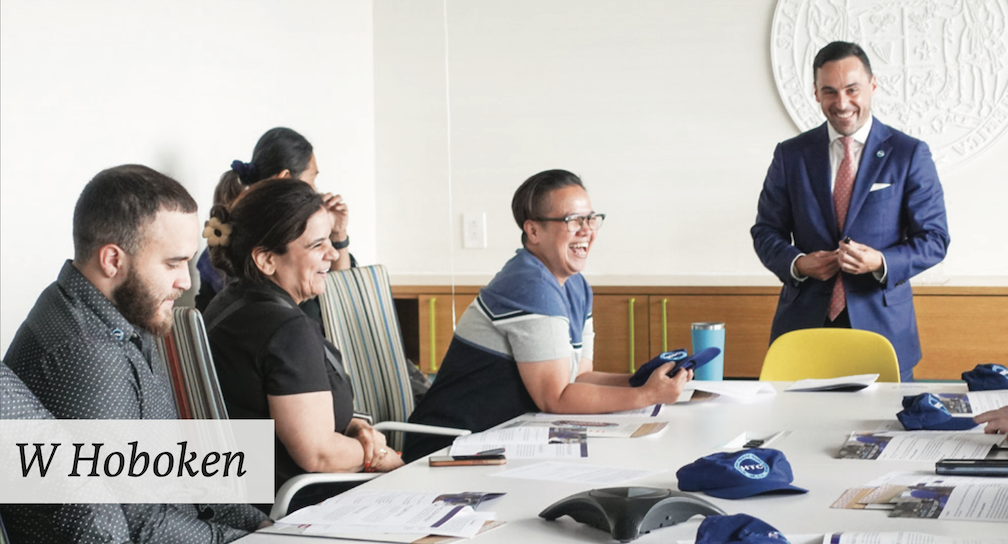 Contract Fight Victories
June 16th - del Lago Resort & Casino Security Supervisors, Surveillance Operators, and Surveillance Technicians


June 20th - La Quinta Clifton


June 29th - Graduate Hotel Roosevelt Island Food & Beverage Department


July 10th - Residence Inn White Plains


July 18th - Racquet and Tennis Club


July 19th - Union Club


July 26th - Holiday Inn Express Albany


August 10th - W Hoboken


August 22nd - Park Hyatt Night Cleaners
HTC In The News
City & State — The 2023 NYC Labor Power 100
#4 - HTC President Rich Maroko
"As New York City's hotel industry has navigated COVID-19, a migrant crisis and efforts to expand affordable housing, Rich Maroko has advocated for hotel workers through it all.
He has advised the city on using hotels to house asylum-seekers, and he blocked the conversion of Manhattan's Paramount Hotel into housing, saving jobs for his members.
Maroko is now touting contracts negotiated for hotel and casino workers, including the largest pay raises in a century for the suburban hotel workers. Plus, a downstate casino expansion will be a boon for his members. "
City & State — The 2023 Real Estate Power 100
#34 - HTC President Rich Maroko
"One of the most powerful labor leaders in New York City, Rich Maroko represents 40,000 employees in the hotel and gambling sectors...
Maroko's union negotiated with the city to open the new migrant welcome center at the Roosevelt Hotel to restore union jobs at the hotel and compensate union members for wages lost during the pandemic. He's also positioned his members to benefit from the expansion of casino gambling in downstate New York."
New York Times — New York City's Crackdown on Airbnb Is Starting. Here's What to Expect.
"The city argues that the proliferation of short-term rentals through Airbnb and other platforms has pushed up rents and helped fuel New York City's housing shortage . . .
The Hotel Trades Council, a powerful force in local politics and ally of Mayor Eric Adams, has long fought the expansion of the platforms. "
New York Times — How Elba Makes a Living Wage
"Early in Barack Obama's recent Netflix documentary series about American jobs, viewers meet a housekeeper at the Pierre Hotel in New York named Elba.
'I don't worry too much about money,' said Elba, who recently became a grandmother, 'because I know I can count on my paycheck.'
Many other service workers earn far less. Full-time Starbucks baristas in New York City often earn less than $35,000 a year, while many Walmart employees make even less.
Across New York City, the median household income is about $75,000 — which is less than Elba and Francisco make. How is it that they earn a living wage while so many other Americans do not?
The biggest part of the answer is that Elba belongs to a labor union."
Note:
Dissolution of Local 1, Local 56 and Local 43
Following the retirement of local leaders and the dissolution of Local 1 (NYHTC), Local 56 (SEIU), and Local 43 (USWA), members of these locals have become direct aðliates of the Hotel & Gaming Trades Council or have been reassigned to another local. This does not change anything for these members. Please contact the Union at (212) 245-8100 with any questions.