REOPENING NEWS
China has dropped several major COVID-19 travel restrictions. This is a promising sign for 2023 tourism; in 2019, before the pandemic more than 1.1 million Chinese tourists visited NYC.

On February 16th, HTC rallied with Mayor Adams at the Boathouse in Central Park as he announced the restaurant's plans to reopen in the summer, bringing back over 100 union workers!

NEGOTIATION NEWS
On December 15th, over 100 employees at the Hard Rock Hotel NY voted unanimously to ratify their first Union contract!

On December 19th, 88 workers at the TWA ratified a new agreement with wage increases through 2028! The TWA's first contract was negotiated during the height of the COVID-19 crisis.

On January 19th, 99% of workers at the Hilton Albany ratified their first GRIWA!

On February 14th, 100% of workers at the Crowne Plaza JFK ratified their first HTC contract!
POLITICAL WINS
Union-backed candidates Reverend Raphael Warnock and John Fetterman won their elections for Senate in Georgia and Pennsylvania. Congratulations to the 19 HTC members who joined the national canvassing effort.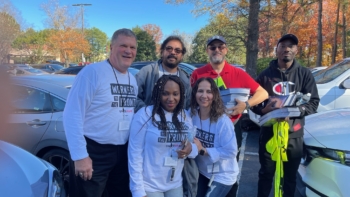 Left to right (back): HTC volunteers Gerard Dis (Michelangelo), Ujjwal Mainali (Pennsylvania), Antonio Codita, and Erik Owusu (Crowne Plaza Times Square); Left to right (front): Fatmata Jalloh (Stewart Hotel) and Lilian Uribe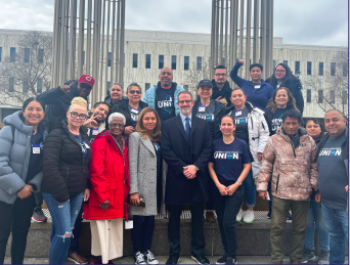 On February 9th, 15 HTC members displayed power in numbers at the Trenton State House, where President Rich Maroko spoke at the NJ Senate Labor Committee hearing in favor of Bill S3215. If passed, the bill will expand and improve access to unemployment benefits for workers who are on strike.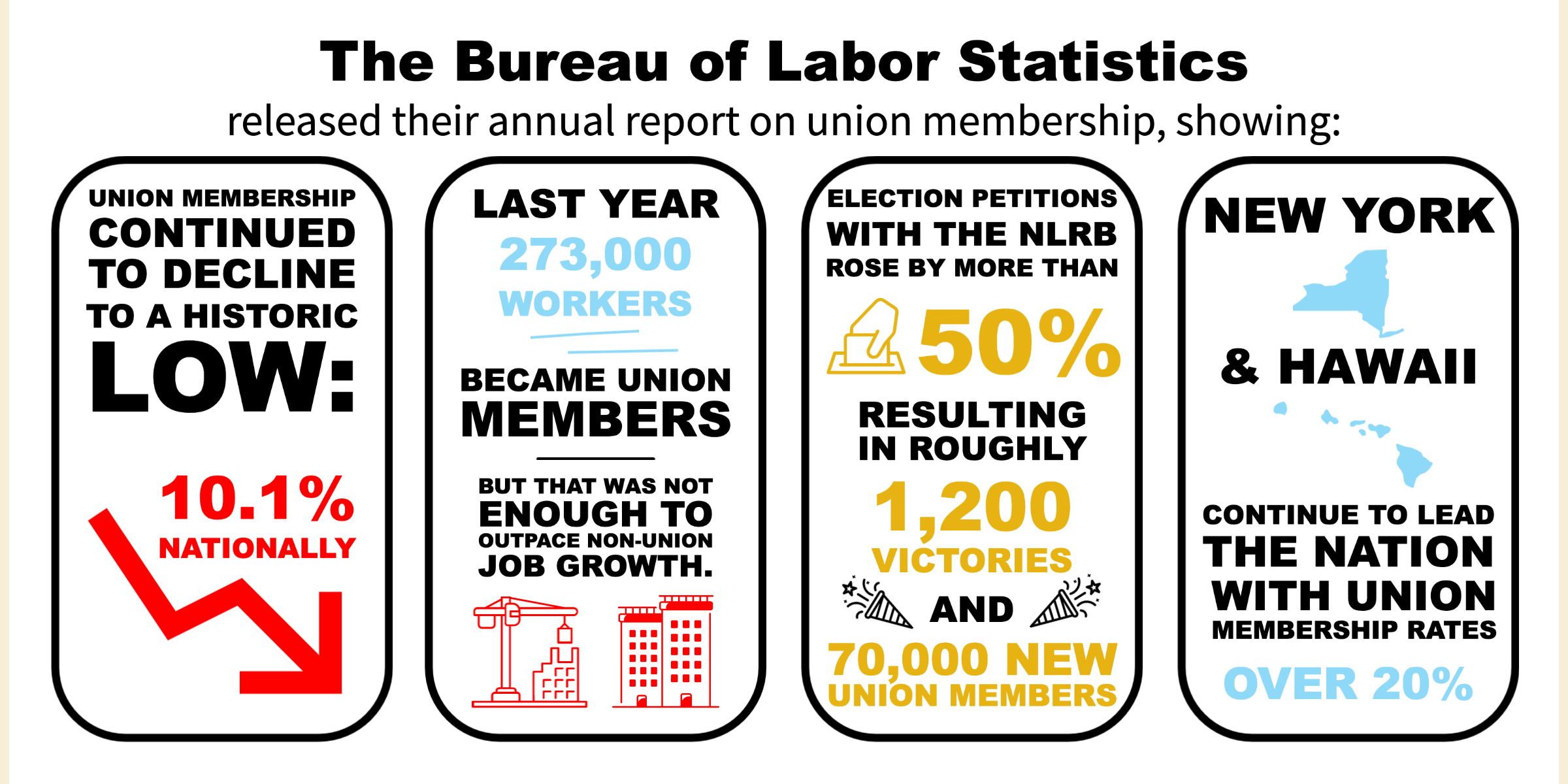 RECENT ORGANIZING VICTORIES
We organized 10 new shops and welcomed over 350 new members!
Nov 3rd: Night Hotel Broadway

Dec 7th: Resorts World Hudson Valley
Dec 19th: Fairfield Inn & Suites Mahwah, NJ
Dec 19th: Fairfield Inn & Suites Rockaway, NJ
Jan 9th: Ace Brooklyn
Jan 24th: Courtyard Fresh Meadows
Jan 24th: Fairfield Inn & Suites Fresh Meadows
Feb 10th: Hyatt House Parsippany East
Feb 10th: Hyatt House Parsippany Whippany
Feb 17th: Residence Inn Bridgewater Branchburg
MEMBER SERVICES:
Looking for work? Members can now schedule interviews for available substitute positions via the Union's website! Visit hotelworkers.org/hire
This spring, enroll in free classes through our Union! To sign up for Computer, English as a Second Language, or GED classes visit our website at https://nyh.tc/trainingprogram
The Vito J. Pitta and Division A Scholarship Programs are now accepting applications from eligible children of Union members. Applications are due April 3rd, 2023. Click here for more information.

The Industry Training Program has re-started its Banquet Server Certification Course! Members can learn more and sign up for future classes at hotelfunds.org.
The Benefit Funds is very happy to announce the opening of a new, state-of-the-art Oral Surgery Suite in our 14 Penn Plaza Dental Facility for patients on the Industry Plan. All Oral Surgery and Dental Implant Services formerly offered at the Fifth Avenue location will now be available at 14 Penn Plaza starting April 1st, 2023. Patients will be able to see the same providers, ensuring complete continuity of care.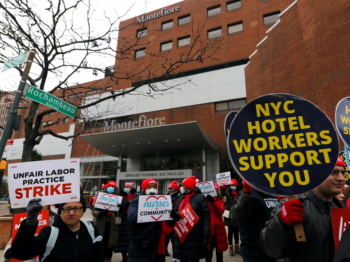 STATE OF THE UNION MOVEMENT:
In January, over 7,000 nurses with the New York State Nurses Association (NYSNA) went on strike when management at Mount Sinai and Montefiore hospitals refused to meet their staffing demands in contract negotiations. After 3 days on the picket line, NYSNA won contracts with safe staffing ratios and more. HTC joined striking nurses on the picket line on January 11th.

A new case in the Supreme Court is threatening the right to strike: Glacier Northwest, Inc. v. International Brotherhood of Teamsters. The case will decide if employers have the right to sue unions for property damage that occurs when workers walk off the job.

HTC IN THE NEWS
nyc.gov—Mayor Adams Announces Placement of Family-Focused Humanitarian Emergency Response and Relief Center to Assist Asylum Seekers:
"New York has always been a city of immigrants and HTC is proud to work with Mayor Adams and other stakeholders to ensure that these migrant families find safe haven here," said Rich Maroko.

Crain's – Real Estate Titans are Lining Up for the City's Golden Ticket: A Casino License:
"Rich Maroko […] figures casinos are the future for his 40,000 members, and last year he renamed the organization the Hotel and Gaming Trades Council. 'We wanted the name to reflect the reality of who we are and who we could be,' Maroko said. About one-tenth of his members work in casinos and each new facility promises at least 1,000 additional jobs paying $38 an hour, plus benefits and a pension."
New York Times – Deep Pockets and Powerful Allies: How a Hotel Union Shapes New York City:
"The union blocked the conversion [of the Paramount Hotel], which threatened the jobs of the workers waiting to return to the 597-room hotel. Under the union's contract, the deal could not proceed without its consent… 'While we certainly support the vision of finding shelters and supportive housing for the people that need it,' Mr. Maroko said, 'our first, second and third priority is our members.' … It was a relief for workers like Sheena Jobe-Davis, who lost her job there in March 2020 as a front-desk attendant. She temporarily worked at a nonunion Manhattan hotel, making $20 less per hour than at the Paramount. She was ecstatic to get her old job back."
City and State NY – The 2023 50 Over 50: The Age Disruptors
"Maroko has helped the 40,000-member union secure better benefits, shape the permitting process for New York City hotels and capitalize on the looming downstate casino expansion. 'There is nothing more rewarding than meeting a member who has a significantly better life because of our contracts – who has job security, great wages, health care, a pension, reasonable workload and is treated with respect,' Maroko says."
Chris Coffey, Democratic political strategist
New York Times, Dec. 9, 2022
"H.T.C. is playing chess while everyone else is playing checkers. They're just operating on a higher playing field."
NY Daily News – NYC Mayor Adams, hotel workers union make TV ad to bring Democratic National Convention to city:
"NYC has the best hotels run by the best hospitality staff in the country ready to roll out the red carpet for President Biden and the DNC. Our members and everything they've achieved are a shining example of what the Democratic Party stands for — excellent jobs with middle class wages, free family health care, and workplace protections that empower a diverse workforce,' said Rich Maroko, president of the Hotel and Gaming Trades Council. 'With more unionized hotels and workers than any other city, we're proud to call on President Biden and the DNC to choose NYC for this convention."
INDUSTRY NEWS
PIX11 – New laws will remove thousands of NYC Airbnb listings:
"Strict new laws that the City of New York plans to implement soon will remove thousands of listings from Airbnb and other short-term rental websites making it harder for hosts to rent out… The new laws would require listings to be registered with the Mayor's Office of Special Enforcement. It would also require proof that the property is the host's primary residence."