New York City Nurses Win Safe Staffing Ratios, End Three Day Strike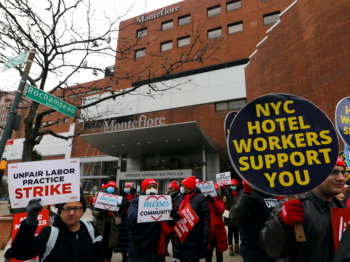 January 20, 2023 10:29 AM
On Thursday, January 12th, 2023, the New York State Nurses Association (NYSNA) ended their three day strike after winning contract agreements with Mount Sinai and Montefiore hospitals.
In the weeks leading up to the strike, NYSNA was able to reach tentative agreements with six other NYC hospitals, but management at Mount Sinai and Montefiore refused to meet the nurses' demands around safe-staffing, and so they walked out of negotiations and off the job in the early morning on January 9th.
Our Union joined NYSNA nurses at Montefiore Moses on the third day of their picket line.




Listen to the Nurses
NYSNA reported that both Montefiore and Mount Sinai are extremely understaffed—between them, there are 1,200 nursing vacancies. The hospitals' solution to the understaffing crisis has not been to hire more nurses, but to overload their nurses with patients. According to NYSNA president Nancy Hagans, emergency room nurses at Montefiore have had to care for 20 patients at a time, when the professionally accepted safe-staffing ratio is one nurse to three patients. This is a common practice in the hospital industry, said a National Nurses United report from December 2021; "To reduce labor costs and to increase profits, the hospital industry deliberately refuses to staff our nation's hospitals with enough nurses."
In recent years, Montefiore has also responded to understaffing by putting more and more patients in hallway beds. Michelle Gonzalez, an ICU nurse at Montefiore Moses, said at a rally on the picket line, "We have been called disgusting [for striking], when we are only fighting to end the practices we find disgusting here—like patients getting cleaned in the middle of the hallway!"




Safe Working Conditions are Non-Negotiable
The conditions at Mount Sinai and Montefiore affect the health and safety of nurses as well as their patients—nurses say they skip meals and bathroom breaks, work 24-hour shifts, all while trying to juggle two, three, four times as many patients as they should. "We're leaving the profession in droves, because we go home with moral injuries, we go home crying," said Montefiore emergency room nurse Benny Matthew at a January rally.
Any of our members who have worked in a non-union hotel or casino can relate. The non-union hospitality industry is notorious for exploiting workers, demanding that individuals do the job of two (or more) people, and leaving no time for workers to rest, eat, or even use the bathroom. That's why our Union fights for fair quotas, breaks, and strong contract enforcement rights.
NYSNA nurses were fighting to secure similar protections in their contracts: safe staffing ratios and provisions for enforcing them. "What good are ratios if we don't have solid enforcement?" said a NYSNA organizer on the picket line.




A Fair Contract is Reached
Mount Sinai and Montefiore had been unwilling to meet NYSNA's demands for ratios and enforcement in negotiations. But three days on the picket line proved long enough to force their hand, as managers scrambled to find medical professionals capable of filling in for the striking workers, assigning doctors and administrative employees to do the work of nurses and nursing assistants. A doctor at Montefiore told the Washington Post that patients laughed at him as he fumbled through certain tasks.
On the morning of January 12th, nurses at both hospitals came out of negotiations with firm safe staffing language. The contract with Montefiore even set financial penalties for management if they ever fail to safely staff. It also added 170 new nursing positions, and establishes community health improvements and a program to recruit and retain local nurses in the Bronx.




Strong Unions Benefit Everyone
The historic gains in these contracts don't just benefit the nurses in these hospitals; they benefit the patients. Public perception is that a unionized workforce is bad for the consumer: that unions drive up prices and allow workers to be lazy. Working people, especially union members, know that's categorically false. They know that the better their work conditions are, the better work they can do.
This truth is abundantly clear when we look at New York City nurses and what they've won this January. As much as any nurse doesn't want to take care of 24 patients at one time, no patient ever wants to be just one of 24 people in need of emergency care from an overburdened nurse.
Our Union congratulates NYSNA on their successful strike — and thanks them for their service to all of us who might ever find ourselves seeking care at a hospital in New York City.