New and Improved Member Services Area at Benefits Fund Office
The Benefit Funds Office continues to prove its dedication to members of our union and their families by improving benefits and services. The latest example of this can be found in its new and improved Member Service Area located on the second floor of 305 West 44th Street.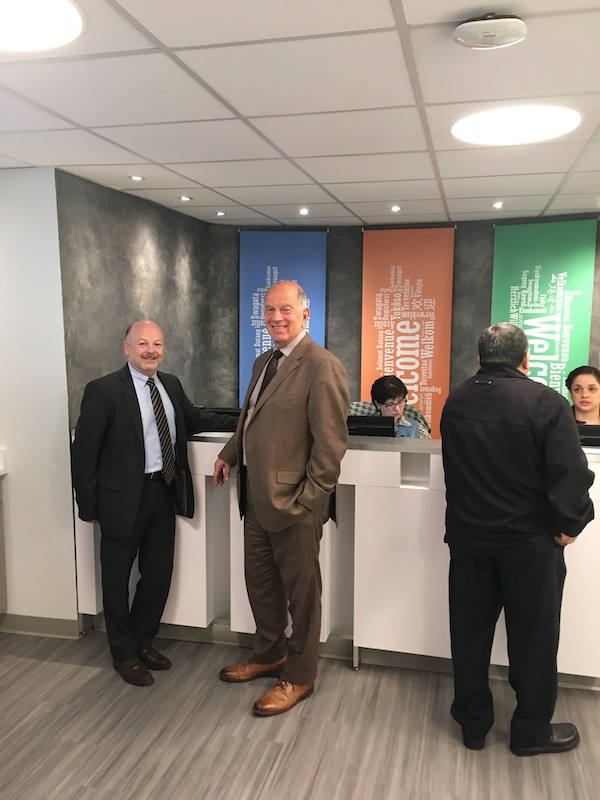 Andrew Windsor, Director of Administrative Services, and Benefit Funds Chief Executive Officer Dr. Robert Greenspan in the new Member Services Center located on the second floor of 305 West 44th Street.
Designed under the guidance of Dr. Robert Greenspan, Chief Executive Officer of the Benefit Funds, this welcoming yet functional approach provides members with quick and attentive service. Just like the changes adopted at our Health Centers, the new Member Service Area is designed to be more inviting and fast moving. Now, staff personnel greet members at the reception area, check them in for service and either provide them that needed service on the spot or escort them to a qualified representative. If the member needs to sit with a representative, each desk provides a spacious area, allowing them to comfortably fill out forms and/or sign documents. While it's the Funds Office's desire that any wait be minimal, there is comfortable seating available, along with a refreshing coffee station. The newly designed second floor of 305 West 44th Street contains areas that service Fund benefits for Health, Pension and Pre-Paid Legal.
Another added feature to the new area is the telephone call center which is dedicated to members' calls. This allows on-the-floor staff to be exclusively dedicated to seeing members face-to-face without the interruption of a phone call. Also, the Benefit Funds Office is implementing a new Interactive Voice Response (IVR) system that will allow providers to call in at any time without having to talk to a staff member. This will certainly free up more time for the staff to dedicate to our members' concerns and questions.

"It's our goal to make the members' visits as convenient, timely and productive as possible and to provide it in an attractive and comfortable environment," said Andrew Windsor, Director of Administrative Services. "It's what the Benefit Funds strive for and, first and foremost, it's what the members deserve."