New Agreement Reached to Extend the Industry-Wide Contract
An Explanation of the New (April 2015) Agreement
Duration
The April Deal would extend the IWA through June 30, 2026 (seven years past the expiration of the current IWA in 2019). That is two years longer than the June 2014 deal.
Longer contracts are a tremendous advantage to workers and the Union. Here, it means that workers are guaranteed wage increases and benefits for more than a decade. It also means that the Union can focus its resources and energy on organizing new hotels; advancing legislation that protects our jobs; and enforcing our contracts, rather than focusing on strikes or prolonged negotiations.
Getting a longer contract now, instead of waiting for the current IWA to expire first, also makes sense. As described further below, the April Deal provides for significant wage increases and guarantees our benefits for years to come. This deal might not have been possible had the Union waited for the current IWA to expire, when we might not be in such a strong position and able to win increases (or, even worse, be forced into making concessions), like during an economic downturn, in a hostile political climate, or at a time when union density is low. Our Union has been both lucky and mindful enough to negotiate contracts that secure wage increases during good economic times and managed to leapfrog over difficult periods in the city, like the great recession of 2008 and the post-9/11 economy. Had we been forced to negotiate the IWA during either of those times, there is no question that our wages and benefits would surely be different than they are today.
Wage Increases
The wage increases in the April 2015 deal are the same as those in the June 2014 deal, only two additional years of increases have been added. In the meantime, IWA increases under the current contract, the last of which is on July 1, 2018, continue unchanged. Then, starting on July 1, 2019 (the day after the current IWA expires), and each July 1st thereafter, through and including 2025, non-tipped workers will receive a raise of $1.00 per hour and tipped workers will receive a raise of $0.50 per hour. This means that by the end of the contract, a Room Attendant will earn $39.87 per hour — over $72,500 per year. A Bellperson will earn $24.05 per hour — about $50,000 per year.
Health Benefits
The April deal accomplishes three goals in health care.
First, the agreement guarantees that workers will continue to enjoy free family health care for the next decade. Any increase in health care costs is the responsibility of the industry, not for one or two years, but for the next 10 years. This is an unprecedented assurance in an era of uncertainty, spiraling health care costs and ever increasing employee contributions.
Second, the agreement significantly improves existing benefits:
Pharmacy Hours: The pharmacies in all of the health centers will now be open on weekends.
Ambulance Costs: Justified ambulance costs will now be fully covered, in accordance with the terms of the Plan.
Prepaid Health Care Card: Starting in 2017, each worker will get a prepaid HRA (Health Reimbursement Arrangement) card ($200 for individuals and $400 for families) that can be used for a variety of health care costs, like prescription drug co-pays. Unused amounts can be carried over from one year to the next.
Orthodontics: The minor children of workers will be entitled to orthodontia (braces) benefits valued up to $1000 for each dependent, provided through the Fund.
Vision Benefits: The Health Centers will provide free eye exams and reimburse each participant and dependent up to $200 per year for eyeglasses or contact lenses, which means our members will no longer have to rely exclusively on GVS.
Third, the April agreement requires the industry to not only fund the construction of the new Brooklyn Health Center, but also to expand and completely renovate the Queens Health Center, too. This means the Queens Health Center will become as modern and spacious as Harlem is now and the new Brooklyn Health Center will be. Each of these dramatic improvements will ensure that our health care system remains state-of-the-art and cutting edge for years to come. The new Brooklyn Health Center will be owned by the Health Benefits Fund, and this will help to ensure that our health plan remains financially healthy for many years to come.
Pension
In order to provide these new health benefits, the April deal extends and expands the reallocation of contributions from the Pension Fund to the Health Benefits Fund that were previously provided for in the June deal.
This reallocation, however, will not significantly alter the date on which increases to Pension plan benefits are projected to occur. Specifically, the actuarial firm retained by the Pension Fund predicts (although it cannot guarantee) that the plan will be 100% funded no later than 12/31/2017 rather than 12/31/2016 (just one year later).
Unlike the June 2014 deal, the April 2015 deal also increases employer contributions to the pension plan in its final years — up to 11.5% of payroll by the end of the contract (a 9.5% increase), which will help to ensure that the Pension Fund remains healthy.
Miscellaneous Provisions
The April 2015 agreement also has several other provisions. They include a clause that will prohibit hotels from using employment agencies that charge job applicant fees, which all too often prove to be shady operations designed to scam vulnerable applicants into paying for a shot at landing a lucrative union hotel job. It also provides for paid sick leave for employees with less than a year's seniority. Finally, it contains an opportunity for the industry to explore with the Union its ideas for salvaging the food & beverage segment of the hotel industry (although there is no obligation for either side to agree to any changes).
Next Steps
The Board of Directors of the Hotel Association has already approved this new agreement. Soon, the Hotel Association will meet with its member hotels to get them to agree to and adopt the April deal. Those hotels that sign on will then become part of the Hotel Association bargaining group.
Once the Hotel Association has finished collecting authorizations, the Union will submit the April Deal for ratification. As with all other ratification votes, only members who are employed in bargaining group hotels (those who authorize the Hotel Association to sign on to the April deal on their behalf) will be allowed to vote.
---
Una Explicación del nuevo Acuerdo (de Abril de 2015)
Duracion
El trato de abril extendería el IWA hasta el 30 de junio de 2026 (que son siete años después del vencimiento en 2019 del IWA). Eso es dos años más que el trato de junio de 2014.
Los contratos más largos representan una ventaja extraordinaria para los trabajadores y para la Unión. En este caso, significa que los trabajadores tienen garantizados aumentos de salarios y beneficios durante más de una década. También significa que la Unión puede concentrar sus recursos y su energía en organizar nuevos hoteles; promover legislación que proteja nuestros empleos; y hacer cumplir nuestros contratos, en lugar de concentrarse en huelgas o negociaciones prolongadas.
Conseguir un contrato más largo ahora, en lugar de esperar a que primero venza el IWA vigente, también tiene sentido. Según se describe más adelante, el trato de abril estipula aumentos de salarios significativos y garantiza nuestros beneficios durante muchos años a futuro. Este trato pudiera no haber sido posible si la Unión esperaba al vencimiento del IWA vigente, cuando podríamos no estar en una posición tan sólida y poder conseguir aumentos (o, incluso peor, forzársenos a hacer concesiones), como durante una recesión económica, en un ambiente político hostil, o en un momento en que la densidad de la Unión fuese baja. Nuestra Unión ha sido muy afortunada y también ha estado suficientemente atenta para negociar contratos que garanticen aumentos de salario durante las buenas épocas económicas y logró sobrevivir los períodos difíciles en la ciudad, tales como la gran recesión de 2008 así como la economía a raíz del 11 de septiembre. Si se nos hubiera obligado a negociar el IWA durante uno de esos momentos, no hay duda de que nuestros salarios y beneficios seguramente serían diferentes a lo que son actualmente.
Aumentos de salario
Los aumentos de salario en el trato de abril de 2015 son los mismos que los del trato de junio de 2014, solo que se han agregado dos años más de aumentos. Mientras tanto, los aumentos del IWA bajo el contrato vigente, el último de los cuales ocurre el 1° de julio de 2018, permanecen sin cambios.  Entonces, a partir del 1° de julio de 2019 (que es el día siguiente a cuando vence el IWA vigente), y cada día 1° de julio a partir de entonces, y en 2025 inclusive, los trabajadores que no reciben propinas recibirán un aumento de $1.00 la hora y los trabajadores que reciben propinas recibirán un aumento de $0.50 la hora.  Esto significa que, para el final del contrato, una camarera de habitaciones ganará $39.87 la hora, que equivale a más de $72,500 al año.  Un Botones de hotel ganará $24.05 la hora, que equivale a alrededor de $50,000 al año.
Beneficios de salud
El trato de abril logra tres metas en el cuidado de salud.
Primero, el acuerdo garantiza que los trabajadores continuarán disfrutando de cuidado de salud gratis para la familia durante la próxima década. Todo aumento en los costos del cuidado de salud es responsabilidad de la industria, no durante uno o dos años, sino durante los próximos 10 años. Esto es una seguridad sin precedentes en una época de incertidumbre, costos de cuidado de salud que suben vertiginosamente y contribuciones cada vez mayores por parte de los empleados.
Segundo, el acuerdo mejora significativamente los beneficios existentes:
Horarios de las farmacias: Ahora las farmacias en todos los centros médicos estarán abiertas los fines de semana.
Costos de ambulancia: Ahora los costos de ambulancia que se justifiquen estarán completamente cubiertos.
Tarjeta prepagada de cuidado de salud: A partir de 2017, todos los trabajadores recibirán una tarjeta prepagada de HRA (Plan de reembolso de gastos médicos) (de $200 por individuo y de $400 por familia) que puede usarse para diversos costos de cuidado de salud, tales como los copagos en las medicinas por receta. Los montos que no se usen pueden trasladarse de un año al siguiente.
Ortodoncia: Los hijos menores de los trabajadores tendrán derecho a beneficios de ortodoncia (aparatos de corrección dental) con un valor hasta de $1000 por cada dependiente, que se proveerá a través del Fondo.
Beneficios ópticos: Los Centros Médicos proveerán chequeos gratuitos de la vista y le reembolsarán a cada participante y dependiente hasta $200 al año por anteojos con receta o lentes de contacto, lo que significa que nuestros miembros ya no tendrán que depender exclusivamente de GVS.
Tercero, el acuerdo de abril requiere que la industria no solo financie la construcción del nuevo Centro Médico de Brooklyn, sino además que amplíe y renueve totalmente el Centro Médico de Queens. Esto significa que el Centro Médico de Queens serán tan moderno y espacioso como lo es ahora el de Harlem y como lo será el nuevo Centro Médico de Brooklyn. Cada una de estas mejoras drásticas garantizará que nuestro sistema de cuidado de salud continúe ofreciendo lo más avanzado y siendo de vanguardia durante muchos años en el futuro. El nuevo Centro Médico de Brooklyn será propiedad del Fondo de Beneficios de Salud, y esto contribuirá a garantizar que nuestro plan de salud permanezca financieramente saludable durante muchos años más.
Pensión
Para poder ofrecer estos nuevos beneficios de salud, el trato de abril prorroga y expande la reasignación de las contribuciones del Fondo de Pensión al Fondo de Beneficios de Salud que se estipulaban previamente en el trato de junio. Sin embargo, esa reasignación no cambiará significativamente la fecha en que se proyecta que ocurran los aumentos a los beneficios del plan de pensión. Específicamente, la firma actuarial contratada por el Fondo de Pensión prevé (aunque no lo puede garantizar) que el plan estará financiado al 100% a más tardar para el 31 de diciembre de 2017, en lugar del 31 de diciembre de 2016 (solo un año más tarde).
A diferencia del trato de junio de 2014, el trato de abril de 2015 también aumenta las contribuciones que haga el empleador al plan de pensión en sus últimos años; hasta un 11.5% de la nómina para finales del contrato (que es un aumento del 9.5%), lo que contribuirá a garantizar que el Fondo de Pensión siga estando saludable.
Disposiciones varias
El acuerdo de abril de 2015 también contiene diversas otras disposiciones. Estas incluyen una cláusula que les prohibirá a los hoteles usar agencias de empleo que les cobren honorarios a los solicitantes de empleo, que normalmente resultan ser operaciones turbias diseñadas para estafar a los solicitantes vulnerables haciéndoles pagar por aspirar a conseguir un empleo lucrativo en un hotel con representación de la Unión.
También estipula días de enfermedad con goce de sueldo para los empleados que tengan menos de un año de antigüedad. Por último, este contiene la oportunidad de que la industria explore con la Unión sus ideas para la salvación del segmento de comidas y bebidas de la industria hotelera (aunque no hay obligación de ninguna de las partes de acordar hacer cambios).
Próximos pasos
La Junta Directiva de la Hotel Association ya ha aprobado este nuevo acuerdo. Muy pronto, la Hotel Association se reunirá con sus hoteles miembro para obtener su acuerdo y que adopten el trato de abril. Aquellos hoteles que lo suscriban, entonces formarán parte del grupo de negociación de la Hotel Association.
Una vez que la Hotel Association haya terminado de recopilar las autorizaciones, la Unión someterá el trato de abril para su ratificación. Al igual que con todas las demás votaciones de ratificación, solo los miembros que estén empleados en hoteles del grupo de negociación (aquellos que autoricen a la Hotel Association a suscribir el trato de abril en nombre de ellos) tendrán derecho a votar.
---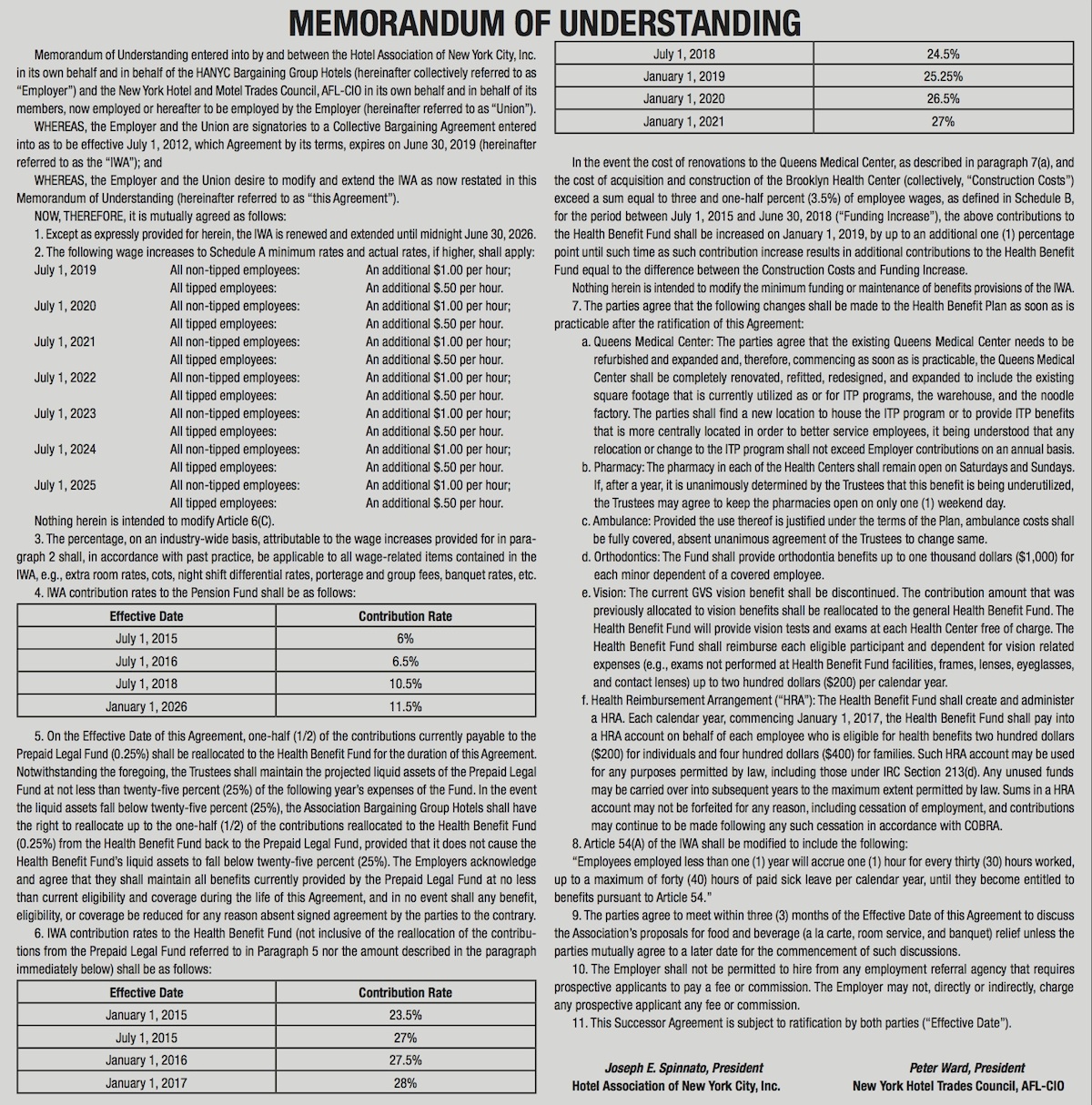 ---