Members Vote Overwhelmingly to Ratify Contract Extension
On Thursday, June 4th HTC members voted, by an enormous majority, to approve a 7 year extension to the Industry Wide Agreement which will cover over 23,000 workers, securing an unprecedented 11 years of guaranteed wage increases and healthcare.
3,436 members voted by secret ballot in the Gertrude Lane Auditorium of the Union's offices in Manhattan. In the final count, 98.7% voted to approve the contract extension.
Voting began at 7am, with members from the 119 Hotel Association Bargaining Group hotels coming individually and in groups to cast their votes. Tonia Johnson-Williams, Room Attendant at the Gregory, said, "I've come to vote because it's important to show support for the Union," and added, "I'm excited about the wage increases!"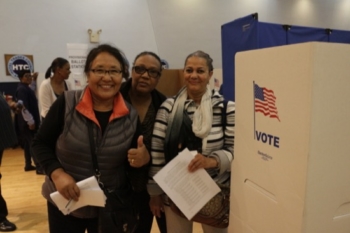 With the extension ratified, IWA increases under the current contract, the last of which is on July 1, 2018, continue unchanged. Then, starting on July 1, 2019 (the day after the current IWA expires), and each July 1st thereafter, through and including 2025, non-tipped workers will receive a raise of $1.00 per hour and tipped workers will receive a raise of $0.50 per hour. This means that by the end of the contract, a Room Attendant will earn $39.87 per hour — over $72,500 per year. A Bellperson will earn $24.05 per hour — over $50,000 per year. Additionally, the contract extension will see employer contributions to the pension fund increased by 9.5% by the end of the extension to ensure that our pension fund remains healthy.
In spite of skyrocketing healthcare costs across the country, this agreement secures and improves upon workers' healthcare benefits. This agreement guarantees the hotels will cover the full cost of healthcare for more than a decade at a time when unions and employers can't get healthcare companies to lock in their prices for more than a couple of years. Desiree Norris, an employee of the St Regis, said, "It's excellent for us. Without such great contracts, where would we be? I am happy with the union, this security makes a big difference to my family."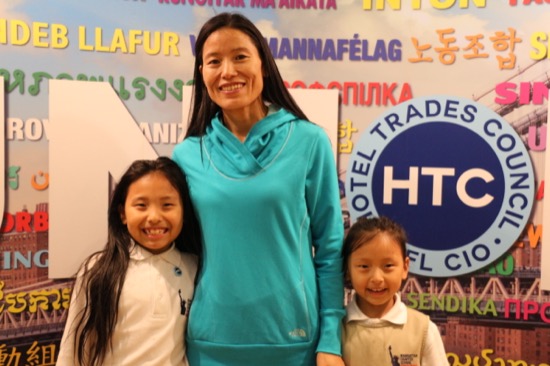 Tsering Lhamo (Trump Soho) and her children, Tenzin Chime and Tenzin Palsang
In addition to locking in free healthcare for over a decade more, the new contract offers significant improvements on the existing benefits:
Pharmacy Hours: The pharmacies in all of the health centers will now be open on weekends.
Ambulance Costs: Justified ambulance costs will now be fully covered, in accordance with the terms of the Plan.
Prepaid Health Care Card: Starting in 2017, each worker will get a prepaid HRA (Health Reimbursement Arrangement) card ($200 for individuals and $400 for families) that can be used for a variety of health care costs, like prescription drug co-pays and LASIK eye surgery. Unused amounts can be carried over from one year to the next.
Orthodontics: The minor children of workers will be entitled to orthodontia (braces) benefits valued up to $1,000 for each dependent, provided through the Fund.
Vision Benefits: The current optical plan with General Vision Services will be cancelled, and instead the Heath Centers will provide free eye exams and reimburse each participant and dependent up to $200 per year for eyeglasses or contact lenses.
This new agreement requires the industry to not only fund the construction of the new Brooklyn Health Center, but also to expand and completely renovate the Queens Health Center, too. This means the Queens Health Center will become as modern and spacious as Harlem is now and the new Brooklyn Health Center will be. Workers can expect state-of-the-art medical service and much shorter waiting times at the new health centers.
Kyaw Soe, who works at the Eventi and the newly organized Park Hyatt, said he voted 'yes' because "this agreement gives us the space and time we need to organize the non-union hotels. We need to organize so that we become stronger." While the 119 hotels in the Hotel Association Bargaining Group have now accepted the contract, and 10 "Me-Too" hotels have automatically signed on, there are still 53 hotels where management have yet to sign the contract. Kyaw had this to say to the management of these hotels: "We are united and strong. Don't pick a fight with us. Sign the contract."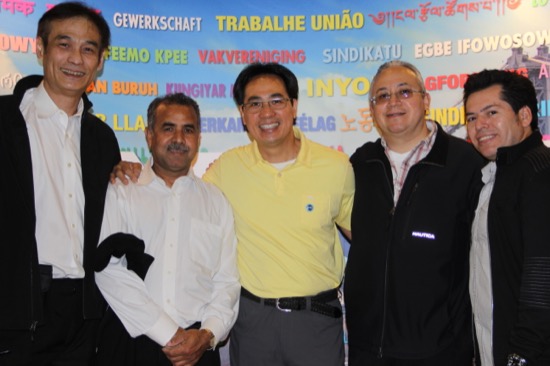 Luis Useche, Ismat Ali, Fernando Gutierrez, Valen Tin, Jay Li (Roosevelt)
The mood on the day was celebratory and many members brought their families with them to vote. Many members stopped by the Contract Distribution Booth to pick up a copy of the Industry Wide Agreement, went to update personal information with the Benefit Funds, and got union picture ID photos taken. Even in the afternoon rush, when many members came right before or after their shift, members were able to complete the voting process in 10 minutes or less, thanks to a wonderfully efficient voting-database-check-in system developed by the union's IT department.
"I came right at the middle of the afternoon rush, when there were a lot of people in the line. The line moved incredibly quickly, I was amazed! It seemed packed, but within almost no time at all I was done and I even got to work a little bit early." said Davorka Zulj, a Server at the Mandarin Oriental.
"People were eager to vote!" said Sonia Randolf, a Telephone Operator at the Waldorf-Astoria said. She continued, "I voted 'yes', this contract means that I can plan ahead with confidence and security. I know that the Union has my back. If I need help, I know that the Union will fight for me."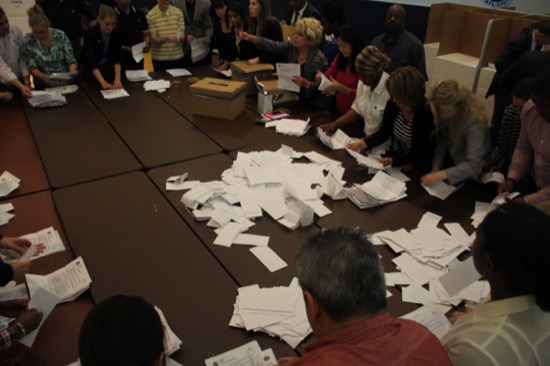 The counting of the votes took place immediately following the polls closing at 7pm, and when all ballots were counted a total of 3,354 members voted 'yes' for the contract extension and 45 voted 'no'.
Hotel Trades Council President Peter Ward made some brief remarks about the outcome of the ratification vote. "With this contract, we are guaranteeing our medical plan for 11 years. People are getting guaranteed wage increases and security for 11 years." He continued, "This contract is a remarkable achievement. It didn't happen because of me, it happened because we have great staff and great members, and everybody is trying to pull in the same direction." He finished saying, "With this contract, we're going to be able to focus all of our energy on making our Union one that represents all of the workers in this industry. If we do that then the security that we have enjoyed in this union for decades future members will enjoy as well."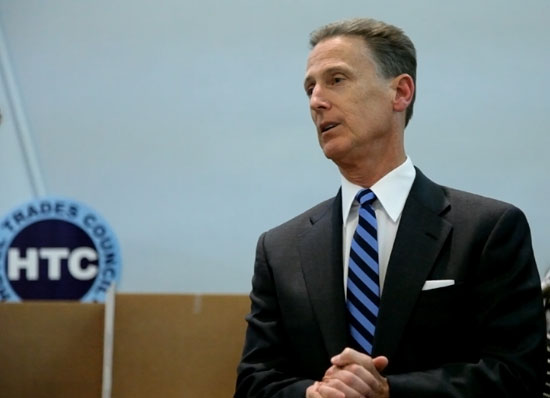 President Peter Ward speaking after the votes were counted.
Click here to view all the photos from Thursdays vote.