Marriott Marquis Workers Win Union Recognition After 35 Years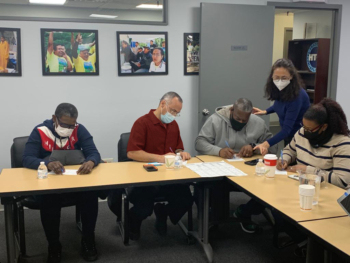 January 11, 2021 3:16 PM
Last week, our Union finally succeeded in organizing the largest and oldest non-union hotel in New York City, the New York Marriott Marquis in Times Square. HTC won recognition as the collective bargaining representative of the workers in the hotel's housekeeping department. This victory marks the end of a 35-year union avoidance campaign at the hotel by Marriott.
As previously reported on our website, back in December, Marriott fired approximately 850 employees in the Food & Beverage Department and in some other departments, including housekeeping. The COVID-19 pandemic has given Marriott a ready-made excuse to reduce costs in New York and other major markets across the country by shedding long-term employees and replacing them with a subcontracted workforce. In unionized Marriott hotels in New York City, union workers can not have their jobs subcontracted, shining a spotlight on the importance of union protections.
When Marriott fired those 850 workers at the Marquis, many of the remaining employees immediately contacted us. Unfortunately, because the workers were not represented by our Union, they were not entitled to the protections against subcontracting or severance benefits that we have negotiated in our contracts, and legally, we could not negotiate on their behalf.
Our Union already had an ongoing organizing effort in progress, in the housekeeping department. While our Union is often able to get card check neutrality agreements with employers that allow us to enter a non-union hotel and speak to workers on the job, we had no such agreement with the New York Marriott Marquis and therefore, union organizers had no access to speak to the workers at the hotel. Instead, we built a strong organizing committee who were doing their best to convince their coworkers to meet with organizers outside of work and sign up. Unfortunately, Marriott's union avoidance strategy has been very effective since even before the hotel opened its doors in 1985. It took the massive elimination of much of the staff for the remaining workers to understand how much they needed the protection of a union contract. The shock of the massive termination provided the final push to give the Union a super-majority with the remaining workers in the housekeeping department.
"This is a bittersweet victory because 850 Marquis workers learned, too late, that corporations are not driven by sentimental feelings like loyalty," Lead Organizer and Director of Organizing Julia Rybak remarked.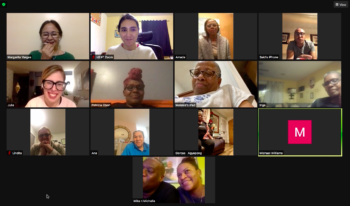 Marriott has been the most notorious anti-union major hotel company for much of its history. The company has waged a very sophisticated and expensive union avoidance strategy at the New York Marquis, its flagship hotel. In 1985, Marriott Marquis management interviewed many applicants for each of the 1,900 positions at the hotel, apparently screening out anyone the company believed would have potential union sympathies. In a city where all the major hotels were union, there were suspiciously few workers with union experience hired when the hotel opened. The hiring process included repeated interviews and polygraph tests, a practice that at the time was legal. Years after the drive was over, these suspicions were confirmed when the Union obtained a copy of a Marriott manager's handbook instructing managers to avoid hiring applicants from heavily unionized cities like New York, Chicago, and Seattle.
Another standard Marriott tactic was to maintain a huge turnover rate, making it hard for the Union to reach and maintain a majority of support. During the three-year campaign, which began in 1985 and ended in 1988, the Union had signed up over 1,000 workers, many of whom were lost to turnover before we ever reached a majority. The Union lost that campaign when Marriott announced that it was reneging on a card count agreement with the Union.
The cornerstone of Marriott's union avoidance strategy was doing a masterful job hoodwinking the workers into believing that they enjoyed the same standards of wages and benefits as HTC members. The company did pay the Marquis workers a few pennies more in hourly wages, which they recouped by short changing the employees to the tune of thousands of dollars per employee per year in other union wage items like time and a quarter pay, holiday-in-lieu and sixth and seventh day overtime. Also, for many years a large minority of the staff were simply denied benefits, which added millions to Marriott's profits. In 2020, the company decided they could save even more simply by subcontracting.
Since the beginning, most Marquis workers clearly understood that their wages and benefits were entirely dependent on the contracts HTC negotiated for its members. Whenever our members got a raise, they got the same raise. They also had a much better medical plan than all other non-union Marriott workers (and for years, a better plan than even the managers in the Marquis) because of our Union. It was a shame that enough of them never understood that by joining our Union, they could have tremendously increased our bargaining power and that would have been in the mutual interest of those workers and all of the hotel workers in New York. For years, the Marquis workers relied on the company's promise that it would "guarantee fair treatment", instead of getting real rights and protections that only a union contract can provide. Of course, those same workers have now learned that they grossly underestimated the value of union job security.
Now the Union represents both the Marquis and the Marriott Downtown, which was organized on December 10th, and the Union intends to negotiate excellent contracts as soon as possible.
"Even though it took longer than we would have liked, we are delighted that the Marriott Marquis is now a union hotel and we warmly welcome the Marquis workers into our ranks," commented HTC President Rich Maroko.
From left to right: Rank and File Organizer Lindita Bastriaga, Public Space Attendant Ana Roman, Housekeeper Irvinia Esprit, HTC Director of Organizing Julia Rybak, and Housekeeper Marie Jeanty.
From left to right: HTC Organizer Margarita Denton, Rank and File Organizer Amada Sosa, Housekeeper Patricia Elson, HTC Director of Organizing Julia Rybak, and Housekeeper Irvinia Esprit.
HTC's Director of Organizing and Lead Organizer at the Marquis Julia Rybak explains to Marquis workers who came to the Union's office how to fill out their cards for the Union.