Mario Gabelli, an Honorary Member of Our Union, Donates an Additional $170,000 for Scholarships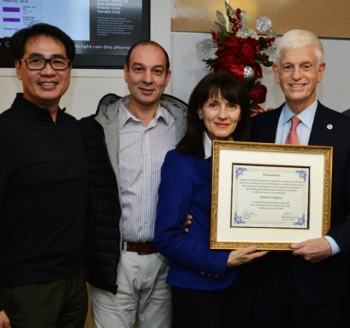 May 29, 2020 2:49 PM
He's done it again! Mr. Mario Gabelli, who has already provided contributions of $181,000 to our union's scholarship fund, donated an additional $170,000 in May, bringing the total amount of his support for the college grant program to more than $350,000. The additional $170,000 will be used to provide scholarships for HTC members' children totaling $85,000 in 2021 and $85,000 in 2022.
Mr. Gabelli's father, Joseph Gabelli, was a member of our union for many years, working in a number of hotels, restaurants and private clubs. In fact, the union's records show that Joseph Gabelli was a charter member of Local 6; he was right there at the very beginning, in 1938, when the union was founded.
Mario Gabelli is well known to many members of our union, especially employees of the Pierre Hotel, and his generous support for the union's scholarship fund has become a source of legend within the union. Since 2017 his benevolence has resulted in significant increases in both the number of scholarship recipients and the amounts of the grants they receive.
The union expressed its gratitude to Mr. Gabelli last December, when he received honorary membership before a very appreciative audience. The ceremony took place at a Local 6 Delegate Assembly meeting, where he received two very loud and enthusiastic standing ovations. Gabelli is only the fourth honorary member of our union in its 81-year history.
"The support Mario Gabelli has provided to the scholarship fund is inspiring in more ways than one," HTC President Peter Ward said at the time. "He is known as a great supporter of education in general and his contributions to our scholarship program further affirm its unique record of success. We are deeply grateful to him, and we are very pleased that he has accepted honorary membership in our union. The Gabelli name now spans all 81 years of our union's history!"
Ward was not present at the December ceremony due to a bout with the flu, but he added to those comments in a recent letter of appreciation to Mr. Gabelli.
"As I'm sure you know, many of our scholarship winners are children of immigrants or were themselves born outside the U.S.," Ward's letter to Gabelli stated. "In consideration of this fact, your generous support for the scholarship program is a strong validation of the contributions that immigrants make to our country, which is especially important now, at a time when anti-immigrant rhetoric has become a popular tool for some politicians."
Since 1987 the scholarship program has awarded $8,768,000 to a total of 1,080 children of HTC members and Local 6 members employed in private clubs. Every previous scholarship recipient has done well; they have either graduated or are still in college or graduate school.
"Our union could use some good news at this time when so many members are on layoff," Ward said, "and Mario Gabelli has provided some wonderful news. I know I speak for our entire union when I say how very grateful we are."