Jackpot! Racino workers see their wages double in first contract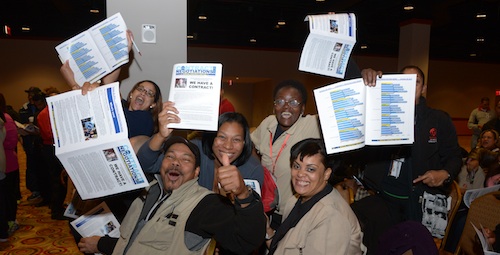 History was made this week when Hotel Trades Council members employed at the Resorts World racino in Queens saw their wages hiked almost 100 percent. The nearly 1,400 workers now have a contract and, with the stroke of an arbitrator's pen, they saw their earnings rise to a level that brings them into the middle class. It was a story so compelling, it received extensive coverage in New York City's two biggest newspapers, both of which described the turn of events as "hitting the jackpot."
The Union and the company that owns Resorts World had been involved in negotiations and many issues had already been settled. But the parties engaged in what is called interest arbitration to determine the remaining issues, which included wages and benefits.
The Union put up a strong case in arbitration, including expert testimony about area economics and living wages, as well as personal testimony from racino employees. In the end, the arbitrator, Elliott Shriftman, ruled that the workers were entitled to a living wage, money that far exceeds what they had been earning. The workers also received a benefits package that is comparable to those received by hotel workers under the industry-wide agreement (IWA).
The term of the contract with Resorts World will last until October 18, 2017. By the end of the contract, most workers there will be earning over $60,000 a year! This represents an average wage increase of 180 percent (180%) over the life of the contract!
Examples of wage increases include kitchen utility workers, whose average wage of $9.54 per hour was immediately increased to $22.11 per hour and will continue to rise up to $31.69 per hour in 2016. A food server earning an average of $5.58 an hour (plus tips) received an immediate increase to $12.50 an hour and will be further increased up to $17.92 an hour in 2016. A slot ambassador went immediately from an average of $11.48 an hour to $22.01 an hour and will rise to $31.54 per hour in 2016. There are similar wage increases for virtually every union job classification at Resorts World.
On top of these wage increases Resorts World workers also received immediate help. Those employed for more than a year were to receive a one-time lump sum "signing bonus" of $3,000 each. Those employed between six months and a year were to receive a lump sum of $1,500. Those employed at least three months but less than six months were to receive $750.
The impact that the new contract will have on Resorts World workers cannot be overstated. A racino employee who testified in the arbitration said she spent hours each day commuting to Queens from a homeless shelter in the Bronx. Another worker testified that he was a diabetic who could not afford health insurance. Another told the arbitrator he was paying $50 for visits to the doctor and he had been late in paying the rent the last three months. Several workers told Hotel Voice that they were facing eviction from their homes due to their inability to make rent payments. Another worker said she planned to immediately begin looking for a better neighborhood for her family. And more than a few workers were thrilled to hear that their fully-paid family medical was to begin immediately and without any co-pays. In fact, many workers made statements that clearly confirmed that the contract was a life-changing event for them and their families.
The joy of workers was clearly evident at a meeting held at Resorts World on Monday, October 28.
Peter Ward opened the meeting by telling the workers, "We have a contract!" This resulted in an exhibition of jubilation that the racino more commonly sees when someone hits a jackpot on a slot machine — and then multiply that reaction by 1,375, the number of workers affected by the contract.
"You now have some of the best casino jobs in the country," Ward added, to more cheers.
Ward briefly reviewed the history of the relationship between the Union and Genting, the company that owns Resorts World. He explained that obtaining the contract was a years-long process that included an organizing drive by the Union, subsequent negotiations, where agreement was reached on many items, and the arbitration process that resulted in finalizing the remaining items in the contract. He told the workers the company had lived up to its word and had acted in good faith throughout the process.
Recognizing that many of the workers had never before been union members, Ward explained that the contract is far more than wages and benefits. He told the workers about the strong job protections it contains, as well as the protections it has for immigrants. He told them about the scheduling rights they will now enjoy. He told them the contract contains protections against subcontracting and changes in ownership or management.
Ward introduced Hotel Trades Council General Counsel Richard Maroko, who explained more details about the contract, telling the workers, "This contract makes you management's equal!"
Following Maroko's report on the contract Ward told the workers that they comprise what is not only the Union's newest shop but also its largest, with 1375 members.
Ward concluded by telling the workers that they were the beneficiaries of 75 years of the hard work and solid unity of the Hotel Trades Council members that preceded them.
"Union members, including those that founded this union, really had to struggle in the 1930s," he said. "They had to battle the worst bosses imaginable and they even had to battle with the cops monitoring their picket lines. But they persevered, and so did the union members who followed them. These are the people who laid the foundation that enabled you to enjoy the gains you obtained this week in wages, benefits and work conditions. I ask you to remember that."
Ward told the Resorts World workers that they had a responsibility to help the Union grow so that other workers can have the same chance to enjoy the contractual protections and good wages and benefits they now enjoy.
"There are times we may ask for your help with a political campaign or to support other members of this Union who have to picket their bosses," he said. "I know we can count on you!"
Ward concluded by answering questions about the contract and the various benefits. He told the workers that meetings would be held beginning immediately to explain the contract in detail and to have representatives from the benefit funds present to explain the family medical, dental, pension and other benefits the workers will now enjoy.
Many of the workers personally thanked Ward, Maroko, and the other Union officers present for the amazing change the contract will bring to their lives and the lives of their families. This was best summed up by Resorts World workers who spoke with the New York Times and the Daily News.
"It's life-changing," Jeannine Nixon, a customer relations representative, told the New York Times, "I can finally feel relieved."
Nixon told the Times she recently postponed a blood test because she could not afford to pay for it. She won't have to worry about that any more, she now has free health care with no premiums and no co-pays.
Adrian Soto, a security guard at Resorts World, agreed with Ms. Nixon, telling the New York Daily News, "This is just life-changing. I'm practically in tears right now." Soto told the News he was behind on his bills and struggling to support his 9-year-old son and 7-year-old daughter. "The rent was always late," he said. "Just to get a Metrocard was a hassle."
Not any more. Adrian's wages almost doubled immediately and he will be earning over $30 an hour in 2016.  
"This landmark contract will provide a pathway from poverty to the middle class for many New Yorkers," Peter Ward said. "With this contract, we have created a blueprint that will set a standard for future contracts with the gaming industry throughout the state. It is a win for the employees and a victory for the future of New York's middle class."