Hyatt Times Square newly unionized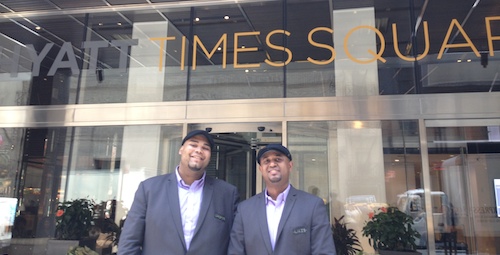 On June 5, 2014 the workers at the Hyatt Times Square officially became members of the Hotel Trades Council. Room Attendant Lorena Garcia commented "I can't tell you how thrilled I am about this. This is a great new hotel, and now that we all have the union, I know I will have stability at this job in the future."
Workers at the Hyatt Times Square were able to join the union quickly because Hyatt agreed not to interfere with workers' joining the union, a stipulation within the union contract. Hyatt also operates the Grand Hyatt, the Andaz Downtown, and the Andaz 5th Avenue, all long-time union hotels. At the Hyatt Times Square, union organizers were able to speak with workers and certify the union through majority vote in just a few days.
Hyatt Times Square workers are following in the footsteps of their coworkers at the Hyatt Jersey City, who became members of our union on February 25, 2014. Juana Velez, Rank-and-File Organizer and Floor Supervisor at the Westin Grand Central, worked on the organizing campaigns at both Hyatts. Juana comments, "I was proud to work on the team of organizers that helped make these hotels union. I know just how important it is to the lives of all these Hyatt workers and to the future strength of our union that these guys have the union now."
Now that the Hyatt Times Square is union, the HTC legal team can begin negotiating for a contract. Stay tuned for updates on Hyatt Times Square negotiations and on the union's ongoing organizing efforts.