Hundreds of Members Attend Union's Political Information Sessions
Many members have been volunteering their time helping our Union with various activities to keep us strong. These activities have included canvassing, leafleting during political campaigns, phone banking and other tasks, and all of them are important to our Union as a whole. Nowhere was this more evident than during political information sessions held at the union hall last week.
The morning session was opened by Hotel Trades Council President Peter Ward, who welcomed the members in attendance.
"While we're bigger and stronger and on every measurable level a better union than ever before, we need to keep building, growing and using our political power," he explained.
Ward noted that 25 years ago the percentage of the U.S. workforce that was represented by unions was at an acceptable level, but that a series of so-called free trade agreements had decimated the American middle class.
"Go to cities like Troy, Detroit or Cleveland and you see infrastructure decay, deserted neighborhoods and abandoned factories," he said. "In 1992 General Motors was the largest employer. Today, Wal-Mart is. The auto worker 25 years ago earned a lot more than a Wal-Mart worker earns today."
Ward pointed out that things were not getting better, reporting that only a week earlier Wisconsin became the 25th "right to work" state in the U.S. Explaining that "right to work" is a misleading term for making it much harder for unions to operate, Ward made a chilling prediction: "If the Republicans maintain their Congressional majority and win the White House in 2016 they will enact national 'right to work' laws and sink most unions."
Our Own Union's Strength
Ward then addressed the three major problems facing our own union at this time: Airbnb, the many non-union hotels in New York City and the steep decline of the Euro against the U.S. dollar—the latter of which could greatly reduce European tourism to the U.S. and particularly New York.
"We can't do anything about the Euro, but we can do plenty about the other two things!" Ward said. "We are going to be in for a few tough years, so now is the time for us to commit to being politically active. We have an efficient medical program and a great contract, and that means what we have is worth fighting for. We need this volunteer effort from our members to keep our Union strong and to protect our wages and the benefits we and our families enjoy."
Members showed strong agreement with Ward's message, which was not surprising because most in attendance have already been active in the Union's efforts to win zoning changes and to thwart illegal hotels and apartment rentals that endanger jobs in the legitimate hotel industry.
The HEAT System
Ward was followed by Organizing Supervisor Julia Rybak.
"We have 822 HEAT captains," she said, "and we have 14,042 members who have signed a pledge for a two-year commitment to volunteer their time to help the union in these efforts to organize new hotels, win new zoning laws and stop illegal hotels and apartment rentals."
Rybak explained that the purpose of the session, saying, "This meeting is to give you more information to help in the effort to protect your jobs and your rights."
The Union's Political and Strategic Affairs Director, Josh Gold, was then brought on to review the Union's accomplishments in the political arena and how they beneficially impact all members.
It all began with the creation of the HEAT system in 2007, Gold said, and this was followed by three tests of the Union's ability to provide volunteers for various candidates for public office.
Work Begins
The first test was when the Union provided volunteers to the campaign to elect Dan Squadron to the New York State Senate.
Squadron's victory in that campaign, where he beat a longtime, well-connected and well-funded incumbent, brought great attention to the Union.
The next year, 2009, brought the second test, when the Union supported the candidacies of 22 City Council candidates, as well as Bill de Blasio for Public Advocate and John Liu for Comptroller.
The third test came In 2010, when volunteers from our Union helped the candidacies of Andrew Cuomo for Governor and Eric Schneiderman for Attorney General. Volunteers from our Union worked for Schneiderman during a hotly contested but eventually victorious primary against several opponents.
Our Union's Importance
Josh Gold pointed out that while there may be as many as 20 unions in New York that are larger than ours, the Hotel Trades Council is generally cited as one of the four most important unions to back a candidate, along with SEIU 1199, SEIU 32 BJ and the United Federation of Teachers. He noted more than a few instances where publications like the New York Times, New York Post, Daily News and Crain's have talked about the Union's political importance and its great value to the candidates it supports. These and other publications like the Wall Street Journal have used words like "powerful" to describe the Hotel Trades Council
Gold said the Union makes smart, targeted decisions, using as an example its support for an underdog Congressional candidate, Grace Ming, who ended up being elected at New York's first Asian American member of Congress. In addition, the Union worked long and hard for Scott Stringer and Melissa Mark Viverito, the City's current Comptroller and City Council Speaker.
The Union has also had success engaging in various campaigns, Gold noted. "From Universal Pre-K to raising the minimum wage for tipped workers our Union has played a leadership role is issue campaigns that are important to elected officials," he said.
Activities Pay Dividends
This kind of committed activity pays huge dividends. The Union was instrumental in bringing about a technical fix in the Authority Reform law. This resulted in the current status where any project that the state has an interest in must sign a neutrality agreement. The results have been dramatic, with the Union having neutrality agreements with Empire Outlet Hotels in Staten Island, the Lighthouse Point Hotel, also in Staten Island, the Brooklyn Bridge Park Hotel and the Albany Renaissance, among others.
Julia Rybak made an interesting point on the great difference neutrality agreements can make. She did this by explaining how quick and easy organizing was at the Viceroy Hotel, where the Union had a neutrality agreement, as opposed to the Boathouse, where organizing took almost two years and a strike was needed to obtain a contract.
Gold explained that the Union remains active with community boards and works to have a say in the land use or ULURP process. It is a goal of the Union to have a law passed where hotels in certain areas can only be built with special permits.
Gold also reviewed the success the Union has had with gaming facilities. He noted that the Union was able to obtain language in the 2013 New York State budget that required a "labor peace" agreement for any future casinos. The eventual gaming legislation required "labor peace" for new VLT (video lottery terminal) parlors in Nassau and Suffolk counties, and the result of these efforts was that all but one bidder for casinos in New York signed neutrality agreements with our Union.
Union Must Keep Building Power
After reviewing the Union's current efforts to handle the problems caused by Airbnb and illegal hotels and illegal apartment rentals, Gold explained that in politics there are no permanent friends, just permanent interests. Like Peter Ward, he explained that it is extremely important for the Union to keep building power. The members readily agreed.
The point of these presentations last week was to show members that while the Union has had an outstanding record of success in operating in the public interest and political arenas, it is vital for these efforts to continue. The roots of the Union's previous successes include things like good media relations and a superb research department, but the most important factor has been the active participation of members themselves, including those who attended the two sessions that were held last week and the many others who have volunteered for other activities. More than anything else, last week's sessions showed the great importance of the HEAT system and the value of having members who are willing to volunteer for canvassing, phone banking, participation at public hearings and a host of other activities that help keep the Union strong and protect all members' jobs, wages and benefits.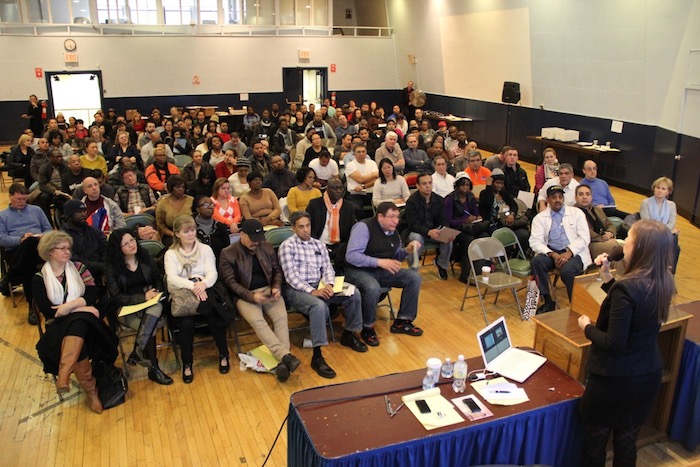 Members attending one of last week's political information meetings.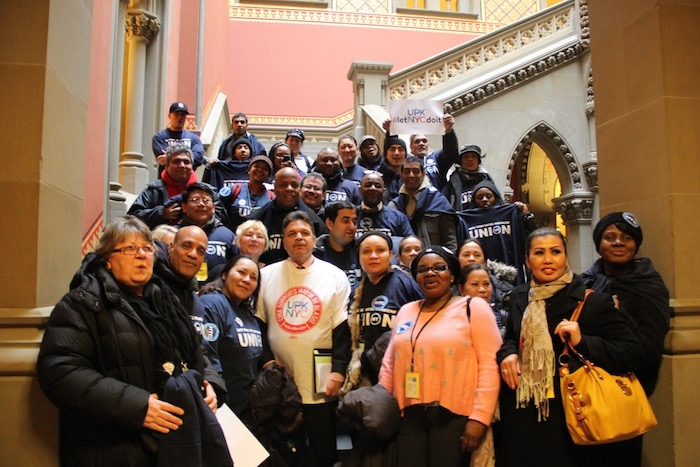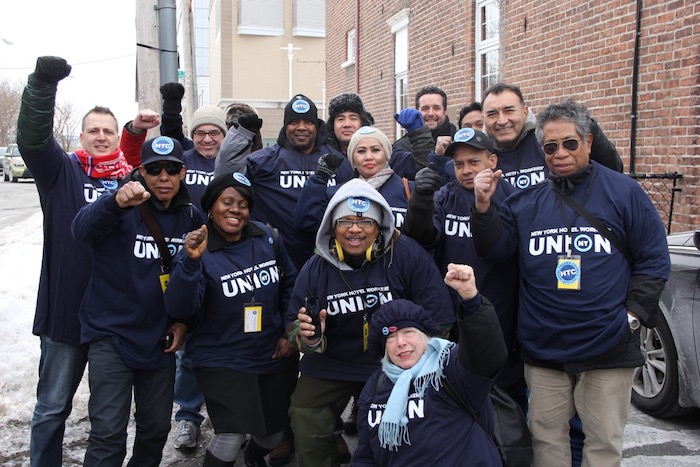 From Universal Pre-K to raising the minimum wage for tipped workers our Union has played a leadership role is issue campaigns that are important to elected officials. In the above photos members are seen rallying in Albany for Universal Pre-K.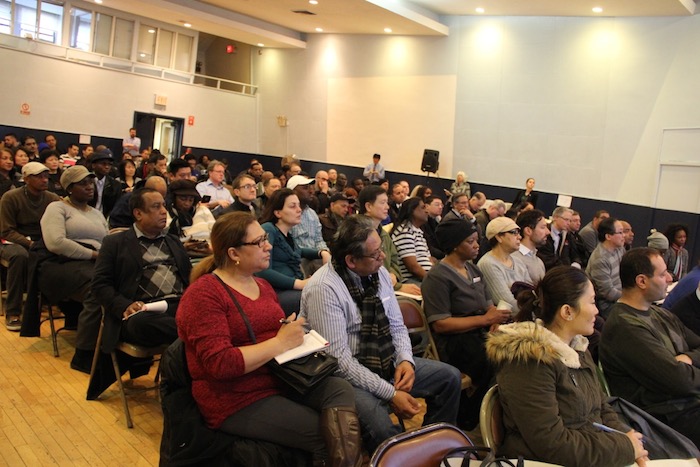 Members attending another of last week's political information meetings.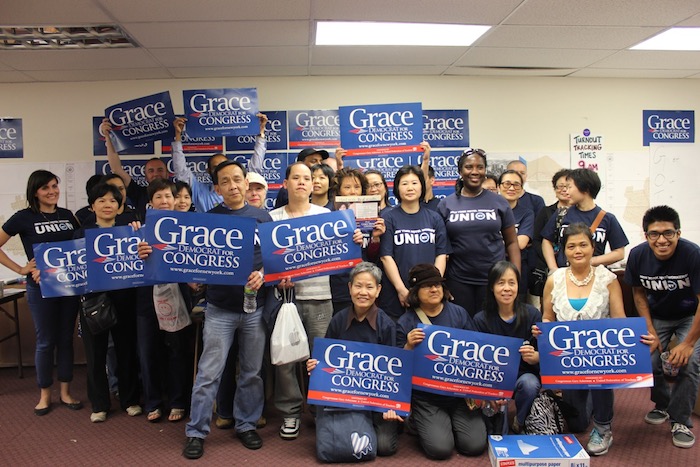 The Union supplied plenty of member volunteers in 2012 to help Grace Meng become New York's first Asian-American Congressional representative. Meng told reporter Chris Bragg our Union's endorsement was the turning point of her campaign.