HTC's Own Tsultrim Sangmo Speaks at Rally for City Council Candidate Amit Singh Bagga!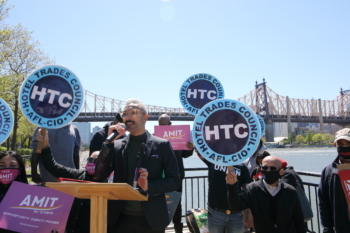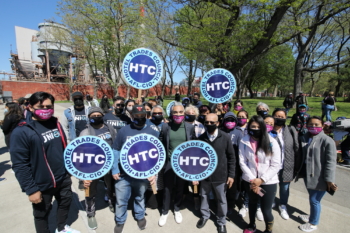 May 10, 2021 5:00 PM
On May 1, 2021, over 60 HTC members celebrated International Workers Day by attending a rally for city council candidate, Amit Singh Bagga. Bagga is running for City Council District 26, which includes the Queens neighborhoods of Sunnyside, Woodside, Long Island City, Astoria, and Dutch Kills.
Tsultrim Sangmo, a room attendant at the Time hotel for 22 years and active Union member, gave one of the opening speeches at the event.
"We have a lot to do to make sure jobs are protected and we need to rebuild in a way that benefits workers." Tsultrim told a crowd of blue HTC shirts and signs. "I am proud to be here today to support Amit. He is truly the labor candidate in this election. He wants to make sure that workers are a central part of our city's recovery from the pandemic. Amit has our back. And the Hotel Trades Council is proud to support him!"
In addition to celebrating Amit as a pro-union, pro-worker candidate, Tsultrim also spoke about what it meant to her as a Tibetan woman to have South Asian representation in city government, "Electing Amit would be a huge win for labor but it would also be a historic moment for South Asians in New York City. I can't wait to see him in office!"
Watch Tsultrim's full speech below: