HTC VOTES: Our Endorsements in NY's 2022 Primary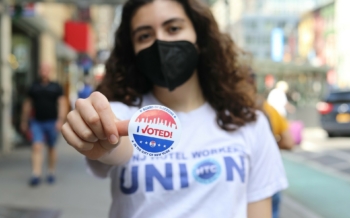 This year, New Yorkers will elect the next State Assembly, Governor, Lt. Governor, Comptroller, and Attorney General. These elected officials will be in charge of New York's continued economic recovery from COVID-19. Many of these races are extremely competitive and it is critical that we elect those individuals who will protect workers and prioritize fixing the problems faced by everyday New Yorkers in the months and years ahead.
IMPORTANT NOTE: This Tuesday, August 23rd, New Yorkers can vote in the primary for the U.S. House of Representatives and the New York State Senate
Governor: Kathy Hochul
Our Union is proud to endorse New York Governor Kathy Hochul in her 2022 bid for Governor. In August 2021, when the federal government abruptly announced it wouldn't continue the federally funded programs that extended unemployment benefits throughout the COVID crisis, we turned to Governor Hochul, and she listened. In only two short months, the governor found a quarter of a billion dollars to help hotel workers and accelerate the industry's recovery. In November, she issued an executive order that set aside $100 million to provide relief checks to unemployed hotel workers, $100 million to encourage hotels to recall laid off employees, and $50 million to bring large events back to New York.
Lt. Governor: Antonio Delgado
Alongside Governor Hochul, our Union is proud to endorse Lt. Governor Antonio Delgado in his 2022 bid as well. Before becoming Lt. Governor in May 2022, Antonio served in the U.S. House of Representatives, representing New York's 19th District, where he was the first person of either African-American or Latino descent to be elected to Congress in upstate New York. As Lt. Governor, Antonio has been a close ally of HTC, and has years of government experience.
NYS Comptroller: Thomas DiNapoli
Our Union is proud to endorse Tom DiNapoli for re-election as New York State Comptroller. Comptroller DiNapoli was raised in a union household and has fought on behalf of working New Yorkers throughout his career. He's been a long standing friend and ally of our Union.
Attorney General: Letitia James
Our Union supports New York State Attorney General Letitia James' re-election campaign. Since her election in 2018, Attorney General James has made it clear that her priority is fighting for working people and protecting middle class New Yorkers from the greed of big business and special interest groups.
In Your District: