HTC Supports Hotel and Gaming Workers in Puerto Rico After Hurricane Fiona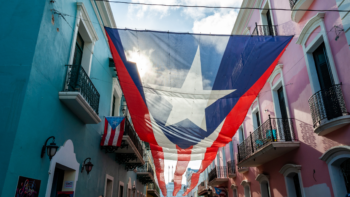 December 1, 2022 5:07 PM
When Hurricane Fiona swept through Puerto Rico in September, members of UNITE-HERE Local 610 were among those who lost power, water, and even entire homes to the storm's devastation. In the immediate aftermath, our Union was ready and committed to help them through the crisis.
As a total blackout enveloped the island, HTC staff set up a dedicated phone line and email for our union brothers and sisters in San Juan to report grievances and emergencies. From miles away, our staff manned the lines and responded to urgent calls until Local 610 staff could make it into the office.
In those first days after the hurricane, while many streets were flooded and blocked by mudslides, HTC helped Local 610 negotiate with employers to ensure no union worker would be disciplined for not being able to make it to work. HTC staff also helped Local 610 staff coordinate receiving assistance from UNITE-HERE international and helping members apply for federal relief funds.
Victor Colón, a Houseman at the El San Juan Hotel, was one of many Local 610 members to receive disaster assistance. He said, "When Mother Nature acts against us, it's easy to feel down because everything you've worked so hard to provide for your family can be washed away just like that. But with this relief, I don't have to worry about dipping into my emergency fund for groceries or gas for the generator. I'm reminded now about what it means to have representation, and feel a great weight has been lifted off of my shoulders."
People often think the role of unions is limited to the workplace but the response by our Union and Local 610 to Hurricane Fiona and other crises — like the COVID-19 pandemic — prove that the impact of unions goes beyond the job site and into the lives and homes of union workers.