HTC Members Show Up for Ras Baraka's Re-Election as Mayor of Newark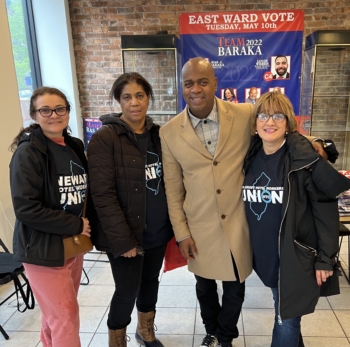 May 23, 2022 10:35 AM
After many weeks of canvassing, HTC members can see the results of their volunteer work with the re-election of Newark Mayor Ras Baraka. Ahead of the election, HTC hit the streets and knocked on thousands of doors in the run up to the election, knowing we could trust Baraka to continue giving union members a fair shake for the next four years.
Baraka has played an important role in some recent HTC victories in Newark and in greater New Jersey. With Baraka's leadership, the Newark council passed the Quality Hospitality Hotels ordinance, which greatly increases union members' job security when their hotels are bought and sold, requires management to inform customers of ongoing labor disputes at hotels, and directly saved jobs by banning the subcontracting of certain employee categories.
"It's important to show up and support the candidates who support us," said Taran Sanichara, a banquet server at the Sheraton Parsippany and longtime Newark resident. "He's done good things for union members so far and I believe he'll continue to fight for us over the next four years."
HTC has seen exceptional growth in New Jersey since 2013, when our Greater Regional Industry-Wide Agreement (GRIWA) was first ratified. Our Union has more than doubled the number of HTC-represented shops in the state today thanks to our organizing efforts.
Baraka has a good track record of putting the needs of working people first, which is why it was important for HTC to have a big presence on the ground in Newark, knocking on doors for the mayor. Next time you hear that the Union has endorsed a candidate, know that it's an opportunity to flex our Union power, and hit the streets to spread the word!