HTC Members Rally for NYC Mayoral Candidate Eric Adams!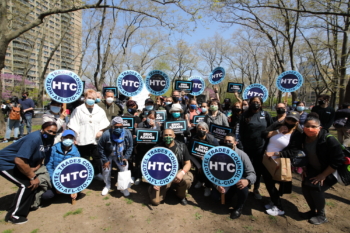 May 10, 2021 4:48 PM
On Saturday, April 24th dozens of HTC members and their families came out to support Brooklyn Borough President and mayoral candidate Eric Adams in Cadman Plaza Park, Brooklyn.
Our Union endorsed Eric Adams for NYC Mayor earlier this year. During the event's opening remarks, HTC President Rich Maroko explained why, "Eric Adams will lead us out of this crisis and rebuild the city's economy for working class people. Our Union is proud to support a champion of the working class."
No matter where you stood in the crowd, you could see HTC shirts and signs. This is exactly why politicians covet our Union's endorsement, because we don't just say we support candidates – we show up for them and work to get them elected.
"I will definitely be making calls to get out the vote for Eric Adams. I know he is the best candidate to reopen our city safely and fairly," said Michael Angelo Savino, a cook at the Four Seasons, who brought his husband to the rally with him.
This was the first in-person event our Union held since the pandemic began. After more than a year apart, members reunited with their friends, coworkers and Union representatives.
Sonia Randolph, an HTC member for 24 years, was among the members at the event, "After this year of isolation, being able to show up and volunteer in person with my Union feels great!"