HTC Members Get Out the Vote in Georgia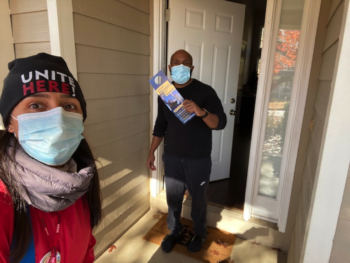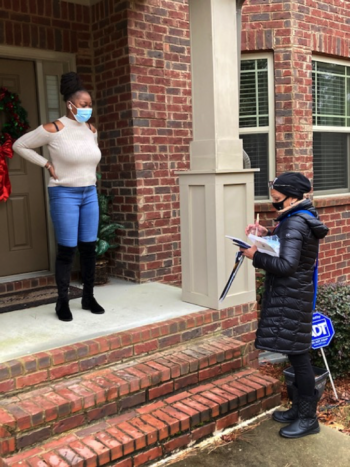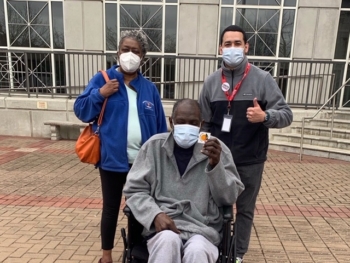 December 26, 2020 12:20 PM
Eighteen HTC members and organizers are volunteering in Georgia to get out the vote for Democratic Senate candidates, Jon Ossoff and Raphael Warnock. On the January 5th, Georgia will hold a run-off election, which will determine which party holds power in the Senate.
In less than a month, President-Elect Biden will take over the economic recovery of our nation and begin managing the COVID-19 crisis. In order to implement many of his most ambitious plans, Biden will need the Senate's support. In today's political climate, this means Biden will need a Democratic majority in the Senate including both Warnock and Ossoff.
Hundreds of union members from around the country canvass for Democratic candidates in Georgia
HTC joins a delegation of 500 union members from UNITE HERE to canvass for Ossoff and Warncok in Georgia. UNITE HERE aims to knock on one million doors by Election Day, which could be the deciding factor in an incredibly tight run-off election.
HTC's team in Georgia includes members Lorena Garcia (Hyatt Centric), Yilmaz Atmaca (NY Hilton), Julissa Hidalgo (St. Regis), Nancy Tavarez (Radisson JFK), Njomza Dubovci (Redbury), Thomas Rybak (TWA), Babene Reyes (Hilton Time Square), Eric Cromwell (Knickerbocker Hotel), Ken McQueen (Rainbow Room), Fiordaliza Roman-Polanco (Resorts World NYC), Roberto Torres (Park Hyatt), and HTC staff Rob Cook, Alexis Alvardo, and Emily Fernandez. Since arriving in Georgia on December 6, HTC's canvassers have already knocked on over 9,306 doors.
The race in Georgia will determine the future of the country
Over the last six months, the Republican-controlled Senate has blocked meaningful COVID-19 relief for American workers. They allowed key provisions of the CARES Act to expire in July including the $600 supplement to unemployment, despite millions of Americans remaining out of work. The most recent stimulus bill, passed by Congress on December 21st, is a desperately needed stop-gap, but does not do enough to help working families survive the next phase of the pandemic.
The Biden administration will need to pass an additional relief bill upon taking office, but this obstruction is guaranteed to continue if the Senate stays in Republican hands. However, if both Ossoff and Warncok win their elections, the Democratic Party will have a Senate majority and President-Elect Biden and Congress could actually help working people weather this crisis, by extending supplemental unemployment benefits, providing additional direct cash relief if needed, and increasing funding to state and local governments that provide critical services.
The Senate will also play a major role in the Biden Administration's plans to reform labor laws as well as create a path for citizenship for Dreamers, address police brutality, tackle climate change, and protect our democracy by expanding the Voting Rights Act. None of these goals will come to fruition without a Democratic Senate willing to support them.
"I've been unemployed since March. As a union member, my family had nine months of free healthcare and I am receiving severance pay. But too many of my neighbors have struggled without support from the federal government" commented Julissa Hidalgo, an HTC member for three years and a volunteer in Georgia. "I am really proud to be part of this effort to give President-Elect Biden the power he needs to tackle the issues facing our nation."
Georgia has seen changing voting patterns in 2020
In the 2020 Presidential Election, Georgia voted for a Democratic presidential candidate for the first time in nearly thirty years. In recent years, Georgia has been a hotbed for conservative legislation and ground zero of voter suppression. Grass roots groups and leaders like Stacey Abrams, the former candidate for Georgia Governor, have transformed the state's political landscape by registering new voters and expanding their political coalition.

Lysa, an HTC member since 2015 and a volunteer in Georgia had this to say about the feeling on the ground: "Talking to Georgia voters, they know that this isn't just about Georgia, but that they can make a difference for the whole country. The young people have been especially excited about the impact of their vote. We've had lots of people thanking us for traveling down to canvass. It's been a truly inspiring experience and gives me a lot of hope about the future of our country."