HTC Members Canvass in Georgia to Re-Elect Reverend Raphael Warnock!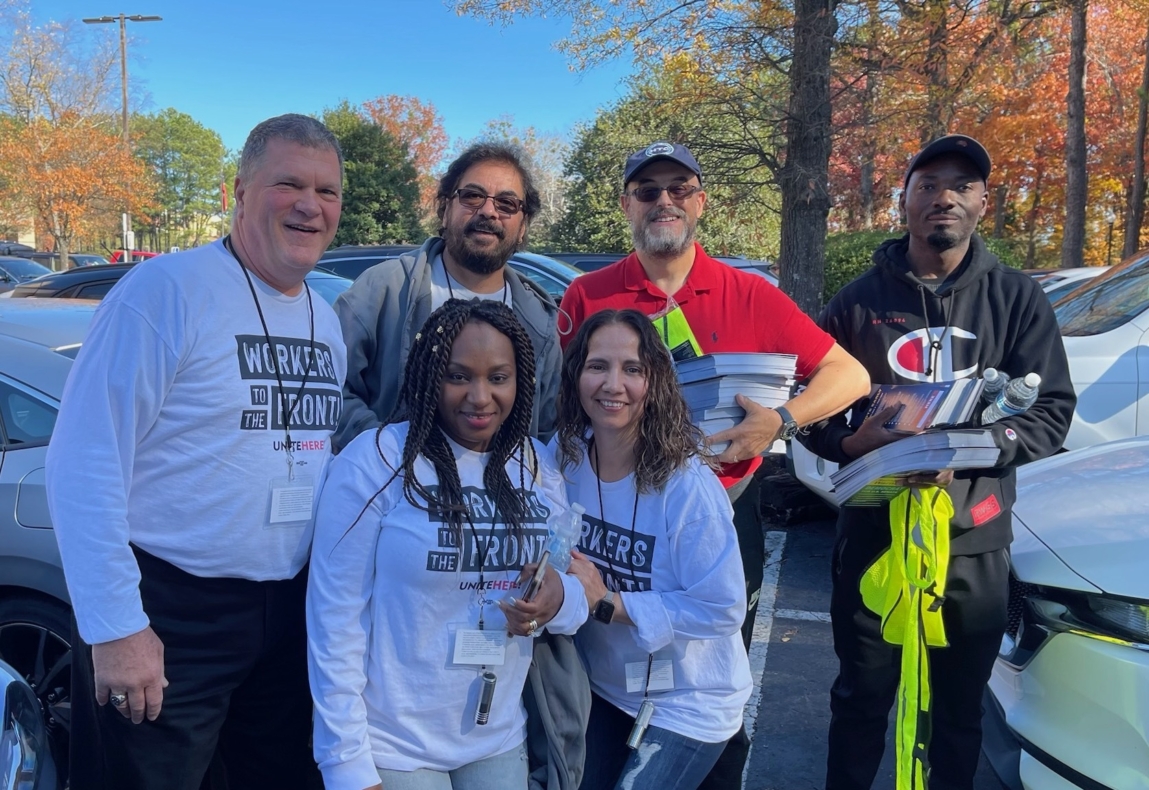 December 6, 2022 1:59 PM
For the last several months, HTC members have been on the front lines to get pro-union candidates elected at home in New York, New Jersey, Pennsylvania, and now, in Georgia!
In mid-November, after it was announced that Reverend Raphael Warnock (D) was heading into a run-off election, a group of our members joined hundreds of UNITE HERE members from around the country in Duluth, Georgia to re-elect the Senator.
Why the Georgia Election Matters
Warnock became a Senator in a special election almost two years ago, and is now running for a full six-year term. Already in his short time in office, Sen. Warnock has proven to be a strong advocate for working people, their families, and their unions.
"It's always good to be with organized labor, and I say that because I understand where the strength of our economy and country comes from," Sen. Warnock said at a rally in Atlanta just yesterday. "A lot of people give lip service to the dignity of work, but you can't say you support the dignity of work without supporting the dignity of workers."
In the last two years, Sen. Warnock has voted in favor of labor-friendly legislation like the Infrastructure Investment and Jobs Act and the John R. Lewis Voting Rights Advancement Act, and has supported important appointments like that of Jennifer Abruzzo to the National Labor Relations Board and Ketanji Brown Jackson to the Supreme Court.
Most notably, Sen. Warnock is a co-sponsor of the Protecting the Right to Organize ("PRO") Act, which—if passed—would ensure fairer union elections and penalize companies for violating workers' rights.
That's why HTC members Gerard Dis (Michelangelo Hotel), Ujjwal Mainali (Pennsylvania Hotel), Fatmata Jalloh (Stewart Hotel), Erik Owusu (Crowne Plaza Times Square) and HEAT Organizers Lilian Uribe (Roosevelt Hotel) and Antonio Codita (St. Regis Hotel) went down to Georgia, where they've been talking to voters in the suburban and rural areas for the last three weeks.
Over 5,000 Doors Knocked!
By the time the election is over, our six-member team will have knocked on well over 5,000 individual doors in support of Sen. Warnock.
"It's more rural here in Georgia, so it's not at all like canvassing in New York or New Jersey. You sometimes have to drive or walk for 10 minutes in between houses," said Ujjwal Mainali. "My smart watch tells me I've walked at least 8 miles a day!"
"But the voters here have been very open to speaking with us," Ujjwal continued. "The other day Gerard and I were canvassing and we met a young man who told us, 'I don't feel like voting for anybody.' He was uninspired. But we had a conversation with him for 10 minutes, and eventually he says, 'I didn't know all that. You know what, I'm going to have to go vote for y'all!' That just makes it all worth it. You get to make a real difference on the ground."
These six will be out speaking to as many voters as possible until polls close tonight, adding to the count of 2.7 million doors already knocked by UNITE HERE members this election cycle.
"It's pouring rain, but we're still out here singing and dancing and keeping the energy up," said Fatmata Jalloh, who also traveled to Philadelphia with the Union this Fall. "That's what's kept us going for weeks already, and what will fuel us until every vote is counted!"
"We've been knocking on doors for Warnock…and we're not tired yet!" belted out Gerard Dis while leading a group of UNITE HERE members in song at a rally before heading back out into the field.