HTC Member Lisa Sinishtaj on Organizing Resorts World Hudson Valley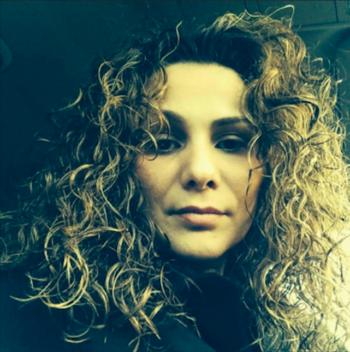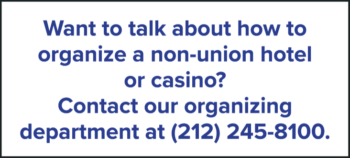 March 8, 2023 10:23 AM
Lisa Sinishtaj became a member of our Union in 2018. At the time, she was working at Resorts World Catskills, one of the ten gaming locations that have joined our ranks over the last decade. At the end of last year, Lisa transferred to the new Resorts World Hudson Valley in Newburgh, NY, where she played a role in helping 200 of her coworkers win Union representation – and the benefits that come with it. Lisa sat down for an interview with the Hotel Voice to discuss the Union's most recent victory in the Hudson Valley.
Hotel Voice: Welcome, Lisa! Thanks for agreeing to talk to us. Can you start by telling us how you became a Union member and how it has impacted you?
Lisa: I've worked in casinos as a Cage Cashier for a long time. The Cage is where guests come to cash out chips and vouchers at the end of the night. In 2017, I moved to Poughkeepsie and applied to work at Resorts World Catskills. During my first year there, it became Union. It made a huge difference right away. Obviously, my wages went up a lot. But there were two truly life changing things for us. The first was healthcare benefits at an extremely low cost. But the second was a whole new mentality and attitude towards work – the knowledge that the Union has our back if anything goes wrong and the confidence that we have stability and security in our jobs. These things gave us peace of mind every day.
Hotel Voice: I noticed you're using the word "us." Can you explain why?
Lisa: I am using the word "us" because I have been the Delegate for the Cage Cashiers since the Union won represen- tation. We all experienced the difference having a Union made together. And as a Delegate, I built relationships with workers across all departments. So yes, I use "us" because I represent my co-workers and I know we share this opinion.
For our readers: Our Union secured a "Card Check Neutrality Agreement" with Genting America, Inc, the com- pany which operates Resorts World Hudson Valley. This agreement meant that our Organizers could enter the break room, talk openly to workers about our Union and our contracts, and that the workers could vote for the Union simply by signing a union authorization card (rather than going through a government-run election). These agreements make it much easi- er, safer, and faster for workers to win union representation.
Hotel Voice: Can you tell us about your role in the effort to organize Resorts World Hudson Valley?
Lisa: When we first heard about the new Newburgh location, myself and many others transferred over from the Catskills. Resorts World Hudson Valley is much more local for me and many of my coworkers. I used to drive over an hour to get to work, and now I'm just 20 minutes away. Up in the Catskills, we already had the Union, so I felt like it was my job to make sure everyone knew how we could become union in Newburgh too. I encouraged people I knew to apply here, and I spoke to them about signing a card.
Hotel Voice: What exactly did you tell people to encourage them to sign a union authorization card?
Lisa: Well, I had my contract from the Resorts World Catskills and I'd show people the parts that matter to me. I explained seniority, for example, and told them about how overtime has to be offered by seniority, not favoritism. The smaller perks like that, they really matter to people at the end of the day. I also explained how you have a powerful organization behind you, backing you in case something bad happens, and how in the Catskills, healthcare costs became way cheaper. Then I'd give them a card and say, "Fill it out and we'll have a Union – and a great one at that."
Hotel Voice: What was the most challenging part of this process?
Lisa: Honestly, I didn't really have a hard time with this. Being a Delegate prepared me well and helping people comes sec- ond nature for me. Being a member of the Union makes me stronger. And it's amazing knowing that my efforts mean others will enjoy the same feeling of empowerment. My position also gave me an advantage. Whether they work in the Cage or not, ev- eryone knew I was a Delegate. It was easy for people to talk to me because they know me. I was able to answer a lot of questions for people and whenever I got stuck, I texted [HEAT Representative] Tyrone for help. I just told them honestly, in my experience, how HTC is the best Union to be a part of.
Hotel Voice: What are you most looking forward to at Resorts World Hudson Valley?
Lisa: I've lived in this area for 6 years now. The new casino is in a mall that's been pretty much empty for ten years – the lo- cals actually nicknamed it "Dead Mall." As a member of the community here, I think it's going to be really good for Newburgh. I think it will inject a little bit of life into the area – we'll get more people around, and maybe the mall where it's located will be revitalized. Newburgh itself doesn't have a ton of job opportunities, and I certainly don't know of many union employers, so the addition of so many good union jobs is huge for the community. I'm really excited to see it grow!