HTC Helped Get Out the Vote for Biden-Harris, Playing a Role in their Historic Victory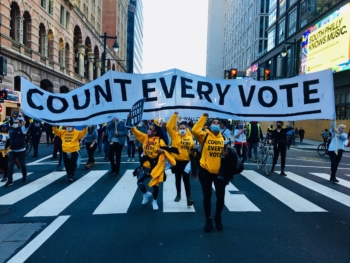 November 7, 2020 6:09 PM
Dozens of HTC members and organizers volunteered to get out the vote for President-elect Joe Biden, Vice President-elect Kamala Harris, and Democratic candidates for the U.S. Senate in the 2020 election. Union volunteers phone banked and canvassed for the candidates in key swing states: Arizona, Florida, Nevada, and Pennsylvania. Their efforts helped to achieve a historic victory for Joe Biden and Kamala Harris in the presidential election, and to win an important Senate seat in Arizona.
Hundreds of HTC members and staff volunteered to phone bank for Democratic candidates
Over 200 members, Business Agents, Organizers, and HEAT Representatives volunteered from home to make calls to get out the vote in Florida and Nevada with the New York City Central Labor Council and the international union UNITE HERE. Collectively, they made thousands of calls to registered voters leading up to the election and helped voters request a mail-in ballot, find their polling place, and make a plan to vote during this crisis.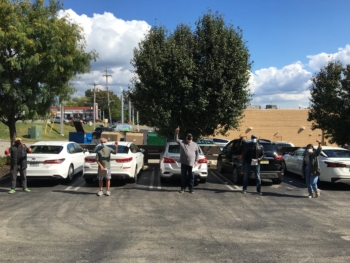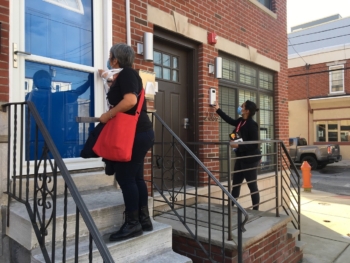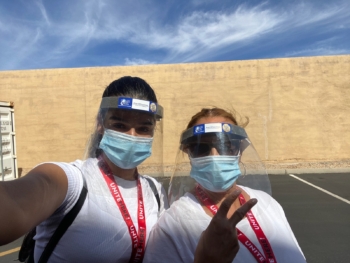 Members and staff traveled to Pennsylvania, Florida and Arizona to (safely) get out the vote

Over two dozen HTC members and several staff, along with the international union UNITE HERE, traveled to Philadelphia, PA, and Tempe, AZ to knock on doors for Biden-Harris. UNITE HERE was one of the only organizations in the country to knock on doors during the coronavirus crisis and asked HTC to send canvassers to help staff this ambitious effort.

In Pennsylvania, the race between Joe Biden and Donald Trump was too close to be complacent. Ten HTC members and Union staff traveled to Philadelphia to increase Joe Biden's lead over Donald Trump in the weeks leading up to the election, which helped make Pennsylvania one of the swing states that ultimately put Joe Biden in the White House.

Business Agent Jonathan Ridgway, who was on the ground in Philadelphia between October 2nd and Election Day, reported, "Our volunteers exceeded expectations. Our initial goal was for the campaign volunteers (close to 185 union members from across the region) to knock on 100,000 doors in a month. We hit over 200,000 doors by Election Day."

"Everyone had a story to tell about how badly this administration has affected their lives these last 4 years," explained Rank and File Organizer Njomza Dubovci, who works at the Redbury Hotel. "There was so much at stake in this election. It was by far the most important election in our lifetime. We worked, rain or shine, up until November 3rd. We couldn't afford to let up a single day."

Jonathan and Njomza were joined in Philadelphia by Rank and File Organizers Chris Lamorte (New York Edition Hotel), Yilmaz Atmaca (New York Hilton), Thomas Rybak (TWA Hotel), Babene Reyes (Hilton Times Square Hotel), Juan Corporan (Millennium Times Square), and Lorena Garcia (Hyatt Centric Times Square NY Hotel). 


In the week before the election, 17 additional union members and staff joined GOTV efforts in Philadelphia including members Carlos de la Rosa (Watson), Joaquin Fiallo (Roosevelt & Yale Club), Julissa Hidalgo (St. Regis), Aulande Joanem (New York Hilton), Aida Lora (Hotel Pennsylvania), Sonia Randolph (Westin Times Square), and Nancy Tavarez (Radisson JFK). HEAT Representatives Rob Cook, Aleksandra Nosel, Juana Velez, and Beatriz Torres joined them along with Business Agents Randy Sullivan, Nick Galipeau, and Ernesto Middelhof. In addition, HTC sent two representatives, Alexis Alvarado and Marcela Villacob, to get out the vote in Florida.

In Tempe, Arizona, where the daily temperature was around 100 degrees in the shade, efforts to put a Democratic president back in the White House and flip one of the state's Senate seats to a Democratic candidate gained ground. HEAT Organizer Ivelisse Mercedes joined 18 volunteers from California and Arizona in a successful effort to get Arizona's 11 Electoral College votes to go to Biden. They also canvassed to defeat Republican U.S. Senator Martha McSally and elect her Democratic challenger, former astronaut Mark Kelly, who won the state's Senate race.

"We were in areas where the majority of the voters are from low-income families," noted Ivelisse Mercedes. "Almost all of them support Biden and Harris. One day we met with a family that had 4 generations living in the same house, and we got all of them to vote for Joe Biden. We are so proud of what we were able to accomplish."