HTC Endorses Senate Majority Leader Chuck Schumer for Re-Election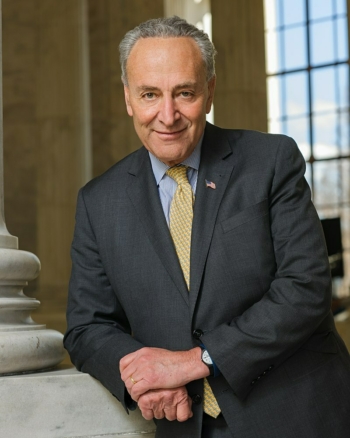 June 23, 2022 5:08 PM
Our Union is proud to endorse New York Senator and Senate Majority Leader Chuck Schumer for re-election in 2022.
"Over the last two years, Senator Schumer has been an unwavering friend to our Union's 40,000 members," remarked HTC President Rich Maroko. "Not only has he been willing to fight for us when we needed him the most, but he has proven that he has the skills to win big and bold improvements for America's working class."
An Incredibly Skilled Negotiator
On January 5th, 2021 Senator Schumer was elevated to the powerful position of Senate Majority Leader. As Majority Leader, he decides which bills come to the Senate floor for a vote, plays a major role in crafting legislation, and, most critically, convinces enough Senators to support that legislation.
Given the 50/50 split between Republicans and Democrats in the Senate — and the Republican Party voting in lock-step against key pieces of legislation — Schumer has had to expertly navigate broad differences within his party to get anything done.
Remarkably, without a single vote to lose, Senator Schumer managed to pass the American Rescue Plan. It was more than just a relief bill — it was the largest investment in the middle and working class in our nation's history. It extended unemployment benefits for 25 weeks, provided additional stimulus checks, and included tax breaks for working families while also providing billions of dollars to pull our country out of this crisis, funding the ongoing vaccination effort, helping reopen our schools, and keeping people in their homes. This bill has been an absolute lifeline for hospitality workers.
Continued support for labor in the Senate will continue to be a real challenge, especially as some conservative Democrats oppose critical legislation our country needs to recover from the pandemic, put people back to work, and fight back against efforts to make voting more difficult. Now more than ever, we need Senator Schumer's expert leadership to face these challenges.
Six Months of Free COBRA
One provision of the American Rescue Plan was of particular importance to our Union's membership: free medical coverage. During negotiations over the American Rescue Plan in early 2021, Senator Schumer successfully negotiated 6 months of 100% federally subsidized COBRA. The addition came at the urging of HTC President Rich Maroko, who explained that anything short of 100% funding would burden unemployed workers with healthcare costs they couldn't afford. As a result, nearly 10,000 union members and their families re-enrolled in our healthcare plan. The increase in participants and funding also allowed the Benefit Funds to re-open our Brooklyn health center after temporarily closing the facility in January.
"In May, my son needed surgery," shared Antonio Codita, a Server at the St. Regis Hotel. "Because we had free COBRA, his surgery was entirely covered. I can't express how thankful I am to the Senator for making sure we could keep our insurance."
A Real Friend of the Labor Movement
Throughout his 40-year career, the Senator has consistently supported organized labor. He's taken leading roles in legislation protecting equal pay and strengthening labor rights and has fiercely opposed any bills that threaten workers' rights. He's also backed up workers who are organizing and on strike, including recently supporting Amazon workers organizing in Alabama, graduate students at Columbia University, and Starbucks workers in Buffalo, NY.
Put simply, Senator Schumer has proven himself to be a true-blue friend who we can count on to fight for our membership and for all working people.