HTC Endorses Queens Borough President Donovan Richards for Re-Election!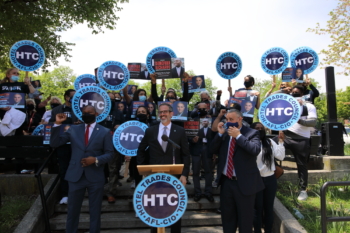 May 17, 2021 2:54 PM
On Tuesday, May 4th, HTC President Rich Maroko joined Queens Borough President Donovan Richards to announce our Union's endorsement of Richards' re-election campaign.
President Maroko outlined for a crowd of HTC members why Donovan Richards is the right choice for working people in Queens, "Donovan has been one of the City's fiercest advocates of workers, especially hospitality workers. As a city council member, he was a huge champion of HTC and its members."
President Maroko also praised Donovan Richards' handling of the coronavirus crisis. Richards was elected as Queens Borough President at the height of the pandemic in New York. Borough President Richards "has fought for vaccine access for New Yorkers throughout the borough and demanded more hospital beds" President Maroko explained. "He has supported working people and advocated for measures to ensure that everyday Queens residents have the support they need to get through these challenging times."
"I voted for Donovan Richards last year and I am going to the polls for him again!" said Kazi Hossain, a Bartender at the Plaza Athenee and a Queens resident for 30 years "I think he has done a great job fighting for my community and my union."
Check out photos from the event!