HTC Celebrates Mayor de Blasio's Summer Tax Relief for NYC Hotels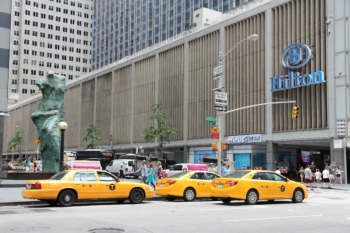 May 21, 2021 5:48 PM
On May 19th, New York City Mayor Bill de Blasio signed an Executive Order putting a pause on the City's hotel room occupancy tax this summer. The Executive Order is intended to accelerate the economic recovery of the hotel industry and encourage hotels to reopen and recall hotel workers. Guests will not have to pay the 5.875% occupancy tax from June 1 through August 31, effectively lowering the cost of rooms this summer and hopefully, driving up occupancy.
"This tax relief combined with the $30 million ad campaign the City is running serve as critical encouragement for hotels to reopen to guests from across the world" said HTC President Rich Maroko. "It is welcome news for tens of thousands of hospitality workers and for New York City's tourism industry, which has endured the worst economic impacts of the pandemic."
Our Union advocated for this temporary tax break at City Hall. We were joined by elected leaders including City Council Speaker Corey Johnson, Council Member Francisco Moya, Council Member Keith Powers as well as industry advocates.
"On behalf of our members, I'd like to thank Mayor de Blasio for his leadership on this issue and for helping our industry and members get back on their feet" said President Maroko.