Hotel Workers Walkathon Raises Cash for City Harvest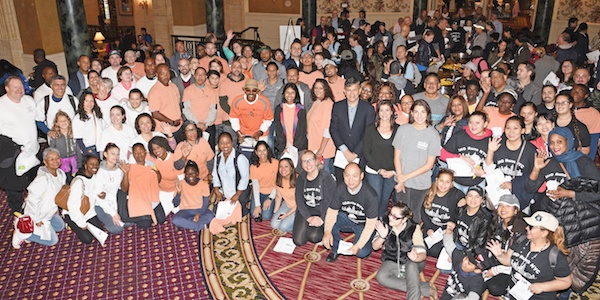 The 2017 Hotel Workers Walkathon
Because of the caring effort of hundreds of New York City hotel industry employees on Sunday, October 1, many hungry New Yorkers—and hurricane victims in Puerto Rico—will benefit. The event was the 26th annual Hotel Workers Walkathon.
It was a beautiful day! The weather was gorgeous and it made the event even better for the many participants at this year's Hotel Workers Walkathon. As always, it was a fun way to benefit a worthy cause. The proceeds from this year's Walkathon will be donated to the City Harvest, a non-profit organization founded 35 years ago that makes an immeasurable difference in the lives of many New Yorkers.
It is indeed a worthy cause. Today, nearly 1.3 million New Yorkers struggle to put meals on their tables and City Harvest has scaled up its efforts to fight hunger. City Harvest will collect 59 million pounds of excess food this year and deliver it free of charge to 500 soup kitchens, food pantries and other community food programs across the five boroughs and, for the foreseeable future, Puerto Rico. By redirecting this nutritious food from supermarkets, manufacturers, farmers markets, and restaurants to neighbors in need, City Harvest supports local communities. In fact, many hotels and their employees are already familiar with the good work of City Harvest.
The Walkathon began with a complimentary breakfast at the Roosevelt Hotel. Following the breakfast, the walkers toured a route of midtown hotels, raising money City Harvest at each stop they made. Many of the participating hotels not only helped sponsor the event they also provided refreshments along the way. The Hotel Association, the Hotel Trades Council and Local 6 also made contributions on behalf of the walkers.
This was the 26th Hotel Workers Walkathon. Past events have raised more than $1,000,000 for various worthy causes and more will be added to that total from this year's walk.
Numbers like these should make anyone proud, especially with the money going to help those in need through City Harvest.
"We express sincere appreciation to all of our members, retirees and their families who took the time to participate in this year's Walkathon," Hotel Trades Council President Peter Ward said. "City Harvest is a legendary non-profit that has done a marvelous job feeding the hungry in our city. We also thank City Harvest for its recent efforts through New Yorkers United to help the victims of Hurricane Maria in Puerto Rico. City Harvest is an organization that clearly deserves our support and we are proud that it will receive the proceeds from this year's Hotel Workers Walkathon. We thank all of those who provided that support by taking part in this year's event and we salute the Hotel Association and the various hotels that participated. It was a great day and a great event for a great cause."