Members Rally With Governor Cuomo and Bon Jovi to Raise the Minimum Wage
On Thursday June 11th, hundreds of HTC members were joined by dozens of activists from other unions and local community groups at the Hotel Trades Council's Manhattan Headquarters for a rally to raise the minimum wage for fast food workers, organized by Governor Andrew Cuomo.
Doors opened at 1pm, with members swiftly filling the hall. The atmosphere in the auditorium was excited, as members waited to hear from the Governor, labor leaders, and rock star Jon Bon Jovi on the importance of raising the minimum wage.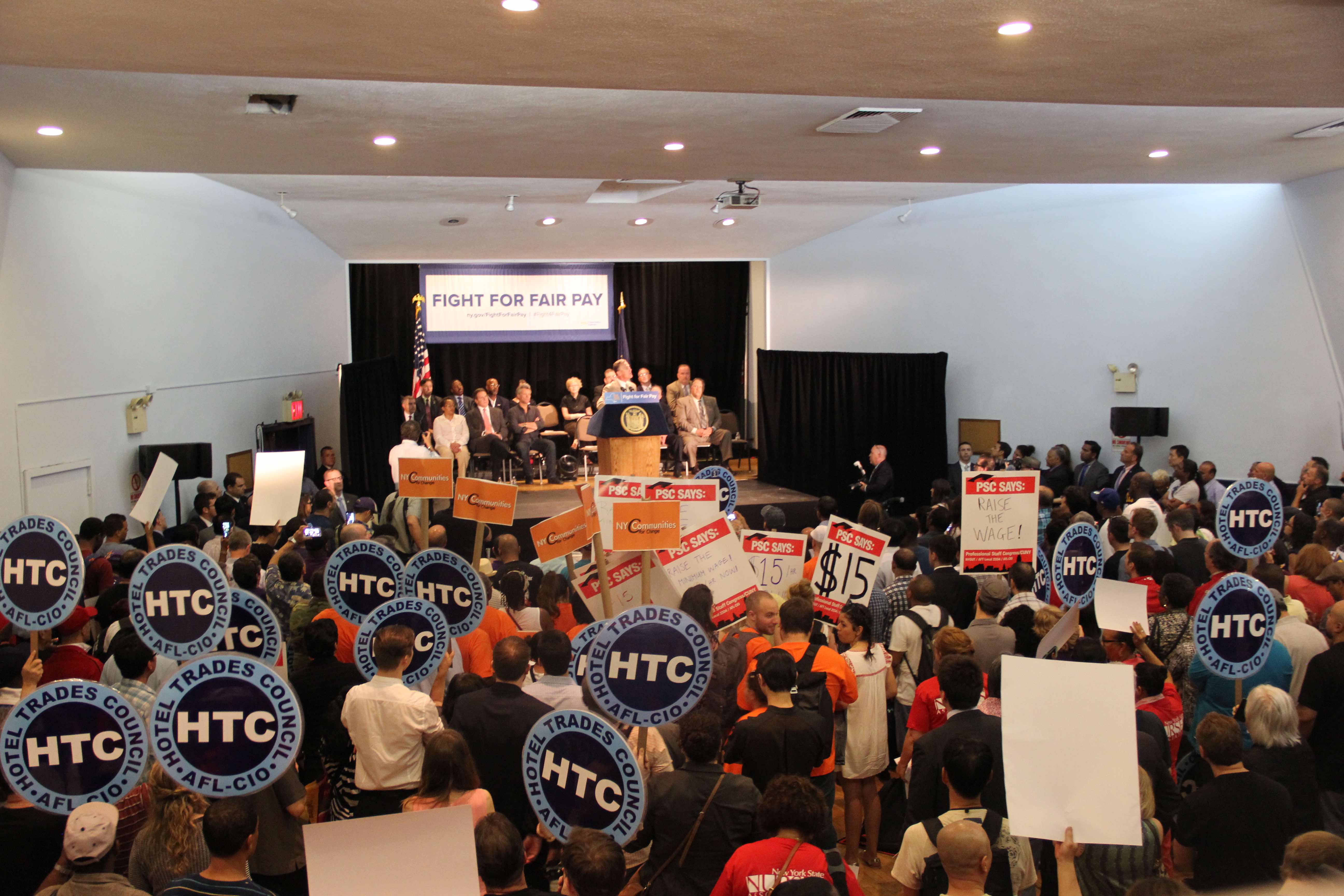 "We get all this support from the Union. We're very lucky, but not everyone is so lucky. We can't afford to look down on the people less fortunate than ourselves. You can't survive on the minimum wage in this city!" said Denorah Otero who works at the Millennium Broadway.
"Raising the minimum wage would be a beautiful thing. I'm doing alright because I have the Union. I've got to look out for the people who don't have a union and are being exploited," said Bernard Soanes from the Sheraton New York. Retired Room Attendant Icy May Kelly-Thomas agreed, adding "We won't stop, we won't give up, until we raise the minimum wage!"
Joined by Labor Leaders from across the city, Hotel Trades Council President Peter Ward spoke on the conditions faced by non-union minimum waged workers in New York. Prior to winning their Union contract with HTC, over 1,000 workers at the Resorts World Casino made only $8.50 an hour. Mr. Ward shared the story of one such worker who worked 40 hours a week at the casino, and yet had to live in a homeless shelter while raising her two kids. Every night, after her hour and a half commute back from work, this worker would hand wash one of her children's outfits in the shelter's sink so that they would have clean clothes for the next day. "There was no hope, no way out" for this worker", said Mr. Ward.
Winning a Union contract lifted this worker, and her coworkers, out of poverty through an overnight wage increase to over $20 an hour with large raises guaranteed in each subsequent year of the contract, employer funded healthcare, and the dignity of a pension. However, for the hundreds of thousands of low paid workers in this city who aren't as lucky Mr. Ward declared, "It's time to stop this. If you work a forty hour week you're entitled to dignity, respect, and a fair wage."
The rally follows Governor Cuomo's announcement that he was empaneling a Wage Board to investigate raising the minimum wage of Fast-Food workers. Taking the stage to cheers from the audiance, Governor Cuomo called for Fast Food companies to begin "paying people what they deserve." He continued, "The largest industry of minimum wage workers are fast food workers, and these aren't kids supporting a family." Governor Cuomo went on to highlight that many Fast Food workers require government assistance to live, despite working full time jobs. "In effect, the government is paying $7 billion a year to subsidize Burger King and McDonalds. They're getting away with murder!"
Speaking after the rally, Mike Petti who works at the Crowne Plaza Times Square Hotel said, "I grew up in a family of 7. I know what it's like coming up in a homeless shelter because my father was a mechanist on minimum wage. There are so many people living on the street. This is our community, so it's our fight. I'm glad Governor Cuomo is leading on something that needs to be addressed."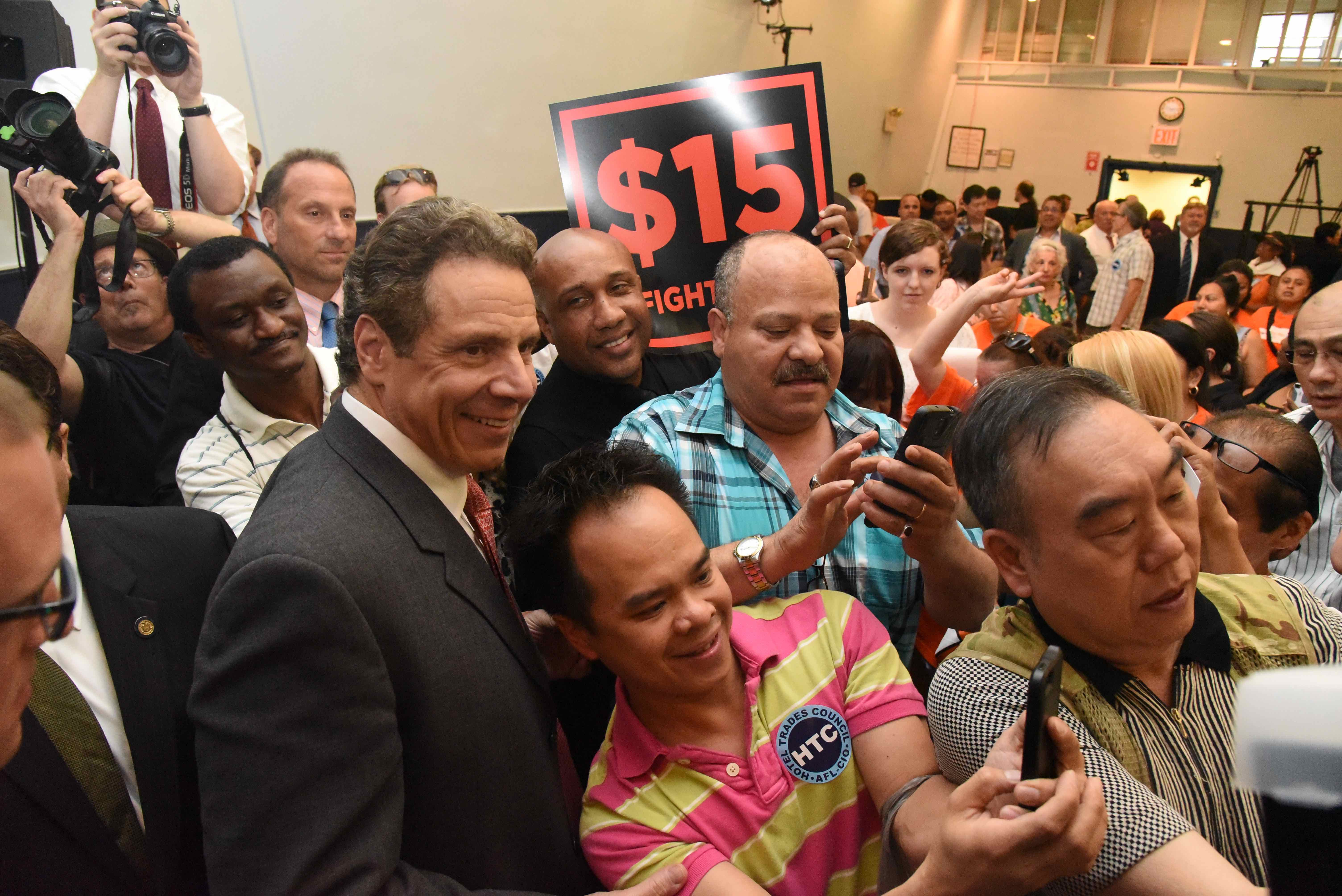 The Wage Board's decision on an increase in the minimum wage for Fast Food workers is expected in July.
To read more about the event, you can visit the Governor's website by clicking here.