High Stakes: New York City's 2021 Election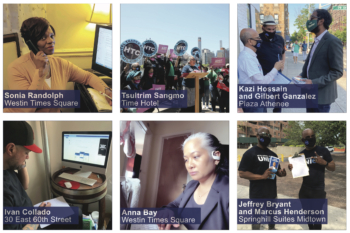 Over the last 15 years, thousands of you have phone banked, canvassed, and lobbied at City Hall to build our Union's political clout. As a result, we have successfully elected city and state leaders who put working people first and supported pro-union policies.
Last year alone, these efforts translated into tangible benefits for our members including: a New York City law that provides protections if a hotel files for bankruptcy; consumer protection requirements that obligate New York City hotels to tell guests in advance of service disruptions (including union picket lines) and offer a full refund; a law in New Jersey that has prevented hotels from eliminating daily room cleans or front desk jobs during the COVID-19 pandemic; and the ability to stop the initial plans to rezone the Flushing Waterfront District until the developers guaranteed their projects would create good, middle-class jobs.
This year, the balance of power is up for grabs. New York City will elect a brand new mayor, new Borough Presidents, and the entire City Council. The stakes are high for our Union and our members. These new leaders will lead the City's economic recovery, decide whether to prioritize – or abandon – working people as the City transitions back to normal life, and in the case of the new mayor, will very likely win re-election and be in power when our Industry-Wide Contract expires in 2026.