Division A Scholarship Renewals Awarded
A total of 16 college students who won Hotel Trades Council Division A scholarships in previous years have been awarded renewals in 2015. Under the program, Division A scholarship winners have the opportunity to receive an additional $2,000 grant for each undergraduate college year they complete with a Grade Point Average (GPA) of 3.0 or better. Three of this year's recipients, Kevin Motta, Niurka Liranzo and Sonam Chodin, won a renewal for the third time, meaning they received Division A scholarship money for all four years of college! We are also happy to say that another one of this year's Division A renewal recipients, Olivia Cannizzaro, had a perfect 4.0 GPA! These renewals, combined with this year's 16 first-time Division A scholarship winners, brings the total amount of Division A scholarship money awarded in 2015 to $72,000. The Hotel Trades Council's Vito J. Pitta scholarship program awarded $304,000 to 38 graduating high school seniors in 2015. The Vito J. Pitta scholarship program has now awarded $7,384,000 in college grants to 923 children of Hotel Trades Council and Local 6 members employed in hotels and private clubs!
Information on applying for next year's Vito J. Pitta scholarships and Division A scholarships and renewals will be published online in January, 2016, as well as in the next edition of the Hotel Voice magazine that members will receive around holiday time. We should add that the Union Plus scholarship program is already accepting applications for its 2016 awards.
To date, the Union Plus Scholarship Program has awarded more than $3.7 million to students of union families. The awards range from $500 to $4,000 per student and all children of members of our union are eligible to apply for one of these grants. A total of 35 children of Hotel Trades Council and Local 6 members have won previous Union Plus scholarships. It is important to know that applicants do not have to be Union Plus credit card holders—or participants in any other Union Plus program—to be eligible to apply for these scholarships, and you may win these awards more than once. Applications for Union Plus scholarships can only be filed online. Visit UnionPlus.org to apply.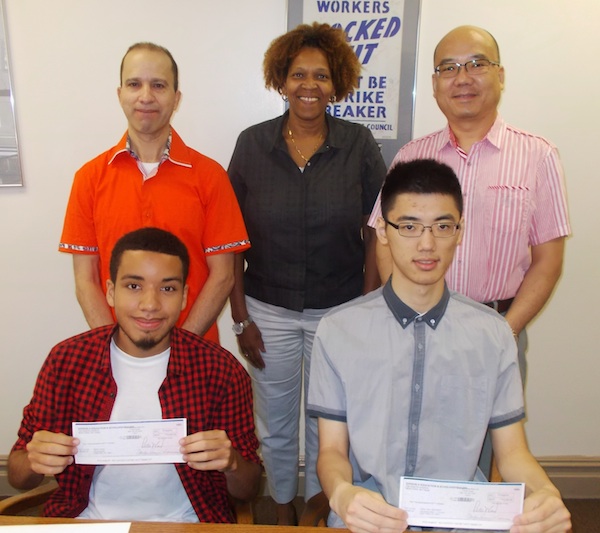 Division A renewal recipients Cesar Liriano and his dad, Cesar, Sr., and Yifan Pu and his father, Guang Yao Pu, being congratulated by Local 6 Secretary-Treasurer Vanessa Meade.