Democratic Party Taking Action to Ban Its Consultants From Union-Busting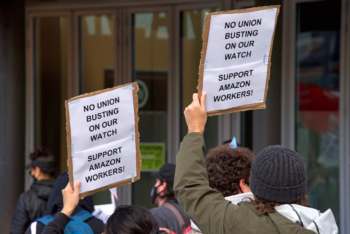 May 23, 2022 11:21 AM
The Democratic Party is taking steps to ban its consulting partners from engaging in anti-union activity. This happened following backlash to the illegal involvement of consulting firm, Global Strategy Group (GSG) in the fight against workers unionizing at Amazon, Inc.
A binding agreement between Democratic committees and their consulting partners would ban those firms from acting as union-busters and lobbying against pro-union legislation. This contractual change is being welcomed by both Democrats and their consulting partners, in what will be a major change for how companies can try to combat union activity. Fortunately, this change comes in the wake of a tremendous win for labor.
On April 1st, more than 2,500 workers at Amazon's Staten Island warehouse JFK8 voted to unionize as the Amazon Labor Union (ALU), in one of the largest wins for organized labor in a generation. The workers of ALU fought tooth and nail against an expectedly exhausting union-busting campaign ran by Amazon, one of the wealthiest and most powerful corporations in history with seemingly unlimited resources for combatting organizing efforts.
However, it wasn't until the dust settled around the ALU's tremendous upset victory that it became clear Global Strategy Group (GSG) had been enlisted in the fight by Amazon as a mercenary anti-union force.
Amazon's hiring of GSG—which has handled public relations for many of the most significant Democratic political campaigns for decades—managed to go largely unnoticed until after the union vote, considering both Amazon and GSG neglected to file the necessary forms with the Department of Labor. Although this dirty, expensive partnership was ultimately ineffective in preventing workers from unionizing, it caused intense public blowback once revealed.
Many Democratic politicians called for action and major unions who had previously worked with GSG announced they would no longer do so, prompting the firm to apologize for their anti-union actions. In a meeting with labor leaders, including those from ALU, President Biden commented on the need to end illicit union-busting partnerships, expressing a desire to ensure that "the choice to join a union belongs to workers alone."
These comments from the President and this new agreement— coming after a successful organizing campaign at one of the world's most powerful companies—show that pro-worker sentiment is on the rise, and only intensified in the face of sneakily-attempted political undercutting. With many young workers increasingly interested in unionizing and new changes being proposed to limit companies' options for combating organizing, ALU's success makes it clear that when one union prevails, we all do.