Deduct Your Union Dues From Your New York State Income Taxes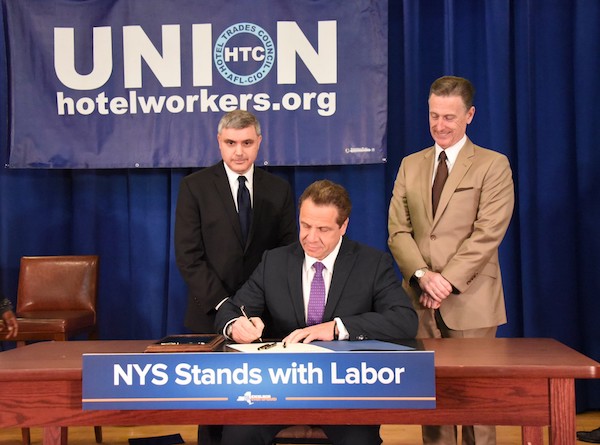 Thanks to legislation signed by Governor Cuomo, union members can now deduct their union dues in full from their New York State income taxes. In order to take advantage of this new law, union members must itemize their deductions on their New York State tax filings.
Governor Cuomo signed the law in our Union auditorium on May 5, 2017 alongside HTC President Peter Ward, and hundreds of cheering HTC members. It was an important demonstration of the Governor's commitment to the Labor Movement, and a clear recognition of HTC as one of the most politically important Unions in the state.
"The labor movement has no bigger friend in Albany than Governor Cuomo," President Peter Ward said, "and he's been fighting for us since day one. The Governor believes unions have a rightful place at the table."
According to the Governors Office, this legislation will save more than 500,000 working people approximately $35 million per year, or about $70 per taxpayer per year.
"At a time when unions are under attack on the national level, New York is fighting even harder to preserve union jobs and uplift the middle class," Governor Cuomo said. By allowing full deduction of union dues, we are providing more than just a financial benefit, but also a strong demonstration of our unyielding commitment to defending union jobs as a pathway to the middle class."
Watch the video below to hear HTC President Peter Ward, Governor Cuomo, and NYS AFL-CIO President Mario Cilento talk about the significance of this legislation