Breaking News: Marriott Downtown Workers Join HTC!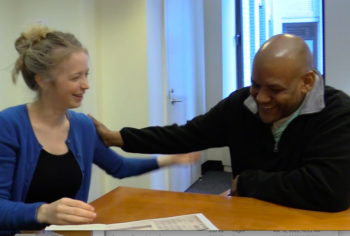 December 10, 2020 8:26 PM
This evening, workers at the Marriott Downtown Hotel, located on Albany and West Streets in lower Manhattan, joined our Union after working non-union for nearly 30 years.
"As Marriott employees, we trust the company to treat us right, but we also realize it's just common sense to have the protection and security of a great union and a union contract," said Bellman Jean Fecu, who has worked at the hotel for 20 years. "This is the best news I have received in 2020."
1991: The Union loses first organizing drive
In 1991, when the Marriott Downtown first opened, our Union negotiated a card check neutrality agreement with Marriott. The agreement stipulated that union organizers were permitted to meet with workers in the employee cafeteria during their breaks for a very limited period of time. Behind the scenes, management discouraged workers from even talking to union representatives. By the time the agreement expired, the Union had not gotten a majority of support. That was one of the few times our Union lost a card drive.
2019: The workers had another chance to unionize
And this time, they grabbed it.
"I refused to sign a card when the Union came to the hotel the first time because I was too afraid to risk the best job I ever had," said Houseman Antonio Miliano. "Today, I'm older and wiser and I can see that we made a big mistake."
Starting in 2019, Marriott Downtown workers met with our Union's organizers. They studied our Industry-Wide Agreement. They toured our state-of-the-art health centers. They learned about the Union's pension plan. They convinced their coworkers to come and meet with union organizers in large numbers.
The COVID-19 pandemic
In March of 2020, the COVID-19 crisis struck. Over the next nine months, at the same time the Union was fighting for unbelievable deals on behalf of unionized workers in New York including strict health and safety protections, extended benefits, and wage supplements for laid-off workers, it continued fighting for recognition for the Marriott Downtown workers.
Marriott agrees to recognize the Union
On late Tuesday night, Marriott finally agreed to recognize the Union in a card count.
The official count was conducted earlier this afternoon by Impartial Chairperson Blyer and at 6 PM, our Union was certified as the representative for workers at the Marriott Downtown.
HTC President Rich Maroko had this message for the Marriott Downtown workers: "The 40,000 members of HTC are proud and delighted to welcome the Marriott Downtown employees to our Union."