This Week's
---
Awards Announced in Union's Writing Contest
Hotel Voice - August 22, 2017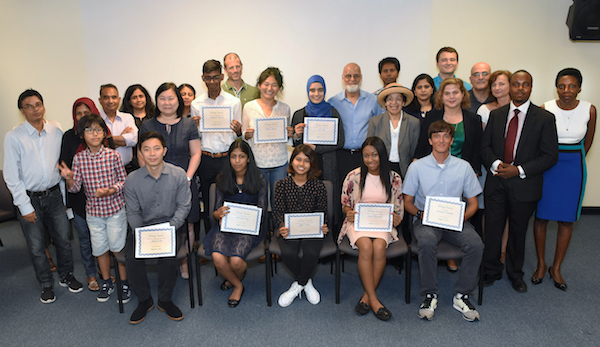 Here are the 2017 writing contest winners with family members and Laurel Rubin and former Executive Directors of the Shelley and Donald Rubin Foundation Evelyn Jones Rich and Alex Gardner.
As most members know, the Union has an annual writing contest. It is a professionally judged competition that awards cash prizes and bragging rights to high school students—grades 10-12—whose parents are members of the Hotel Trades Council and/or Local 6.
Since its inception 14 years ago, the contest has revealed that there are many talented and intelligent young adults in our Union's family. This year's competition was no different, as it provided solid evidence that there are a lot of bright and creative students out there in grades 10 through 12. The cash prizes pursued in the competition are surely an incentive for students to submit entries, but we think an urge to share one's thought and political opinion with others is also an encouragement for them.
The entries submitted by the students in 2017 were once again very impressive. Many of the essays and narratives showed a deep sense of social awareness, a caring for others and a commitment to one's community. Issues like the Second Amendment, climate change and the make-up of the U.S. Supreme Court can be difficult topics to tackle, but many students nevertheless shared their opinions on these subjects. A number of essays were even devoted to the benefits of union membership.
The writing competition was established by the Shelley and Donald Rubin Foundation, which supports efforts to make society more responsive to progressive ideas. The Foundation has continued to fund the competition each year. It's a productive association. Year after year progressive ideas seem to abound among the students, fulfilling one of the biggest goals of the Foundation.
In sponsoring the contest, the Shelley and Donald Rubin Foundation also seeks to promote creativity among the students—a goal that was certainly achieved in 2017, as the entries showed great inventiveness and originality. The students' various works also showed a commanding knowledge of current events, an understanding of complex political issues and a spirit of care and concern for the less fortunate. The body of work that was submitted in the 2017 writing contest was indeed praiseworthy.
"Don Rubin and the Shelley and Donald Rubin Foundation deserve an enormous amount of credit and appreciation for establishing and sponsoring this competition for so many years," Hotel Trades Council President Peter Ward said. "It provides such a fine opportunity to our members' children to show their talents and express their views. That's why we look forward to this contest every year."
It seems the students look forward to the competition, too, judging by the many entries received. And while no one can deny that any contest brings out the competitive spirit in many, there is little doubt that the prize money is also a strong incentive for students to participate. First place winners in the categories won $1,500 each, second place winners received $1,000 and third place winners received $500 each. There were also a number of honorable mention awards of $300 each.
Oh, yes, there was one other prize: Best Overall Entry, which is a grand prize of $3,000 awarded to the student whose entry is considered the best among all submissions. A narrative written by Massimo Vendola won the 2017 Best Overall Entry. It was Massimo's third writing contest award, having also won prizes in 2015 and 2016. The contest had another three-time winner this year in Tseten Lhamo, who was awarded first prize in the narrative category. A previous grand prize winner Iffat Astha, also won a prize this year. The winners were determined by two professional journalists. Neither the union nor the Shelley and Donald Rubin Foundation had any say in the determination of the winners.
The prizes were awarded by Laurel Rubin, the daughter of Donald Rubin. We should note that Laurel Rubin's grandfather, Jay Rubin, was the first president of the Hotel Trades Council. Also present was Evelyn Jones Rich and Alex Gardner, both former Executive Directors of the Shelley and Donald Rubin Foundation.
Miss Rubin spoke eloquently about her grandfather's efforts in establishing the Hotel Trades Council and his experiences in the 1920s as an immigrant to the U.S. from Poland. A number of students wrote about their own experiences in immigration, a reminder that our union has always been a haven for newcomers to the U.S.
Here is a list of the 2017 writing contest winners:
Essay Category. Honorable Mention: Iffat Astha, Michael Lin. Second Place: Joyita Rosario. First Place: Sarah Giordani.
Narrative Category. Honorable Mention: Sana Mir. Third Place: Shibangi Roy. Second Place: Tahmid Ahmed. First Place: Tseten Lhamo.
Best Overall Entry: Massimo Vendola