After a Grueling Anti-Union Campaign, Union Election Begins for Amazon Workers in Alabama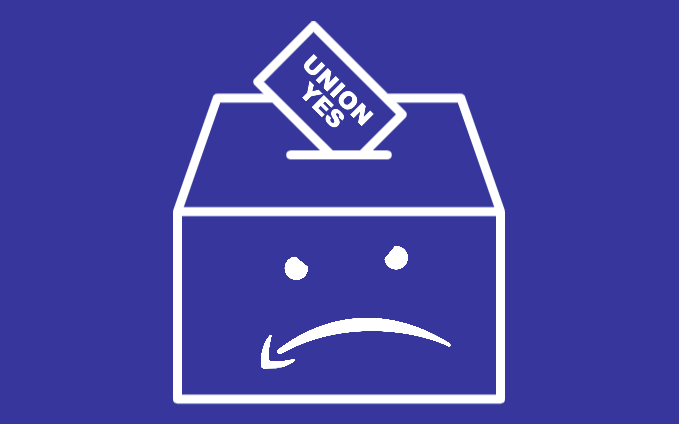 February 9, 2021 7:17 PM
On Monday, February 8th, Amazon warehouse workers in Bessemer, Alabama began casting their ballots to join the Retail, Wholesale, and Department Store Union (RWDSU). If a majority of Bessemer workers vote for the union, the warehouse will become the first unionized Amazon facility in the country.
Amazon has relentlessly campaigned against the union. The company's no holds barred union-busting tactics unfortunately come as no surprise to our Union. For over 80 years, hotel workers in New York City have had to endure similar intimidation, surveillance, and a barrage of lies from employers when organizing.
Amazon workers fed up with impossibly high work quotas and dangerous conditions
An unreasonable workload, escalating health and safety concerns during the COVID-19 pandemic, and this summer's activism for racial justice jump-started the union organizing drive at the Amazon warehouse in Bessemer, where up to 85% of the 5,800 employees are Black.
Bessemer workers are reportedly required to prepare as many as 400 items for delivery per hour. Their work is rigorously tracked by Amazon's software. If a worker falls behind, they can be disciplined and even fired by the software, without any human interaction. Fear of losing their jobs if they slow down has reportedly led some Amazon employees to stop taking bathroom breaks. A jaw dropping report this summer alleged that some Amazon warehouse workers go as far as relieving themselves in plastic bottles to avoid falling behind on their quota.
Many Amazon employees have suffered serious injuries while trying to keep up the pace. This fall, the Center for Investigative Reporting found that the rate of serious injuries in Amazon fulfillment centers is 2x the national average, with almost 1 in 10 Amazon workers suffering serious injuries.
In a video on RWDSU's website, Essiemae Skinner, a Picker at the Bessemer facility, described her workday this way: "You're tired. You're exhausted. You're sweaty. It's like you're an NFL player without the money."
Amazon campaigns around the clock to try to keep the facility non-union
As soon as Bessemer workers began organizing, Amazon launched an aggressive anti-union campaign. The company began holding mandatory anti-union meetings at the warehouse, texting workers up to five times a day telling them to vote no for the union, and even posting anti-union propaganda in bathroom stalls.
The company has allegedly taken other extreme tactics, including getting the city of Bessemer to change the traffic pattern outside the warehouse to prevent workers from speaking to union organizers near the stoplight.

Amazon threatens "everything is on the table for negotiation"
Shortly after Bessemer warehouse workers announced they were organizing, Amazon launched a website to campaign against the union and convince workers to vote no. One key idea Amazon is pushing: that workers could lose their wages and benefits during union contract negotiations.

During union organizing drives, its common for employers to threaten that workers could lose things in contract negotiations, just like Amazon is doing. The truth is, when you're non-union, you are at the mercy of your employer. In a non-union workplace, your boss can change your schedule, reduce your benefits, and even cut your wages. You have no say. It's one of the main reasons that workers decide to organize.

"18 years ago when we were organizing the union at my hotel, management tried to convince us that having the right to negotiate was a bad thing" said Husevio Santana, a cook and HTC member at the Renaissance Times Square. "I'd rather negotiate than not negotiate!"

Amazon threatens workers could bring home less money with a union
On its website, doitwithoutdues.com, Amazon also threatens that it's possible Bessemer workers will make less money with a union contract because they will have to pay union dues.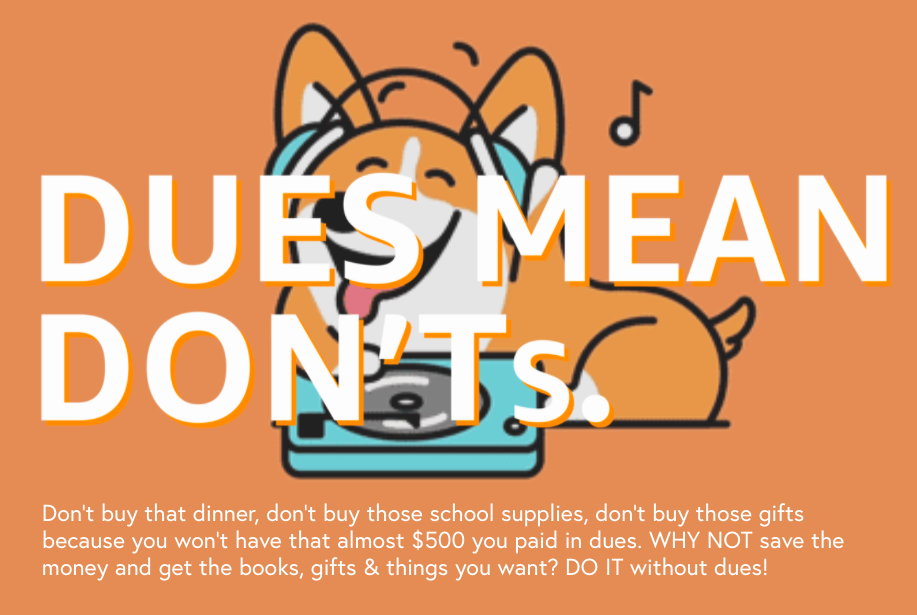 "When we were organizing our hotel in 2016, management tried to convince us that if we had to pay union dues, we would bring home less money" said Tenzin Rigzin, a Houseman at the Baccarat hotel. "My organizer challenged me to ask my boss for even one example of a hotel where the workers made less money after joining the union. It didn't exist."

While it might be technically possible that Amazon workers could make less money after signing a union contract, it rarely happens. In the case of our Union, it never does. There isn't a single workplace where the employees didn't make significantly more money after winning an HTC contract, even after paying union dues.
"Sure enough, when we signed our union contract, I brought home over $100 more each week, even after paying my dues" said Rigzin.

Amazon: "The Union can't make guarantees"
Amazon is also claiming that RWSDU is making empty promises and can't guarantee any improvements to wages, benefits, or conditions for the Bessemer workers. Ironically, the main goal of any union organizing drive is to get exactly that: a guarantee, in the form of a binding union contract.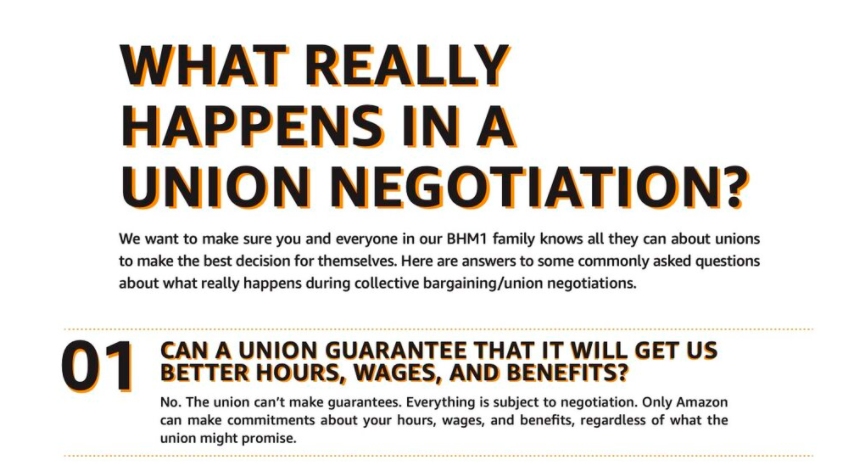 When you are non-union, you are an "at-will employee". This means management can fire you at any time and for almost any reason (or even for no reason at all). It also means that management can unilaterally change your wages, benefits, schedule, and working conditions without even notifying to you. Let alone negotiating.

Non-union Marriott employees experienced this first hand when the company reduced their retirement contributions by a whopping 28% several years ago. "Most of us didn't even know that the company was cutting our retirement benefits. I found out last year, two years after it happened!" remarked Patricia Elson a Room Attendant at the Marriott Marquis. "But there was nothing we could do about it. It said right there in our handbook that Marriott could change the benefit at any time."
"I was making a decent wage, $21 a hour, before we became union" said Lamberto Ortega an Engineer at the Tryp Times Square South hotel. "The hotel wanted us to believe that we didn't need a union contract. But we weren't stupid. It said right there on the first page of our handbook that they had the right to fire us at anytime and change their policies without any notice."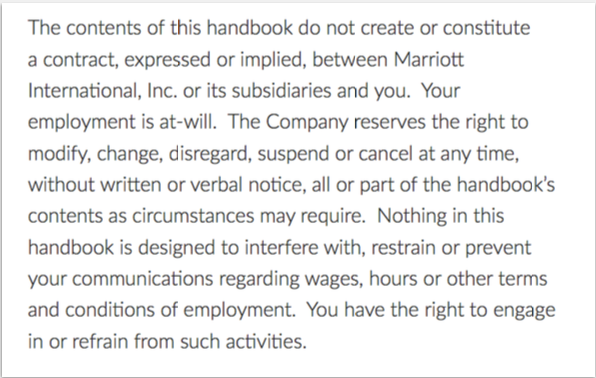 Lamberto added, "If you like your job, that's even more of a reason to join a union: Make sure you keep it."
Our message to the Bessemer Workers: Don't fall for Amazon's cheap tricks
Many of our members know firsthand just how hard it can be to fight for the union. They also know how winning union representation can transform your life.
"For over two years, my coworkers and I suffered while fighting for the union at the Boathouse restaurant. We ended up going on strike for 43 days. It was one of the hardest experiences of my life. But I would do it all over again" said Fernando Galicia, a cook and proud HTC member. "Today, because of my union, I make $10.50 more per hour. I have free healthcare. And most importantly, my job is secure."
May Feng, a union room attendant at the Ludlow hotel concurs, "Joining this union was one of the best decisions I ever made. If you have the chance to join a union, grab it."
If you, or someone you know, works at a non-union hotel and wants to learn more about what it takes to become part of our union, click here to send us a confidential message.