A Step Forward in the Fight to Restrict Illegal Hotels in NYC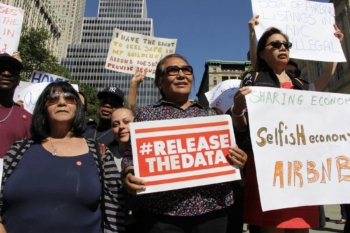 June 18, 2020 12:59 PM
New York City and Airbnb have settled a year-and-a-half-long legal dispute over the City's right to require Airbnb to turn over data in order to more effectively enforce local law.
Over the last 10 years, thousands of union activists, community members, and affordable housing groups have advocated at City Hall and in Albany to pass common-sense laws that prohibit the operation of "illegal hotels" in our neighborhoods. Not only do illegal hotels compete with good union jobs, but they pose security risks and raise rents in working- and middle-class neighborhoods across New York City.
Disproportionate impact on minority neighborhoods

A study conducted by Inside Airbnb in 2017 documented the consequences of home-sharing websites on predominantly black and minority neighborhoods in New York City. Inside Airbnb found that across all 72 predominantly black New York City neighborhoods, the Airbnb "host" population was 74% white (while the resident population was only 13.9% white.) Black residents in those neighborhoods were found to have suffered disproportionately from the loss of housing and tenant harassment, while white residents reaped the majority of the economic benefits of the rise in home-sharing websites.
A call to #Releasethedata
In June of 2018, hundreds of activists showed up once again at City Hall in support of a bill that would require home-sharing apps to turn over data about tens of thousands of listings to New York City. The City's Office of Special Enforcement currently has to track down illegal listings one by one and effective enforcement of the law is nearly impossible. Due to the difficulty, City officials estimate that as many as 35,000 of Airbnb's current listings break laws that prohibit entire apartments from being rented out for fewer than 30 days without a tenant present, Bloomberg reports. Receiving regular data from home-sharing apps would allow the City to easily identify and crack down on hosts who are operating an illegal hotel business through the platform.

Shortly after the New York City Council unanimously passed the law requiring home-sharing apps to report their data in June of 2018, Airbnb brought a suit challenging the law and a federal judge temporarily halted enforcement of the law.
Progress in the fight against illegal hotels
On June 12, 2020 New York City and Airbnb settled the legal dispute in what is considered a major victory for hotel workers, affordable housing advocates, and working-class New Yorkers. Under the settlement, Airbnb will dismiss its federal lawsuit against the City and the New York City Council will amend the 2018 law that required home-sharing apps to provide detailed data on all their listings.

The amended law will require home-sharing services to provide the host's name, listing address, phone number and email on a quarterly basis. For listings rented five times or more in any quarter of the year, additional data such as whether the listing is for an entire unit or just part of a unit, the total number of days booked and amount of money received by the host.