32BJ Members Secure New Contract In Big Win For Labor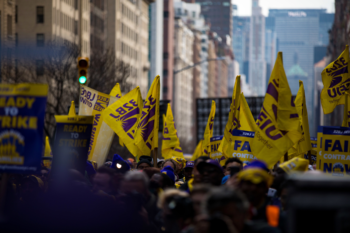 May 11, 2022 4:47 PM
On Tuesday, April 19th—the day before their existing contract was set to expire—members and supporters of 32BJ gathered for a final press conference after many long weeks of fighting for a new, fair agreement. "Brothers and sisters," announced the president of the building workers union, "we've got a deal!"
The Realty Advisory Board (RAB), which represents luxury building management companies in negotiations, demanded 32BJ members forfeit a portion of their paychecks to cover healthcare costs, and cut vacation time and sick days. However, the union eventually managed not only to protect employer-paid healthcare and paid time off, but to also secure an essential worker bonus and four more years of steady wage increases.
Union members were more than inspired to fight for a fair contract in the face of dramatic cost-cutting measures after enduring two years of increasingly dangerous and difficult work during the pandemic. On April 13th, more than 10,000 32BJ members and supporters rallied on Park Avenue to demand the RAB agree to a new contract, and eventually voted to go on strike if a deal could not be made by April 20th. Had this new tentative agreement not been made, it would have caused the first building workers strike in more than 20 years.
32BJ's new contract is not just a win for its own residential building workers, but for all organized workers in the city: it again shows the power of collective action and reinforces New York's longstanding reputation as a union town. We are happy to congratulate our brothers and sisters in labor on their new agreement!