The Story of the First Contract
---
The "Industry-Wide Agreement" ("IWA" for short), is the New York Hotel Trades Council's master union contract with the Hotel Association of New York City, Inc. (which is the union of the hotel owners). Today, the IWA covers 28,000 members of the Hotel Trades Council in New York City – the vast majority of our union's members, including employees of every type of hotel and motel, large and small, not only in the center of Manhattan but throughout New York City, including the outer boroughs. This is the story of the fight our union waged in 1939 to win the first IWA.
A journey back to the beginning - to the early struggles of hotel workers, the birth of the union, and the signing on January 18, 1939 of the first of the series of contracts that have established the working conditions of New York City hotel workers today.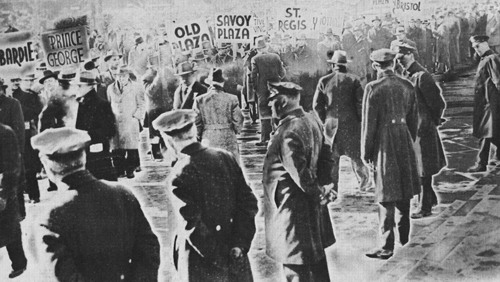 "If I were asked to summarize what we accomplished on January 18, 1939, I would say that above all, with the signing of the first contract, we brought dignity to one of the most depressed and exploited categories of workers."


-President Jay Rubin
Early in December 1938, a leaflet handed out in the hotels of the union – the recently created Hotel Trades Council – informed the workers that negotiations with the Hotel Association were nearing the climax:
"The negotiating committees have been in virtually continuous session since last Thursday, with meetings practically every day since. One lengthy session was held into a late hour last Tuesday night and another was in progress today."
The leaflet spread this message: "Hotel Workers! Keep your ranks solid. Stand firm!"
Two weeks later – good news in a hard winter – came another leaflet. It began simply and exultantly: "It's here!"
A years-old dream had come true. A succession of defeats had been turned into victory. The union had proved itself, and won the agreement of the Hotel Association to a contract establishing wage rates, hours and other working conditions – the first of the series of contracts that have added gain to gain and established the working conditions of today.
That first contract – discussed clause by clause and approved at a mass meeting of Union members at Manhattan Center – provided for a 48-hour, six-day work week for most workers, 54 hours for waiters and busboys. It raised wages by an average of $2, setting these typical minimum weekly rates:
Maids $14.50
Waiters $9 (waitresses got only $7.50 – only later did the union succeed in ending wage discrimination against women)
Bellmen $4
Electricians $30
Sous chefs $50
White jackets $24
Dishwashers $15
Bartenders $30
Elevator operators $19.
(These were the rates for employees of so-called Class A restaurants and of transient hotels; the rates applying to dining rooms designated Class B or Class C or to semi-transient and residential hotels were lower.)
And the first contract brought these other gains:
Time and a half after 10 hours
One week of vacation
Free uniforms
The union shop
Prohibition of employment discrimination