THE LITTLE ROCK NINE
---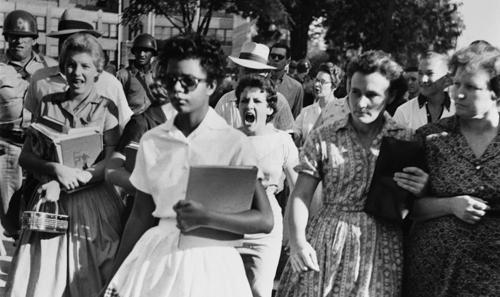 A few pivotal moments enter history marked with an intensity and a vividness passing years do not diminish. One such event was the integration of Central High School in Little Rock, Arkansas.
In 1954, the landmark Supreme Court decision Brown v. Board of Education mandated the integration of racially segregated schools. Three years later, Central High School remained rigidly segregated. On September 4, 1957, however, nine black students were to attend classes there for the first time.
The world watched. Our members watched, too. Our union already had a record of fighting for equal rights, and many members knew prejudice and the pain and damage it inflicted firsthand. They undoubtedly felt a special link to the brave students prepared to put themselves at risk. One of them, Elizabeth Eckford, was the niece of Scotty Eckford, the recording secretary of Local 6.
Governor Orval Faubus had ordered the soldiers of the Arkansas National Guard mobilized. On the morning of September 4, soldiers with bayonets in their guns turned the nine black students away from the public high school it was their right to attend. Their white classmates were allowed to pass through the barricades and into the school.
News stories, television coverage, and photographs memorializing the appalling events of that day flashed around the world. No images were more striking, or more heartbreaking, than those of 15-year-old Elizabeth Eckford.
She had arrived first, and alone. Angry swarms of white people confronted her, jeering, chanting, and shouting epithets. Three times she tried to enter the school. Each time soldiers barred her from entering, and, the third time, directed her away.
She walked on, toward a bus stop, seeking a bus to take her to safety. A photograph-one of the most enduring images of the civil rights movement in the United States-shows her walking away from the school. She is starkly and completely alone, and easily within striking distance of those at the front of the large and frightening crowd of white people following her.
It is impossible to look at this searing photograph without trying to comprehend what young Elizabeth Eckford might have been thinking and feeling at that time. It is painful to contemplate how frightened she must have been and how alone and vulnerable she must have felt.
To their credit, many of our members at that time did try to think about what she and the eight other students-Minnijean Brown, Ernest Green, Thelma Mothershed, Melba Patillo, Gloria Ray, Terrance Roberts, Jefferson Thomas, and Carlotta Walls-not only thought and felt that day but also throughout that school year which followed. They respected the courage and dignity the students had displayed, worried about the wrenching experiences they had endured, recognized the strength it must have taken each one of them simply to go off to each day of school, not knowing what price they might have to pay for doing it.
In so thinking, our members nonetheless kept in mind that these remarkable young men and women were still only teenagers despite the maturity they consistently displayed to the world watching them. And in their touching determination to obtain a good education, they daily sacrificed the pleasures, adventures, and simple joy those special years should bring.
Our members set about to do what they could to see that this brave group was recognized and appropriately honored for so greatly advancing the struggle for equal rights for all in our country. They also determined to do their best to provide the group with a collection of experiences that would bring smiles to those young faces and some fun and laughter into their lives.
With these goals in mind, our members brought their considerable talents for planning and organizing to bear and emerged with a plan they turned into reality. They considered the enormity of what the Nine had risked and what they had accomplished. The decision came rapidly and readily. Our union would honor each by jointly awarding them its Better Race Relations Award. It would, at its expense, bring the entire group to New York City, where the award would be presented to them. Following the ceremony, our union would give them a taste of New York City so they could accumulate a storehouse of positive experiences and happy memories to take away.
On June 12, 1958, the awards ceremony took place in the Gertrude Lane Auditorium at the union. The impressive ceremony unfolded before an enthusiastic overflow audience of proud members, as well as noted speakers and guests, including Roy Wilkens, the executive director of the National Association for the Advancement of Colored People, and New York Governor Averell Harriman. Large numbers of reporters and photographers were present to record the event. United States Senator Jacob K. Javits, detained by an evening session of the Senate, sent a congratulatory telegram to the students which was read at the gathering.
Elizabeth Eckford and Ernest Green, who became the first black student to graduate from Central High School, spoke on behalf of their group. With the presentation of the award to them in 1958, the students became the fifth recipients of the Local 6 Better Race Relations Award. The magnitude of their collective accomplishment was highlighted by the fact that the previous year's recipient had been the Rev. Dr. Martin Luther King, Jr.
Reading accounts of this moving event makes one wistful at not having been in attendance. Our members took the young people to their hearts; a member who was present later wrote, "The heroism of the students won a profound response. It showed in every face they met, and charged the air with deep tenderness and emotion."
In the days following the ceremony, our members introduced the students to various aspects of New York City, and our city embraced them. Mayor Robert F. Wagner rearranged his schedule so he could personally welcome them to City Hall and shake their hands. United Nations Secretary General Dag Hammarskhold and Under Secretary General (and Nobel Peace Prize winner) Ralph Bunche abandoned their pressing schedules to greet and speak personally with the students, who then enjoyed a private lunch with various UN officials and a special tour of the impressive United Nations headquarters.
Just plain fun was also part of the program our union prepared for the students. They were taken on a trip to view the Statue of Liberty. They visited backstage with Lena Horne and Ricardo Montalban, the stars of the hit Broadway musical "Jamaica", and then went to their seats to view the performance. They sampled New York food, including at Lindy's, the famous delicatessen and restaurant which was a magnet for show people and other celebrities of the time. And, of course, there was a very lively day at Coney Island, where the students seemed thoroughly to enjoy trying out famous rides like the Cyclone, the parachute jump, the merry-go-round, and the dodg'ems, to name just a few they sampled.
Activities that made the students smile and laugh, warm embraces from our members, black and white alike-the hope was that the New York respite our union provided would be an antidote for some of the profoundly venomous racism every one of the Nine had had to endure beginning September 4, 1957, the day that changed their lives forever.
On that day, and in the inhumanly difficult weeks, months, and years that followed, every one of the students who came to be known as the Little Rock Nine displayed unimaginable courage, dignity, and determination. Minnijean Brown, Elizabeth Eckford, Ernest Green, Thelma Mothershed, Melba Patillo, Gloria Ray, Terrance Roberts, Jefferson Thomas, and Carlotta Walls earned and richly deserve their places of honor in the history of this country.
In August 1958, a special issue of the union's magazine, Hotel and Club Voice, focused on our union's unwavering commitment to the struggle for equal rights. That issue, in sections reprinted here, highlighted those nine young women and men who contributed so greatly to the advancement of that struggle. Our union was among the first entities to recognize the greatness of their contributions, and, more than fifty years later, their actions continue to inspire us.
---