This Week's
---
Union's Scholarships Awarded to 45 High School Seniors
Hotel Voice - August 1, 2018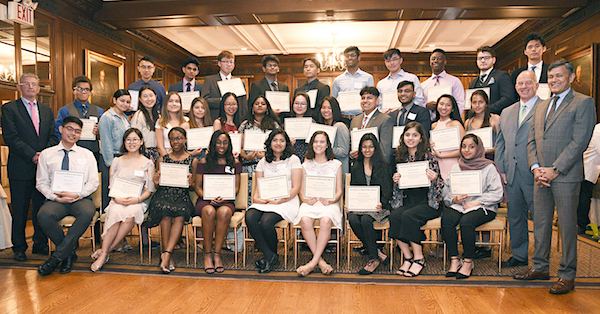 The union's 2018 scholarship winners.
A total of $360,000 was awarded to 45 children of members of our union on June 22, making 2018 our largest college grant year ever! All recipients of the awards are high school seniors who will be attending four-year colleges later this year. The awards ceremony is always one of the happiest days of the year in our union, and this year was no exception.
But there was also a serious aura at this year's ceremony, as it occurred at a time when the federal government was separating families that had crossed the southern border of the U.S. seeking to escape military, drug cartel and gang violence of their home countries. In noting that so many members of our union (and scholarship winners, too!) are immigrants or children of immigrants, Peter Ward addressed the issue of immigration in his speech congratulating the students and their parents. His remarks at this year's scholarship ceremony appear in his column in this edition of Hotel Voice.
This year's scholarship recipients include at least 20 students who plan on careers in medicine or related fields. There are future doctors, historians, environmentalists, teachers, lawyers and financiers included in the group, and together they present hope for the future.
As we've reported so often in the past, the scholarship awards mean more than money for the recipients. Receiving a scholarship helps imbed in students the determination to do well in school and in their adult careers. A study conducted three years ago bears this out. It not only found that every previous winner surveyed had graduated college or was still in school, it found that a full 90 percent of the previous scholarship winners who responded to the survey were working in the careers they had chosen for themselves as seniors in high school! Indeed, there are professionals in virtually every skill set today who were recipients of our union's scholarships. And we assure all members that this kind of success was once again on display at the 2018 scholarship awards ceremony.
Scholarship director Andrew Windsor welcomed the winners and their families as well as the union and management representatives who were present. He was followed by Ward, Benefit Funds CEO Dr. Robert Greenspan and Hotel Association Chairman Vijay Dandapani.
Missing from this year's ceremony was Mr. Mario Gabelli, whose father, Joseph Gabelli, was a Local 6 and Hotel Trades Council member for more than 30 years. Mario Gabelli and the Gabelli Foundation donated $25,000 to the scholarship program last year, enabling three additional scholarships, and did the same this year, allowing for three more awards. Although Mario Gabelli was unable to attend the awards ceremony this year, he received a warm acknowledgement from those present.
Dr. Larence Momo, the head of the scholarship committee saluted the students on their many accomplishments at a young age. He urged them to do well in school and to never lose their sense of community. "I am struck by the richness of your diverse backgrounds," Momo said. "Do your best in school and never forget to keep a moral commitment to the common good." The scholarship committee chairman then announced the names of all the 45 recipients, 40 of whom were present.
Following the presentation of the award certificates, all scholarship recipients were asked to stand. When they did so, they received a loud and long round of applause. Then the parents of the winners were asked to stand. They received an even louder and longer salute for their hard work and dedication, as their children and union and management representatives broke into a thunderous appreciation.
The scholarship program is a competition, with applications available in January to high school seniors who will be attending a four-year college. The recipients are chosen by the scholarship committee that is comprised of professional educators. Neither the union nor management has any say in the determination of the scholarship winners. The committee consists of John W. Buckley, Vice President for Undergraduate Enrollment at Fordham University, Beverly Fox, Associate Dean of Studies at Sarah Lawrence College, and Elise Rodriguez, Director of College Guidance at The Chapin School. Dr. Momo, the chairperson of the committee, is the Director of College Counseling at Trinity School.
Among this year's winners are seven students who were born outside the United States. Two winners come from Bangladesh, and the others are from China, Moldava, Poland, Canada and the Philippines. In addition, many of the other award recipients have parents who were born outside the U.S., providing further evidence of the value immigrants represent to our country.
Our scholarship program also provides evidence that hard work is not limited to just one child per family. Eight of this year's scholarship recipients are siblings of previous winners!
Since the scholarship program's inception, a total of 1,045 students have received $8,360,000 in grants, including this year's awards. As noted earlier, past surveys have revealed that the program has had a noteworthy record of success.
News of the scholarship awards always draws inquiries about how students may apply. Details, including eligibility requirements and a request form to receive a scholarship application, always appear each year in the January edition of this magazine.
Congratulations to this year's 45 scholarship recipients! We firmly believe that the success they have already attained in their young lives is only a preview of the great things to come.