Rain or Shine, HTC Gets Out the Vote for City Council Candidate Shekar Krishnan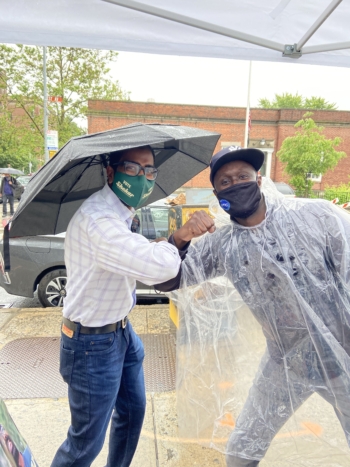 June 7, 2021 4:55 PM
HTC has been busy hitting the pavement in Jackson Heights, Queens to get out the vote for District 25 City Council candidate Shekar Krishnan.
Krishnan is a civil rights lawyer who represents tenants in fair housing litigation and organizes tenants through his non-profit Communities Resist. Through his work fighting for tenant's rights, he has become a trusted and well-known leader in the district. While knocking on doors, HTC canvassers have found that Krishnan's message focusing on broadening housing rights for tenants and expanding affordable housing resonates strongly with many voters who have faced housing instability during the pandemic.
"Many of the voters we have talked to already know who Shekar is from his work as a community activist and they are excited about casting their vote for him," said Kazi Hossain, a bartender at the Plaza Athenee and a resident of District 25 who has already canvassed for Shekar three times.
Ken McQueen, a server at the Rainbow Room, recounts when last week, a resident came up to him in the pouring rain to speak about Shekar Krishnan. It turned out that she had never voted in a single city election – she wasn't even registered to vote! But Shekar's candidacy had gotten her fired up and she wanted to cast her first vote for him. Right there on the sidewalk, Ken helped her register to vote, ensuring she would be able to cast her ballot for Shekar on June 22.
Our canvassers are knocking on doors and making phone calls nearly everyday for candidates like Shekar who will fight for working people and support the labor movement. To sign up for a canvass near you or to phone bank from home, click here.