Members pack city council hearing on midtown east rezoning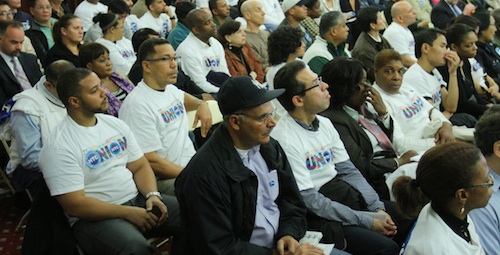 Hundreds of Hotel Trades Council members attended a New York City Council hearing on the proposed rezoning of Midtown East this week. In fact, so many members came to the hearing many of them had to patiently wait outside until seats opened up in the chamber where the hearing was held.
Two members and a representative of our Union spoke at the hearing. Their words were powerful and the presence of so many other Hotel Trades Council members sent a strong and resonating message.
Members have attended and testified at a number of other public hearings on the proposed rezoning of Midtown East, but this week's hearing may have been the most important one of all. There are several steps in the rezoning process and it is the City Council that has the final authority to vote for or against the Midtown East proposal. As a result of this week's hearing, Council members can have no doubt that our Union and  its members vehemently oppose the rezoning of Midtown East the way it is currently proposed. Union President Peter Ward was even quoted in the New York Times this week explaining that opposition. It should also be noted that our Union is not alone in suggesting that a project that is the size and scope of the proposed rezoning of Midtown East requires careful thought. Opposing the proposal does not mean an opposition to redevelopment. In our Union's case, it simply means that the plan should be returned to the drawing board and redesigned to ensure good paying jobs in all industries and to address other issues.
The biggest concern the Union has is the fact that the current proposal for the rezoning of Midtown East does not include special permits for all hotels. There are at least 7,500 hotel employees in the Midtown East district and most of them are members of our Union. Without special permits for hotels included in the rezoning process, the hotels that employ all these members could easily be supplanted by taller office and condominium towers and smaller boutique hotels that do not offer full service to guests and often try to operate non-union.
The Union has often pointed out that a huge and unacceptable number of middle class jobs has been lost by the city in recent years. It has also been noted that Hotel Trades Council members earn far above the city's median wage. Obviously, these kinds of jobs need protection, and any rezoning of Midtown East should contain protections such as special permits for hotels.
The hearing this week lasted for hours, but members stayed throughout the day. Members Juana Velez and Brian Gaffney spoke eloquently about the Union's concerns involving Midtown East.
Gaffney told the Subcommittee on Zoning and Franchises that he was a 29-year member of the Union and explained that his employment was an example of the good jobs provided by union membership. He said that his Hotel Trades Council membership meant that he did not have to spend one penny in out-of-pocket expenses for his colon cancer surgery and 18 chemotherapy treatments. He added that it was clear that good-paying jobs with family benefits like his would be lost if the Midtown East proposal was approved without special permits for hotels.
Juana Velez explained that her union membership provided contract language that enabled her to have a steady work schedule, and that this allowed her to have time to care for her children while her husband was deployed in Iraq. She explained that special permits for hotels would ensure that hotel jobs that were created as a result of the redevelopment of Midtown East would be good-paying union jobs with benefits.
Hotel Trades Council political director Josh Gold also represented the Union at the hearing. Calling the proposal "half-baked," Gold noted that thousands of members have participated at past hearings and dozens of them have testified.
"There are tens of thousands of hotel workers whose middle class union jobs, free family health care, and retirement security are threatened by this rezoning," Gold said. "In a city where over 100,000 people in recent years have lost middle class jobs it is crucial to consider what we are saying."
Gold pointed out that while developers have seemingly been given advantages in every step of the Midtown East rezoning process, hotel workers, commuters and the area's residents have received far less consideration.
"If the City Council passes this rezoning as it is currently proposed, your legacy will be simply this: a few more dollars for developers, a strained transportation network and the loss of 40,000 or more middle class jobs. Let's restart this process and do it right," Gold concluded.
Once again this week the strong turnout of members at a hearing on Midtown East rezoning showed that many understand the vital importance of this issue. The current proposal represents a major threat to not only the members of our Union employed in the 29 hotels in the Midtown East district but all members and their families. Without special permits for all hotels, a lot of non-union hotels would certainly be built in the area and this would weaken our Union's power throughout the New York hotel industry. Making matters worse, the lack of special permits might tempt developers to purchase and tear down existing union hotels in the Midtown East area and replace them with non-union hotel properties, especially smaller boutique hotels, or towering office buildings and condominiums. Obviously, the only way to protect members' jobs is if the City Council votes down the rezoning as it is currently proposed and allows the issue to be taken up again and done correctly, with responsible redevelopment for Midtown East.
As Hotel Voice repeatedly pointed out this year, the Union's campaign for special permits would not make the Midtown East rezoning unique because there are already special permits for hotels in North Tribeca, Hudson Yards and the Fur District.
The City Council is scheduled to vote on the rezoning of Midtown East well before the end of the year. The outcome of that vote is unknown, but one thing is clear: Due to the strong turnout of members at the October 22 hearing the City Council knows how our Union feels about this issue.
"We owe tremendous thanks to our members who have come out to a number of hearings on the Midtown East rezoning proposal," Peter Ward told Hotel Voice. "As I have said before, we appreciate not only those members who have spoken publicly, but those whose attendance at these hearings has said it all. We have certainly made every effort to get our point across, and now we must wait and see if the City Council has heard us."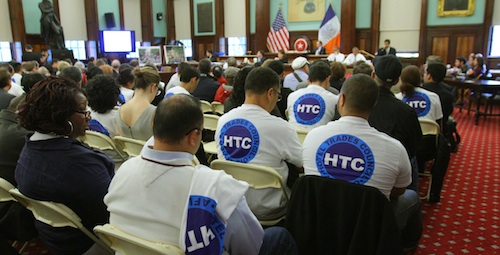 Members fill the City Council chamber for a hearing on Midtown East Rezoning.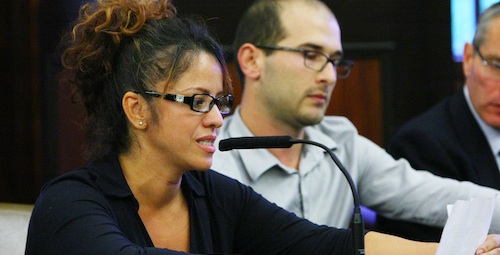 Juana Velez testifying on behalf of our Union.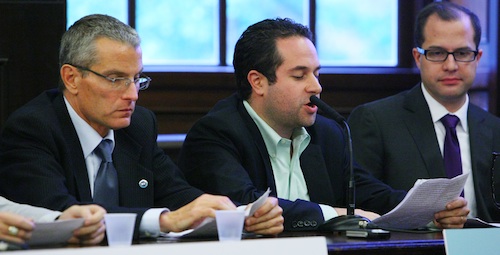 Hotel Trades Council political director Josh Gold speaking at the October 22 hearing. Next to Gold is Brian Gaffney, who also spoke.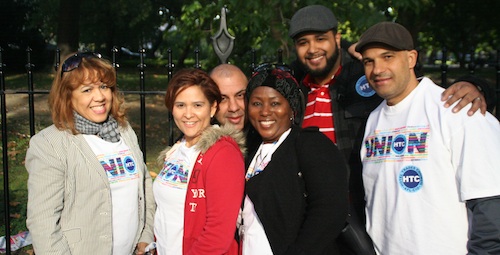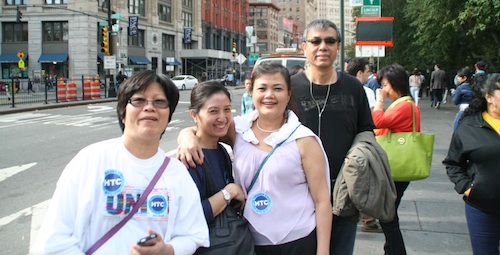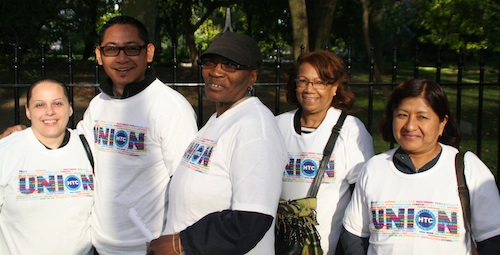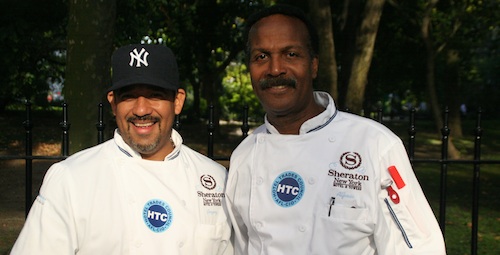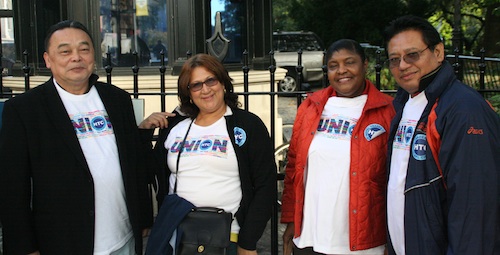 Hundreds of members attended the October 22 hearing before the City Council Subcommittee on Zoning and Franchises. The rezoning of Midtown East is of paramount importance to our Union and all our members and their families, and strong attendance like that seen at the hearing has a great impact on elected officials. We are sorry we don't have enough room to show everyone who came to the hearing. But we hope by showing these photos that everyone who participated knows that the Union appreciate their support.