This Week's
---
Kids Days Are August 15, 16 and 17 at the Health and Dental Centers
Hotel Voice - August 1, 2018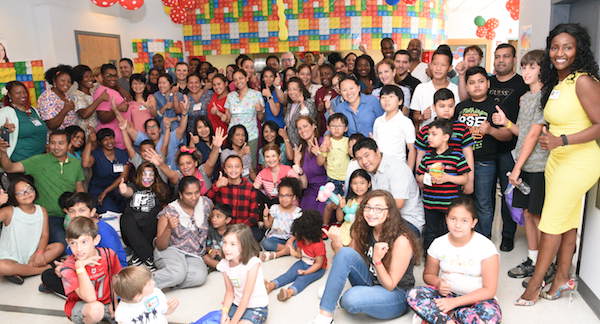 Kids Days 2017 was a huge success, and we expect more of the same in 2018!
Kids Days returns to the Health and Dental Centers on Wednesday, Thursday and Friday, August 15, 16 and 17, for another fun-filled and exciting time for members' children!
As one of the five health fairs that take place throughout the year, Kids Days is a happy and enjoyable event for all eligible members and their families. The fun fest has a valuable role in familiarizing children with the medical and dental facilities and the attentive personnel that work there.
Kids Days once again is a three-day event that takes place from 9:00 a.m. to 5:00 p.m. at all of the union's Health and Dental Centers, each of which will be turned into a colorful and welcoming playground for your family! The children (and parents!) who visit the event will find games with neat prizes, meet funny characters, and interact with their doctors and/or dentists on a friendly level. There are clowns, balloons, and raffles that make this event entertaining for the whole family! Through various games and other happy activities, children will learn the importance of staying healthy and safe while having fun. The also reinforces the importance of annual physical and dental check-ups.
If your child has even a slight fear of doctors or dentists, you definitely don't want to miss out on this family-friendly event! This is a fun and exciting opportunity to get your kids interacting with doctors in a whole new way. It helps children learn that going to the doctor or the dentist is not a chore or nightmare, but rather something that is helpful to them. In the past, Kids Days has been successful in eliminating the fear of doctors and dentists that many kids have. Youngsters will go from dreading their appointments to enjoying their visits. Imagine this: getting them to walk into the doctors' or dentists' offices will no longer be such a fearful experience. Your child might even become excited to see the doctor!
Originally created by Funds Office Chief Executive Officer Dr. Robert Greenspan, Kids Days has been a huge hit among members for over 35 years. The event was specifically designed to have children feel more comfortable in the presence of doctors, nurses and dentists, and the event helps them understand that keeping up with their visits is essential for a safe and healthy lifestyle.
Some of the first Kids Days participants have even come back with their own children and have recalled going to the event when they themselves were young! It is remembered as being loads of fun and has become a household tradition in many cases. Through familiar themes and characters your children know and love, Kids Days has helped instill good ideas about the value of health care, taking care of the body, and visiting the doctor regularly. While you're there, you can even complete your child's school physical and have school-required health papers completed!
Even as we go to press with this edition of the Hotel Voice magazine, staff members at the Health and Dental Centers are making preparations to make this year's Kids Days very special. Children who are brought to these facilities on Kids Days will be able to have a brief medical and dental exam that includes a screening and immunization check that is needed before the beginning of the school year. Parents may also use the event to set up future medical or dental appointments if needed. Any school forms that need to be completed can be left with the Health Centers' staffs and will be completed and returned in a self-addressed envelope. Again, parents should remember to bring their children to the Health or Dental Center where they are registered so that their medical and dental records are on hand.
At Kids Days 2018 parents and children will also receive educational material that includes information on nutrition and keeping the body and mouth healthy. That educational material can lead to better health and fewer visits with doctors and dentists in the future.
Once again, this year's Kids Days will take place on August 15, 16 and 17. Stop in any time those days at the Health or Dental Center where your children are registered. Remember, no appointments are necessary to participate.
We hope that all eligible members will take advantage of this exciting and fun-filled event. The staffs at the Health and Dental Centers really look forward to seeing you and your families there!