This Week's
---
It's All About Dedication
Hotel Voice - August 1, 2018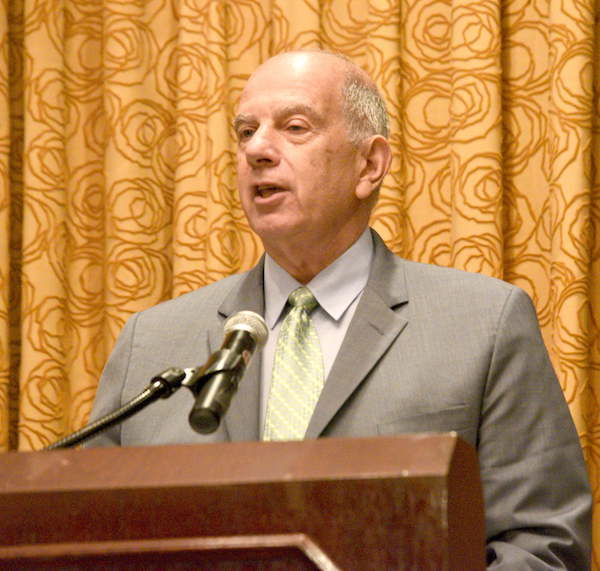 By Dr. Robert Greenspan
(Editors' note: Since 2009, when Dr. Robert Greenspan became CEO of our union's Benefit Funds, his words at the annual scholarship awards ceremony have always been poignant and inspirational, enough so that many of us have looked forward to his speech each year. This year was no different. Here are excerpts from Dr. Greenspan's remarks at the 2018 scholarship awards.)
For the last several years the theme of this talk has been the parallels between my family and many of yours. I was the first person in my family to go to college. My father was born to newly arrived immigrants from Russia. My mother came here as a one-year-old after being born in Buenos Aries, Argentina, when my grandparents could not come directly from Poland due to immigration quotas. But this year I thought it would be more fitting to talk about choices and commitment. After more than 40 years, I have decided that 2019 will be my last year at the Funds. So this might be my last speech on this great occasion or at the very least the penultimate speech. Working 42 years for the same organization is unheard of today. My sons seem to change jobs every two or three years.
Leaving home and going off to college is a lot like entering a long hallway. You walk out of your room in which you grew up and into this place with thousands of different doors to infinitely browse like Netflix. Believe me, I have seen all of the good that can come from having all of these new options. I have seen the joy a person feels when they find a room more fitting for their authentic self. I have seen big paralyzing decisions become less painful because you can always quit and try another room. You can break up from a bad relationship because the hallway will always be there. I have seen all the fun folks have had experiencing more novelty than any generation in history has ever experienced. But as the de facto elder statesman for my generation here today, I have also seen the downside of so many open doors.
Obviously, no one wants to be stuck behind a locked door, but no one should want to live in the hallway either! It is great to have options when you lose interest in something, but I have learned that the more times you do this the less satisfied you will be with any new option.
I have discovered that the people who inspire me the most are those who have left the hallway, entered a room, shut the door behind them and settled in. I think of Fred Rogers recording episode 895 of Mr. Rogers Neighborhood because he was committed to advancing a humane model for moral education. I think of Thomas Edison on experiment 999 that finally led to a commercially viable light bulb. And I think of Martin Luther King Jr., but not the Martin Luther King who confronted the fire hoses in 1953 but the Martin Luther King who hosted his 1000th tedious planning session in 1967 because that was what the Civil Rights Movement required.
You may go off to college and want to keep your options open but I hope you leave college with the belief that the most radical idea you can take, is to make a commitment . . . to a particular thing, to a place, to a profession, to a cause, to a community, to a person, to show your love for something, by working at it for a long time and to close doors and forgo options.
We always assume some acute and looming threat, be it a foreign invader or a domestic demagogue, will be our country's downfall, but if we are to end then that end is just as likely to come from something far less dramatic: our failure to sustain work.
It is not only the bomb or the bully that should keep us up at night, it is also the garden untilled, the newcomer unwelcomed, the neighbor unhoused, the prisoner unheard, the voice of the public unheeded and the dream of equality unrealized.
But we need not be afraid, for we have in our possession the antidote to our dread . . . our time, free to be dedicated to the slow but necessary pursuit of turning vision into progress, values into practices and strangers into neighbors. My hope today is to remind us all . . . to reassure us all . . . that there is as much stature in our being social workers and teachers, soldiers and preachers, nurses and architects as in being presidents, tech billionaires and Nobel laureates.
That is why in this age of infinite browsing you should rebel and join up with the counterculture of commitment, consisting of solid, hardworking people.
I salute your accomplishments to date and know that there are many more to come. On behalf of the trustees, the employees of the Funds and myself, we wish you much success and the very best life has to offer.