Huge Turnout at Midtown East Rezoning Hearing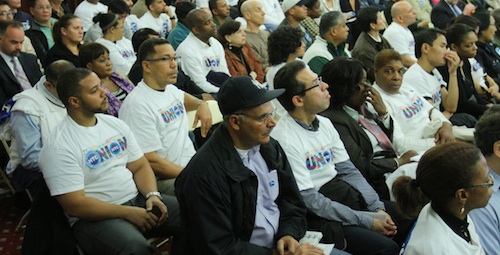 Hundreds of HTC members filled New York  City Council chambers on Tuesday October 22nd, to urge Council members to vote against the proposed rezoning of Midtown East.
The Union opposes the rezoning of Midtown East because it does not include special permits for hotels.
The City of New York wants to rezone this area in order to give more air rights to developers. Under this plan, more skyscrapers will be built and many existing properties will be torn down. As we have reported before, any rezoning of Midtown East without special permits for hotels is a major threat to our Union. Without special permits a lot of non-union hotels would be built in this area and this would weaken our power in the hotel industry. Making matters worse, the lack of special permits might tempt developers to purchase and tear down existing union hotels in the Midtown East area and replace them with non-union hotel properties or office buildings, condominiums, etc.
There are approximately 7,500 workers already employed in the hotel industry in the affected area, most of whom are members of our Union.
As many members will recall, there have been three previous hearings about this rezoning proposal. On all three occasions the Union mobilized hundreds of members to attend. But the hearing on October 22 was the most important one of all. That's because the Midtown East rezoning proposal faces an up or down vote before the City Council and the Union wants to make it clear that without special permits the proposal should be rejected.
A large turnout of Hotel Trades Council members at the three previous meetings has brought results. But while some progress was made in the language of the Midtown East proposal, it is far from what is needed to protect both the thousands of members of our Union who work in existing hotels in that area as well as the rest of the membership of our Union.
Under the way the rezoning language is currently worded, developers would still have the opportunity to create new, non-union hotels, especially smaller boutique hotels. And what we have seen time and again is that the jobs that come with non-union hotel development are, too often, low wage jobs without benefits or even a modicum of job stability. These kind of jobs are bad for New York. The way to protect the kind of good, middle class jobs that most of Midtown East's hotels currently provide is if special permits are applied to all hotels — large and small — as part of the redevelopment of Midtown East.
This is a crucial issue for our Union and for New York.