This Sunday, September 21, HTC will join with unions from all over the city to march in the People's Climate March. The march is expected to be the largest in history, with people from all over the city and all over the world attending. Read more...

The dues referendum vote on July 24 was an overwhelming expression of support for the union by Hotel Trades Council members. More than 6,500 members turned out to cast ballots. A great majority affirmed the measure, demonstrating their commitment to keeping the union strong. Read more...

Members of the Hotel Trades Council may be in for a decade of unprecedented economic security for workers in the hospitality industry. Read more...
---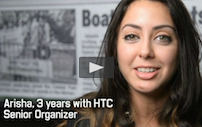 Join the Fight and Work for HTC
Interested in a career in social justice? Learn more about what it takes to be a union organizer fighting for the rights of hotel and gaming workers across New York City, northern New Jersey and the Capital District. Watch video...
---