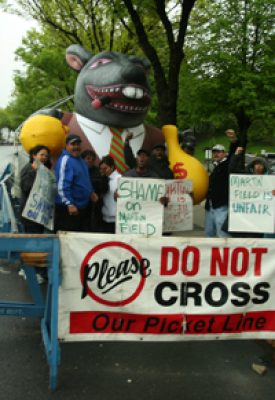 Despite determined resistance by the owners of these hotels, after tough fights the even more determined workers secured the right to be represented by the union of their choice, the New York Hotel Trades Council, AFL-CIO. The respective owners have yet to agree to the terms of a first contract and have engaged in measures calculated to wear the workers down and cause them to give up. The workers' determination to better their lives and those of their families endures, however, and they remain certain that the only way to do that is by winning their first union contract.
Please respect their courage and do not undermine their struggle to win the rights, benefits, protections, and dignity only a union contract can provide. Please do not stay at any of these hotels:
La Guardia Plaza, Queens
104-04 Ditmars Boulevard, East Elmhurst, NY 11369
Owned by: Martin Field, LaGuardia Associates LP
See the Hotel Guide for a list of hotels with a cleaner conscience.