This Week's
---
Union Wins A Contract For the Evelyn Hotel Employees
Hotel Voice - January 25, 2017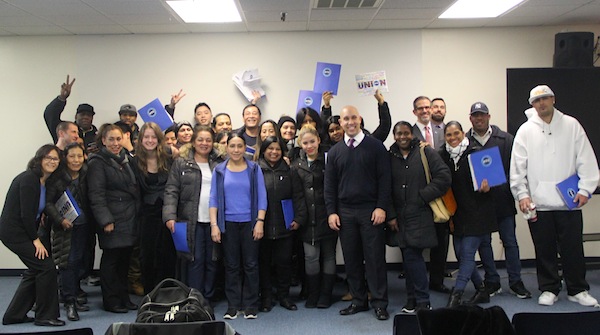 Evelyn Hotel employees celebrating the ratification of the first contract.
HTC has won a contract for the 41 employees of the Evelyn Hotel. The workers unanimously ratified the contract on January 11, 2017. The ratification was a joyous occasion, full of cheers, hugs and kisses. These same workers, with HTC's guidance, braved the risks of taking on management and voted unanimously to be represented by HTC in an election conducted by the National Labor Relations Board (NLRB). Now, their working lives have drastically improved thanks to the terms and conditions provided for in the Industry Wide Agreement (IWA).
Executive Vice President and General Counsel Richard Maroko said, "The Evelyn Hotel is illustrative of the trend of organizing hotels through methods outside of our card check neutrality." Maroko added, "Since the summer of 2015, 40% of the hotels we organized were not through card check neutrality."
HTC President Peter Ward said, "The Union is proud of these workers for their courage to vote 'Union Yes!' at an NLRB election and HTC is equally proud to be able to deliver them the wages and benefits that they deserve.""For me, the most important thing is that the union contract validated my 13 years of service at the hotel," said Evelyn Hotel room attendant Luz Matos. "Now that I'm protected, all my time working here actually counts for something. This is the best thing that could happen to me in my life."
"I'm so impressed with the union contract, it's won more for us than I ever could have imagined!" said Ramon Vega, a houseman at the hotel. "I work the night shift and it's hard. The night shift differential in the contract means now I'll be compensated a little extra for those late hours. I feel like I'm finally getting paid what I deserve. I feel like now that we have the union contract, we're all finally getting what we deserve."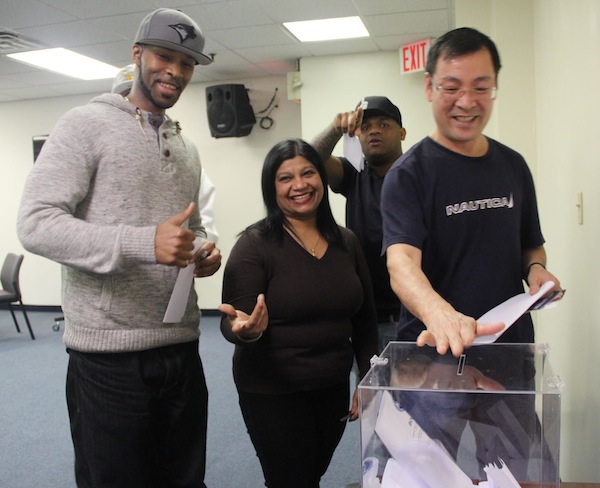 Participating in the ratification vote at the Evelyn Hotel are, from left to right: Paul Cephas (GSA), Shaikera Budhu (Laundry), Franklyn Marte (Houseman) and Guoqing Zheng (Houseman).