This Week's
---
Union Endorses Mayor de Blasio
Hotel Voice - May 17, 2017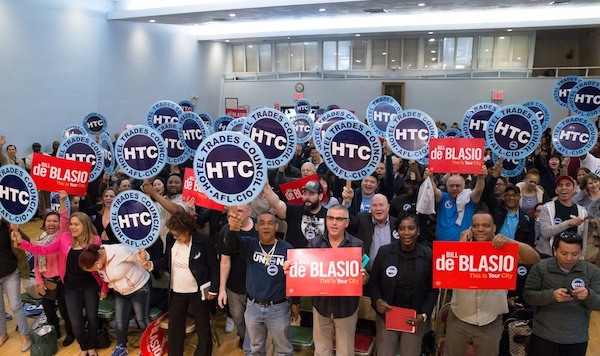 Members cheering the union's endorsement of Bill de Blasio.
The union endorsed Mayor Bill de Blasio for reelection before an enthusiastic crowd of members assembled in Gertrude Lane Auditorium on May 10. The mayor accepted the union's endorsement in person.
There are lots of reasons the union is backing Mayor de Blasio for a second term, and some of them were eloquently spelled out by Doren James, a Local 6 Delegate Assembly member who is employed at the Iroquois Hotel, who addressed her brother and sister HTC members.
James said de Blasio has made the city better. She talked about his great achievement with pre-K and other initiatives, including his commitment to affordable housing. She said, "Mayor de Blasio understands that this is our city. He understands that people like you and me make this city work."
The audience loudly cheered Doren James' remarks and they continued that cheering when she introduced HTC President Peter Ward.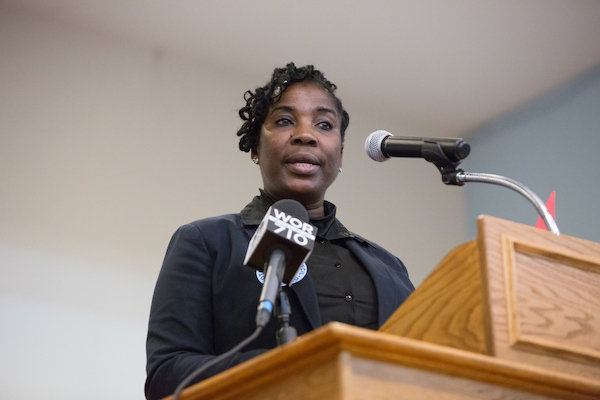 Doren James
"When I look at the crowd here in the auditorium I see the face of our city," Ward said. "We are a city that has a tradition of immigration, with each group of newcomers bringing a slice of their culture. It's always been that way and that's what makes this city great."
Noting that the House of Representatives had passed a health care bill that will strip coverage from millions of Americans and reduce coverage for millions more, Ward said, "The group of people present for the signing of that bill didn't look like this room. It didn't look like America. And Bill de Blasio is standing up to them. He's saying 'we are a sanctuary city' and we are proud of it."
Ward reminded members that de Blasio has walked our picket line and was helpful to the union on many occasions, including during the Plaza Hotel campaign and the Boathouse strike. He added, "Bill de Blasio actually articulates why unions are so important and why unions need a seat at the table."
Ward noted that it was de Blasio that stopped the racially tinged "Stop and Frisk" policy in the city and crime actually declined during his first term as Mayor. Saying the Mayor proved that one doesn't have to violate civil rights to reduce crime, Ward added, "de Blasio also proved that affordable housing can still be built in our city.
"We not only urge you to vote for Bill de Blasio, Ward concluded, "we urge you to support his campaign in any other way you can."
The Mayor wowed the friendly audience. "I have watched this union get stronger and stronger, and I have watched you turn into activists and leaders," de Blasio said. "I congratulate Peter and all of you for the union you have become. You are leading the way!"
The crowd erupted into cheers when de Blasio said this, leading him to add, "You are also one of the loudest unions!"
De Blasio thanked Ward and the HTC membership for helping him not only make Pre-K and after school programs a reality, but also bringing about an affordable housing component that recently passed in Albany. He thanked Doren James for her opening remarks and he expressed appreciation for the fact that she and all other members of our union serve as the front line of New York's hospitality industry.
The Mayor praised unions. "I want every single person in the city to be unionized," he said. "It would be good for the city. For one thing, everyone would have health care."
Turning to life in New York, the most populous city in the U.S. by far, de Blasio said his administration has stopped illegal evictions, reduced crime three years in a row, and has embraced the immigrant population.
Noting that our union is a microcosm of the city itself, de Blasio said, "Yours is a beautiful union it has so many people from so many different places. Our city now has the highest number of people from elsewhere in the last 100 years. And you know what? We are the safest city in America!"
Members who spoke after the endorsement made it clear they enthusiastically support de Blasio's reelection. But that sentiment was already clear from the very warm and appreciative reception he had received earlier from hundreds of members.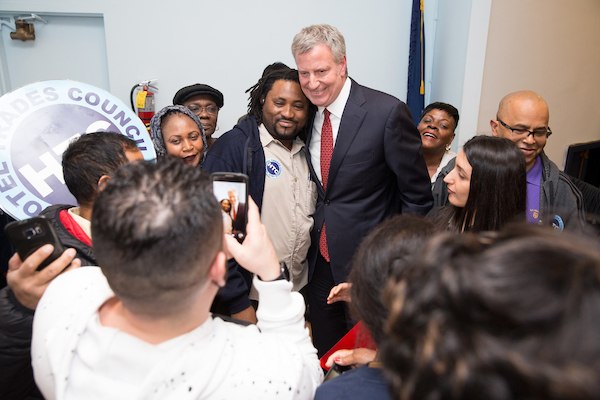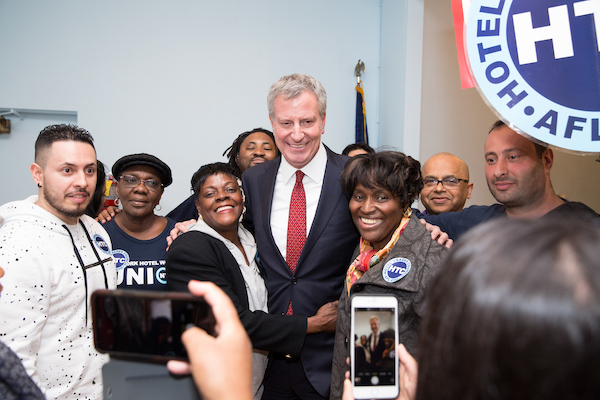 Mayor de Blasio greeting members personally.